Children's Mercy provides pediatric-focused surgical treatment and primary gynecological care for females between birth and 21 years old. We tailor our care for each child and ensure that examinations are age appropriate.


Pediatric gynecology

Children's Mercy offers the only pediatric gynecology program in the Kansas City area and the larger region. We provide a full range of services, including surgical and primary gynecological care, for pediatric and adolescent patients.
Our team is specifically trained in pediatric and adolescent gynecology and collaborates to develop an plan of care unique to each patient.
We regularly conduct research studies with the goal of improving pediatric and adolescent gynecological health.


What to expect

Our goal is to make patients and their families comfortable, listen carefully to their concerns, and thoroughly explain options.
While you may not see the same specialist at each appointment, we take a collaborative approach to the ongoing care and treatment of our patients.
Knowing exactly what to expect at a first appointment can help patients and families arrive prepared and feel at home.


Patient history

We start each appointment by collecting a thorough medical and surgical history. We then listen carefully to your current medical and/or surgical concerns. This is why it is so helpful to bring all records pertaining to the issue being evaluated.


Physical examination

We tailor the physical examination to fit the needs of each child and help determine the diagnosis. A speculum examination is not necessary for everyone.
We understand that examinations may be stressful for children, and our child life specialists are available to make this process more comfortable. Please don't hesitate to ask for a child life specialist at the beginning of your visit, or when making your appointment. We are happy to answer any questions you have about this service.


Plan of care

At the end of your visit, we will work together to come up with an ongoing plan of care. We encourage you and your child to ask questions. If you are an adolescent, we encourage you to participate in your visit. Our goal is to develop a treatment plan you are comfortable implementing.
Clinical Services
Other services offered by our team include:
Primary gynecological care
Adolescent gynecology program
Comprehensive clinical and surgical gynecological management
Ambulatory gynecological procedures
IUD insertions
Consults, and contraceptive implants and insertions
Instead of making a larger incision, ports are inserted into the abdomen, allowing surgery to be conducted using a camera and specialized tools. Our surgeons use this minimally-invasive approach as often as possible.
More involved surgeries, such as cystectomies, require an incision to be made into the abdominal cavity.
Surgery may be conducted on an imperforate (closed) hymen to create an opening, preventing a buildup of menstrual blood and other complications.
Correction of Atresia and Anatomical Discrepancies
This includes surgical treatment for vaginal and other genital malformations.
Examinations under anesthesia
This option is available for younger patients, or those with developmental disabilities, who may find it difficult to feel comfortable and cooperate during an exam. Anesthesia may also be used when a more detailed exam is needed to investigate and diagnose a condition.
Children's Mercy is home to one of a very few comprehensive colorectal centers in the nation. We take a team-based approach to care for children with colorectal malformations such as Hirschsprung Disease and other anorectal and pelvic floor disorders.
Conditions
We treat a full range of gynecological conditions in children and adolescents. Some common conditions include:
Congenital and structural malformations of the genital tract
Dysmenorrhea and pelvic pain
Endometriosis
Labial adhesions
Ovarian cysts
Abnormal pubertal development
Pre-pubertal vaginal bleeding
Vulvovaginitis
Acquired diseases of the female genitalia in children ages 21 and younger
Amenorrhea
Ovulation disorders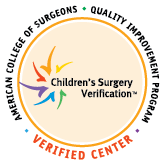 Highest Level of Surgical Care
Children's Mercy is one of only 10 centers in the nation to be verified as a Level 1 Children's Surgery Center — the highest possible rating — by the American College of Surgeons.
Planning for Surgery
From free valet parking at the front door to personalized follow-up care during your child's recovery, we want every aspect of your experience at Children's Mercy to be beyond your expectations.
Read about how to prepare your child for scheduled surgery, what to expect when you arrive, and resources available while you're here.
Pediatric anesthesia at Children's Mercy
At Children's Mercy, a pediatric anesthesiologist is an active member of your child's care team before, during and after their surgery or procedure.
We administer anesthesia for more than 27,000 kids per year—that's 74 per day—so our team is experienced at finding just-right doses of medication for kids of all sizes.