The Pediatric and Adolescent Gynecology program at Children's Mercy cares for individuals from birth to 21 years old who have complex gynecology issues. Our clinic team specializes in taking a personalized and age-appropriate approach that helps put your child at ease during each visit.


Pediatric gynecology

Children and teens with gynecological conditions have unique needs and can benefit from specialized care that is tailored for young people. We have a dedicated team of physicians who are board-certified in gynecology, with an additional focused practice designation in pediatric and adolescent gynecology, as well as advanced practice providers who are also specially trained in the gynecologic needs of children and adolescents.

Our Gynecology team often collaborates with other specialties at Children's Mercy to create a comprehensive care plan for your child. We are here to provide sensitive and compassionate care in an age-appropriate environment.


What to expect

Our goal is to make you and your child feel comfortable, listen carefully to all your concerns, and thoroughly explain your options.

We take a collaborative approach to your care and make every effort to communicate with your other doctors and care providers about your condition.

Medical history

We start each appointment by collecting a thorough medical and surgical history and talking with you about your current concerns. To help us maximize our appointment time together, please bring all notes and medical records pertaining to the issue we are evaluating.

Physical examination

We understand that examinations may be stressful for children, and our child life specialists are available to make this process more comfortable. Please don't hesitate to ask for a child life specialist at the beginning of your visit, or when making your appointment.

We tailor the physical examination to fit the needs of each child and help determine the diagnosis. We are able to make age-appropriate accommodations and modifications to ensure your child is comfortable during the exam.

Plan of care

At the end of your visit, we will work together to create an ongoing plan of care. Our goal is to develop a treatment plan you are comfortable implementing. We encourage you and your child to ask questions and actively participate in your visit.
Clinical Services
Other services offered by our team include:
Comprehensive clinical and surgical management
Laparoscopy
Complex gynecological care
Outpatient gynecological procedures
Contraceptive Implants and IUDs (Intrauterine Devices)
Fertility preservation
Conditions
We treat a full range of gynecological conditions in children and adolescents. Some common conditions include:
Congenital and structural malformations of the genital tract/MRKH
Dysmenorrhea and pelvic pain
Labial adhesions
Ovarian cysts
Abnormal pubertal development
Pre-pubertal vaginal bleeding
Vulvovaginitis
Acquired diseases of the female genitalia in children ages 21 and under
Amenorrhea
Ovulation disorders
Ovarian diseases
Premature ovarian insufficiency
Complex contraception
Menstrual disorders
PCOS
The Gynecology team works collaboratively with the following multidisciplinary clinics at Children's Mercy to support children and teens with various diagnoses and conditions, such as: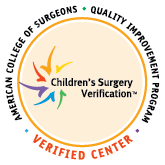 Highest level of surgical care
Children's Mercy is one of only 30 locations in the nation to be verified by the American College of Surgeons as a Level 1 Children's Surgery Center.
Planning for surgery
From free valet parking at the front door to personalized follow-up care during your child's recovery, we want every aspect of your experience at Children's Mercy to be beyond your expectations.
Read about how to prepare your child for scheduled surgery, what to expect when you arrive, and resources available while you're here.
Pediatric anesthesia at Children's Mercy
At Children's Mercy, a pediatric anesthesiologist is an active member of your child's care team before, during and after their surgery or procedure.
We administer anesthesia for more than 27,000 kids per year—that's 74 per day—so our team is experienced at finding just-right doses of medication for kids of all sizes.