The Section of Hematology cares for hundreds of children each year with a variety of blood disorders, including sickle cell disease, hemophilia and coagulation/thrombosis conditions.
Children and families have access to hematology telemedicine services at all Children's Mercy outreach locations.


Experts in treating pediatric blood disorders

Our team collaborates with other specialists and research scientists across the U.S. to treat children with a range of blood disorders.
We lead cutting-edge research studies that are leading to better diagnosis and treatment for pediatric blood disorders. We provide specialized treatment and research opportunities for conditions such as pediatric hemophilia, hematological disorders, and sickle cell disease.


The Launch Program
Kids and parents will be introduced to the Launch Program as kids move from childhood to adulthood. The program helps families transition care to adulthood.
Clinical Services
Our Hemophilia Treatment Center provides patients with dedicated care and support from an expert clinical team.
The Sickle Cell Disease Treatment Team at Children's Mercy provides comprehensive care to children and young adults with all types of sickle cell disease. We offer hospital and clinic-based care for more than 300 children each year.
The Children's Mercy Comprehensive Stroke Center is the only pediatric stroke center in the region. In this clinic, each child is seen by Hematology, Neurology, Rehabilitation Medicine, PT, OT, Neuropsychology, and Social Work to help identify underlying factors that may have contributed to the initial stroke, assess risk of stroke recurrence, identify ways to improve functional and cognitive outcomes, and provide appropriate resources to optimize outcome.
This clinic provides young women with bleeding disorders support from a team of experienced providers including a adolescent gynecologist, physicians, nurse practitioners and social workers. The clinic team will review treatment plans, monitor symptoms, and provide education as needed.
Coagulation/Thrombosis Consult Service
If children visiting Children's Mercy — either on an inpatient or outpatient basis — develop blood clotting, the hematology team provides direct treatment. Our team will continue to visit the child and schedule a follow-up visit to ensure the blood thinner has worked properly.
Conditions
Anemias

Hematologic disorders

Sickle cell diseases

Hemoglobinopathies

Hemophilia and related disorders
Hemophilia Study for Previously Untreated Patients
Children's Mercy researchers are now enrolling patients in the U.S. cohort study Previously Untreated Patients with Congenital Hemophilia Matter. This study will be used to follow young patients with hemophilia over the course of the first few years of life.
Shannon Carpenter, MD, Associate Division Director, Hematology/ Oncology/BMT, Section Chief, Hematology; Director, Hemophilia Treatment Center and Professor of Pediatrics, University of Missouri- Kansas City School of Medicine, is serving as one of two U.S. principal investigators for the registry. Other partners are the American Thrombosis and Hemostasis Network, Blood Center of Wisconsin and Rady Children's Hospital.
"We want to utilize this platform to enroll all children with hemophilia so that we can build a database to better study this rare disease."
The study will be opened to other pilot sites around the country in order to closely examine how these children are treated, including which ones develop inhibitors during their first 50 exposure days, along with the characteristics of these patients.
Eventually, the goal is to open the study to all patients with hemophilia from around the country.
Hem-Onc Teen Board
The Hem-Onc Teen Board was started in 2013 as part of the Hem/Onc Adolescent and Young Adult (AYA) Program with the goal of improving care and support for our AYA patients receiving treatment for cancer or blood disorders.
Stories
Aplastic anemia: Nick's story
One day Little League pitcher, Nick, just wasn't himself on the field. After a visit with his pediatrician, Nick was referred to Children's Mercy where the cause was diagnosed — a condition that hinders the bone marrow from making enough blood cells. See how Nick found the right treatment and even threw out the first pitch at a New York Yankees game.
Meet Nick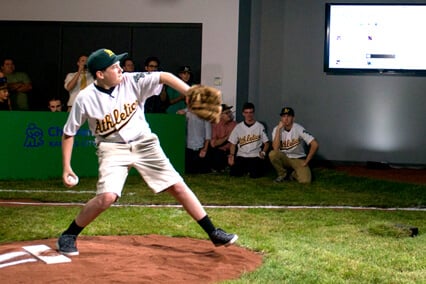 Hemophilia: Mark and Ethan's story
The Children's Mercy Hemophilia Care Team travels to Dodge City, Kan., to deliver care to patients living with this life-threatening disorder. Mark and his big brother, Ethan, both have hemophilia, and depend on the team for the treatments they need to better manage the disease.
Protein C deficiency: Will's story
It wasn't likely that Amber and Blake McKinnon would have another child with a rare blood clotting disorder, but when it happened, the Children's Mercy Elizabeth J. Ferrell Fetal Health Center and Level IV Neonatal Intensive Care Unit were there for them. Today, their second son, Will, is a healthy toddler thanks to the lifesaving care he received as soon as he was born.
Meet Will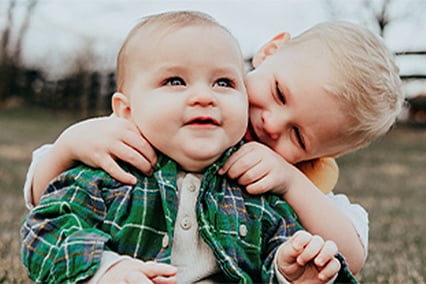 Sickle cell disease: Elijah's story
Elijah was born with Sickle Cell Disease. Meet Elijah and learn about his care team at Children's Mercy.