Sickle Cell Disease Program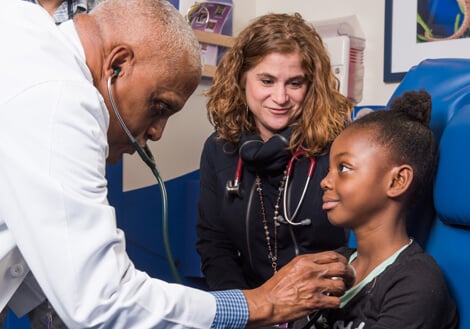 Sickle Cell Disease Program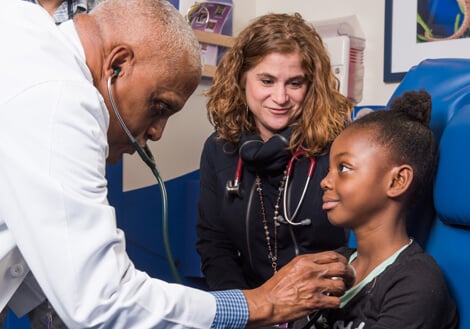 Sickle cell disease in children
The sickle cell disease treatment team at Children's Mercy provides comprehensive care to children and young adults with all types of sickle cell disease. Our experts offer hospital and clinic-based care for more than 300 children each year.
One thing that truly sets Children's Mercy apart is the years of experience of the health care providers in the Sickle Cell Program. Gerald Woods, MD, pediatric hematologist and oncologist has led the Sickle Cell Program for more than 34 years and our nursing staff has well over 40 collective years of experience in treating children with sickle cell disease.
Everything we do is focused on pediatric care, so your family can feel comfortable in an environment that's thoughtfully designed for kids and teens. The sickle cell disease treatment team members include:
Physicians

Advanced practice, research and dedicated clinic nurses

Social workers

Hospital based teachers

Genetic counselors

Psychologists

Dietitians

Child life specialists


What is sickle cell disease?

Sickle cell disease is a group of inherited blood disorders that cause problems with delivering oxygen to cells throughout the body. Typical red blood cells are round, like the letter "O", and last up to 120 days. In people with sickle cell anemia, the most common form of the disease, some of the red blood cells become shaped like a sickle, or the letter "C," causing them to get stuck and block blood flow.
The sickle cells also die much more quickly—lasting only 10-20 days—and can cause blockages in the spleen, the organ that helps the body fight infections. Pain, fatigue and inflammation are other symptoms of the disease. Sickle cell disease is more prevalent in people of African descent and Hispanics of Caribbean ancestry.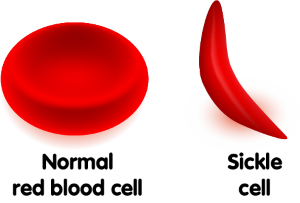 Treatment for Sickle Cell

We offer several treatment options for sickle cell disease. Your team will help you understand what options are available for your child to provide the best possible outcomes.

Options may include:
Medications such as hydroxyurea, pain medications and preventative antibiotics to reduce infection

Blood transfusions
Specialty Clinics
Many children with sickle cell disease also have co-occurring conditions—problems with other areas of the body in addition to their sickle cell disease. If this is the case for your child, she may benefit from one of these specialty clinics in addition to regular visits with her sickle cell treatment team.
Sickle Cell Pulmonary Clinic
Dr. Alvin Singh brings his expertise as a pulmonologist (lung specialist) to the hospital's monthly Sickle Cell Pulmonary Clinic. Dr. Singh works together with your child's sickle cell team to care for related pulmonary issues such as asthma, allergies, sleep apnea and acute chest syndrome.
Sickle Cell Integrative Persistent Pain (SCIPP) Clinic
The Sickle Cell Integrative Persistent Pain (SCIPP) Clinic is a collaboration between the Divisions of Hematology/Oncology, Developmental & Behavioral Medicine and Integrative Pain Management to meet the needs of children with sickle cell disease who experience persistent pain. Persistent pain is pain that extends in intensity and duration much longer than the typical painful episode, and therefore requires different types of pain management treatments. Children experiencing this type of pain are referred to SCIPP by the Sickle Cell Team and the inpatient Hematology/Oncology team.
Conditions
There are many different combinations of hemoglobin that can cause various levels of complication with sickle cell disease. We are able to identify and treat all types, including:
Hb SS (called sickle cell anemia) – the most common form of the disease

Hb SC – a similar, sometimes milder form of sickle cell disease

Hb S beta thalassemia – decreased production of hemoglobin in the red blood cells

Hb S-HPFH (hereditary persistence of fetal hemoglobin) – higher levels of fetal hemoglobin resulting in fewer complications over time
Stories
Children's Mercy Sickle Cell Program
The Sickle Cell program at Children's Mercy helps families manage all aspects of their child's sickle cell disease. Our team provides comprehensive pain management and medical treatment based on the latest research. We also have dedicated psychologists, social workers, and hospital-based teachers to care for the whole family.
Sickle cell disease: Elijah's story
Elijah was born with Sickle Cell Disease. Meet Elijah and learn about his care team at Children's Mercy.
Research in Sickle Cell

Children's Mercy physicians and researchers are actively seeking new treatments for sickle cell disease. We have several current research studies led by Gerald Woods, MD, Division Director of Hematology/Oncology/BMT and Director of the Sickle Cell Program at Children's Mercy. Dr. Woods has more than thirty years of experience in sickle cell research.

One study is investigating a new medication called Voxelotor that helps hemoglobin, the molecules inside red blood cells, to hold onto more oxygen as the red blood cells travel through the body, keeping red blood cells in their normal shape and helping to stop sickling.

Another study is evaluating the effectiveness of a medication known as GMI-1070 to treat a painful episode in hospitalized children with sickle cell disease. The goal is to decrease the length of hospital stays for these children.

Recently, the FDA approved the use of L-glutamine oral powder to reduce complications of sickle cell disease. Children's Mercy was one of the participating centers in this study, with Dr. Woods as Principal Investigator.


Connections to the Sickle Cell Community
Resources
The following booklets were developed by Children's Mercy physicians and nurses and published with funding from the Missouri Department of Health and Senior Services.

These community-based organizations provide many avenues of support for our families:
The Uriel E. Owens Sickle Cell Disease Association of the Midwest is a Kansas City based group which seeks to educate the community and provide many forms of social support to families of children with sickle cell disease. They offer a Sickle Cell Support Group which meets every 4th Saturday of the month at noon in University Health. Annually, during Sickle Cell Awareness Month in September, they sponsor a fundraiser walk.

Turning Point – A Community Resource of the University of Kansas Health System is an organization that hosts Camp Courage for children with sickle cell disease. Every summer in July, more than 40 children ages 6 – 14 years old spend 5 days participating in fun indoor and outdoor recreational and educational activities at Camp Courage.