Aplastic Anemia: Nick's Story
From K.C. to Cali: patient throws pitch halfway across the U.S.
Every Little League pitcher who takes the mound dreams of one day unleashing a perfect fastball in a Major League stadium, but few ever get the chance. For most young athletes, their talent eventually fails to outshine the competition. But for Kansas City resident Nick LeGrande, the chances of suiting up in a professional game faded for a different reason – a very rare blood disease.


How to Help
Join the Be the Match national bone marrow registry to help people like Nick find a donor match.
Learn more about aplastic anemia and other blood disorders.
The warning signs

The warning signs began to appear in late 2012. Michael and Shari LeGrande first noticed small red dots on their son's skin, which quickly turned into larger bruised areas. Nick's usual energy was gone. Described by his father as "a nuclear ball of energy," he became lethargic during baseball games and eventually lost the energy to engage in basic activities. Michael and Shari knew something was wrong. Their son, the gifted baseball standout and constant source of energy, could barely muster the endurance to play a game.
"He was always the hot rod on the field, but all of a sudden he just wasn't himself," Michael, Nick's father, said. "Looking back, we were seeing the early signs of something very serious."
After a visit to his pediatrician, Nick was immediately referred to Children's Mercy where the cause was diagnosed – a condition called Aplastic Anemia. The condition hinders the bone marrow from making enough blood cells.


Finding the right treatment

Treatment options for Nick's condition are limited. The best long-term option is a bone marrow transplantation is ideal, but finding a donor can be difficult. All of Nick's immediate family members have been tested - none are suitable matches. Nick's hematologist/oncologist at Children's Mercy determined that the best interim care for him was medication and regular blood transfusions every week or two to replenish vital blood cells in his body. Although the treatments have great short-term benefits, Nick is still unable to compete in sports or attend school.
"After each transfusion, he becomes himself again," Michael said. "It's like watching flowers bloom. His humor comes back; his energy comes back. And then he'll start to fade again."

The Lee's Summit School District furnished a homebound teacher to help Nick finish the eighth grade, but having to give up sports has been difficult for him to handle. To help lift his spirits, Children's Mercy and Google Fiber teamed up to fulfill a Major League-sized dream for Nick.


The surprise of a lifetime

On Wednesday, June 12, Nick threw out the ceremonial first pitch as the New York Yankees – one of his favorite teams – faced the Oakland A's at the O.co stadium in Oakland, Calif. Because of Nick's condition, he was physically unable to tolerate the 1,800-mile flight to throw the pitch in person. So Google Fiber made it possible for Nick to make the throw from Kansas City.
Not far from Children's Mercy Hospital, Google Fiber transformed their Kansas City space into a mini baseball stadium with real grass, dirt, and bleachers. Using motion-sensor technology, Nick was able to fully control the movements of a robot that sat on the pitcher's mound at the O.co stadium in Oakland. A small crowd of Nick's family and friends were joined in their cheers by thousands in the O.co Stadium as Nick took to the mound and delivered pitch - the first of its kind.
Nick's family couldn't have imagined a more fitting – or more exciting – way to shine light on his situation.
"This was a huge spark for Nick," Michael said. "I think this was a perfect way to way to take his mind off the treatment."
Related Stories
Beta thalassemia major: Hadil's story
Hadil, a Syrian refugee, had battled a rare inherited blood disorder since birth called beta thalassemia major. Now thanks to a successful bone marrow transplant at Children's Mercy, where survival rates are at or above national averages, she is meeting the challenges of life in her new home.
Meet Hadil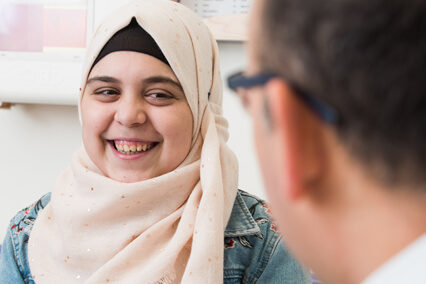 Triosephosphate isomerase deficiency: Wyatt's story
Four-year-old Wyatt was diagnosed with a rare genetic multisystem disorder called TPI shortly after he was born. A bone marrow transplant at Children's Mercy, was his best chance for survival.
Meet Wyatt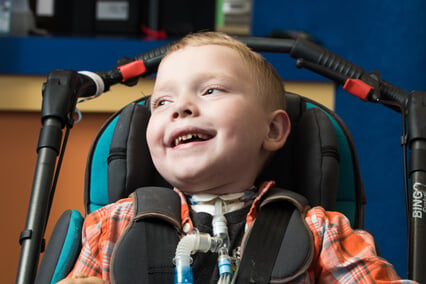 Refractory anemia with excess blasts: McKenzie's story
A winning athlete on the tennis court, McKenzie Haynes used that same spirit to meet the challenge of her young life—refractory anemia with excess blasts Type 1. Treatment at Children's Mercy included blood transfusions, chemotherapy and a bone marrow transplant. Several months later, she was back on the court in top form.
Meet McKenzie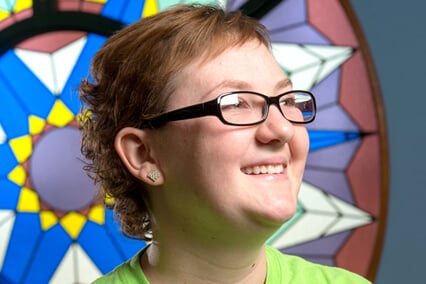 SCID: Connor's story
Connor's family chose Children's Mercy over many other options to care for Connor when he was born with X-linked severe combined immunodeficiency (SCID). Learn about his experience.
Blood and Marrow Transplant Menu