Blood and Marrow Transplant Research
Research today leads to advanced treatment options for children who need transplant in the future. Children's Mercy leads and participates in research to advance care for rare conditions through our Center for Pediatric Genomic Medicine, our expertise in clinical pharmacology through our Experimental Therapeutics in Cancer program, and our role as the pediatric partner in the NCI-designated University of Kansas Cancer Center.


Cellular therapy

Children's Mercy has played a significant role in the development of chimeric antigen receptor therapies for children and young adults. We supported early development of the technology and were one of only a few institutions with open clinical trials of CAR technology beginning in 2010.
Between 2010 and 2015, Dr. Gary D. (Doug) Myers led a study of CAR T-cell infusions targeting GD2 in patients with neuroblastoma after allogeneic stem cell transplant. Since then, he has built collaborations with other regional institutions that are working to improve upon CAR technology in patients with high risk solid tumors. We are also developing other forms of cellular immunotherapies for patients with aggressive cancer.
As innovators and collaborators in the field of cellular therapies, the teams at Children's Mercy are advancing the care of children with the most difficult-to-treat cancers.


Transplant and cellular therapy procedures in 2018
Children's Mercy offers innovative treatment BMT and cellular therapies to successfully treat leukemia, brain tumors, Hodkin and non-Hodkin lymphoma, and other cancer diagnoses, as well as rare and non-malignant diseases.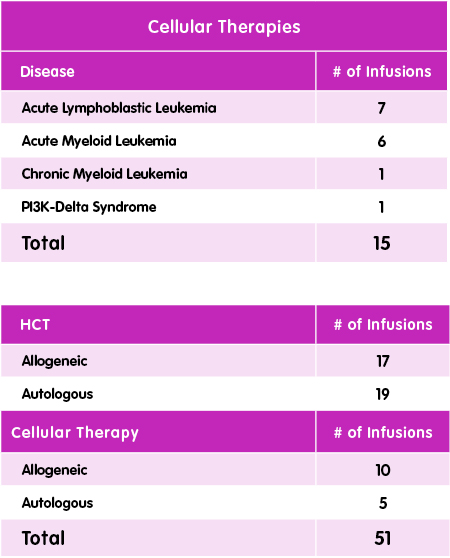 Kymriah treatment for B-cell ALL

Children's Mercy is proud to offer Kymriah (tisagenlecleucel) treatment to qualifying patients with multiply relapsed or refractory pre-cursor B-cell ALL. Kymriah is CD19-directed genetically-modified autologous t-cell immunotherapy.
We've put together a team of physicians and health care professionals to guide your family through the complicated process of Kymriah manufacture and infusion. While this process requires a great deal of precision and coordination, our staff is experienced in the field of chimeric antigen receptor (CAR) therapies. You can be confident that your child's care is in the best hands.
We can also help you with additional support and resources, such as housing arrangements while you're away from home.


Leading the way in CAR therapies for children

Dr. Myers was Children's Mercy's lead site investigator during the study of Kymriah. As a steering committee member for the pivotal multi-institutional, international study of Kymriah in pediatric patients, Dr. Myers and his team were excited for the possibilities when Kymriah therapy received FDA approval in late 2017.


New treatment for SCID

The states of Missouri and Kansas test all newborns for a severe immune system defect. This defect is called severe combined immunodeficiency, or SCID. SCID is a pediatric emergency. It can cause a life-threatening infection in infants.
SCID is traditionally treated with a bone marrow transplant. If the infant receives the transplant in the first 3.5 months of life, the survival rate can be as high as 94 percent.
Children's Mercy is the only hospital in the region to offer patients with SCID a new treatment option. This new treatment is called a mini-transplant. It can treat and cure SCID.
Blood and Marrow Transplant Menu