Suicide Awareness and Prevention Toolkit
Resources for Families, Kids and Teens
It's tough to start the conversation about suicide. Whether you need help or want to help someone else, here are some resources to help you take the first step toward hope and healing.


I need help

If you are struggling with suicidal thoughts, tell someone right away. You can:
Call 911 or go to the nearest emergency room.
Talk to someone, such as a friend, family member, counselor or teacher.
Call or text the suicide prevention lifeline at 988. The lifeline is always open and is free and confidential.
Remember, you are not alone. There is always someone who cares.


I want to help someone else

If you're worried about a friend, family member or classmate, you can help by:
Staying with them when they are in crisis.
Calling the suicide prevention lifeline 988 on their behalf.
Going with them to talk to a trusted adult.
Helping them move to a safe location or removing dangerous items from the area.
Standing up against bullying. Be an advocate for others who are struggling.

What are the warning signs of suicide?

Suicide is preventable. Talking to someone about suicide will not make them more likely to act—in fact, research shows that providing support and talking about suicide is helpful to people in crisis.
Watch for these signs and tell a trusted adult if you have concerns:
Often talking or writing about death, dying, or suicide.
Making comments about being hopeless, helpless, or worthless.
Expressions of having no reason for living; no sense of purpose in life; saying things like "It would be better if I wasn't here" or "I want out."
Increased alcohol and/or drug misuse.
Withdrawal from friends, family and community.
Detaching themselves from their daily activities; not wanting to do things that brought them joy.
Reckless behavior or more risky activities, seemingly without thinking.
Dramatic mood changes or not acting like their usual self.
Talking about feeling trapped or being a burden to others.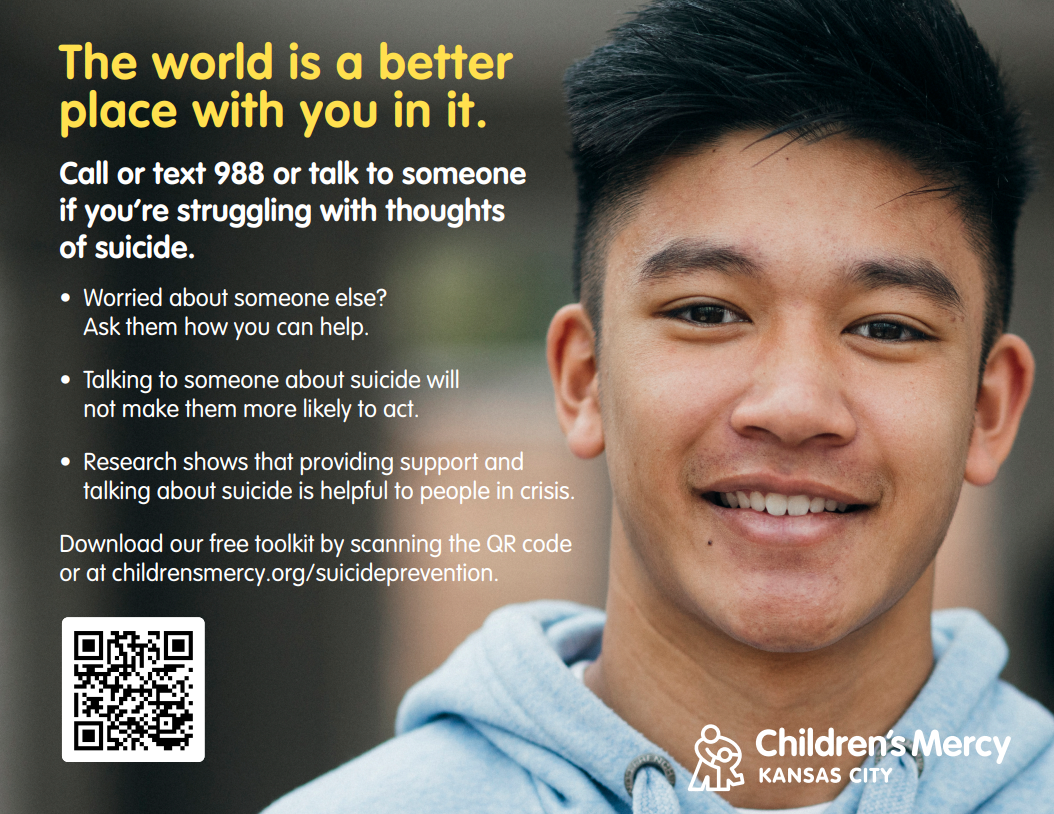 Suicide Prevention Toolkit - Posters
Download free, printable posters to raise awareness and share resources for suicide prevention in your community.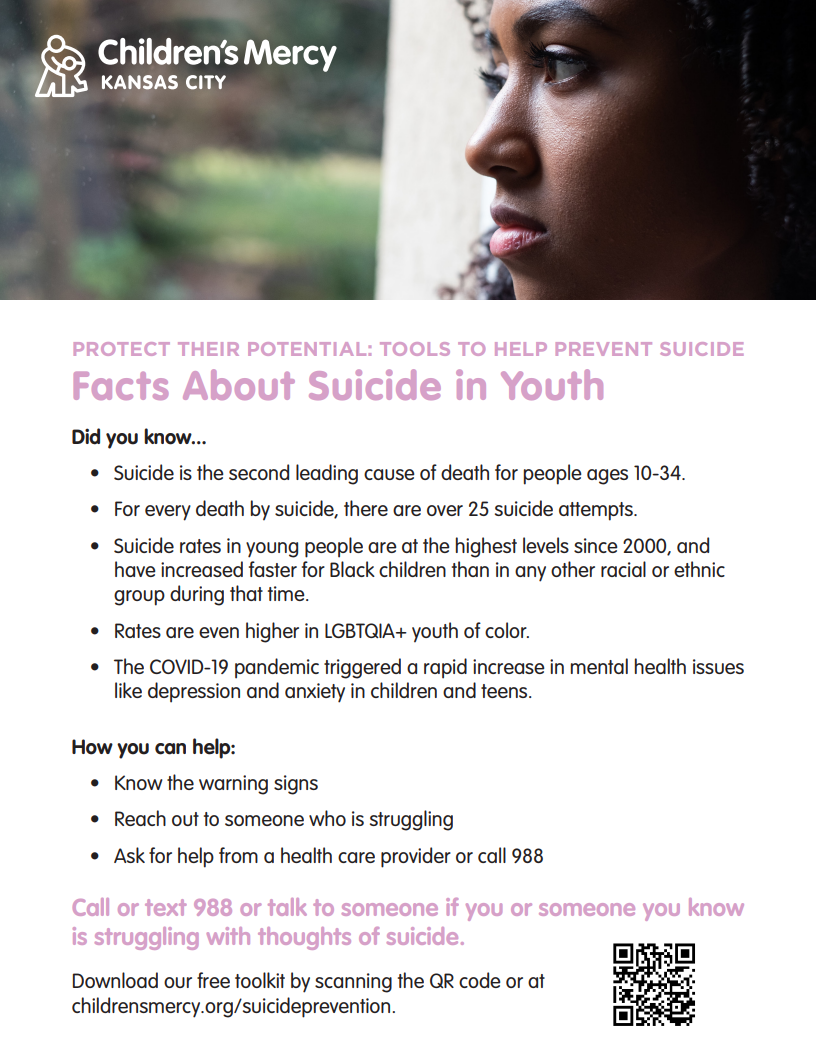 Suicide Prevention Toolkit - Handouts
Use these free, printable handouts to educate your community about how to prevent suicide in young people. Topics include:
Facts about suicide in youth
Warning signs of suicide
How to help with suicidal thoughts
Suicide and its survivors
Where to turn for help
What should I say?

There's no question that suicide is a difficult topic to discuss. Here are a few ideas for how to start a conversation with someone you're concerned about:


"I'm worried about you -- you don't seem like yourself lately. What's up?" ...stop and listen...
"I've noticed you haven't been doing _________ [activity the person usually enjoys] much lately. What changed?" ...stop and listen...
"A lot of people have times when they are depressed, anxious and struggling. Sometimes it even gets to the point that they wish they were not alive anymore. Is that something that's ever happened to you?" ...stop and listen...
"Lots of kids and teens are struggling with their mental health these days. I want you to know you can always come to me if you are struggling. How is your mental health these days?" ...stop and listen... "Have you ever had suicidal thoughts? Have those happened recently?"
"I was reading about how September is suicide prevention month, and I learned that lots of people suffer in silence, but that talking about suicidal thoughts is an important way to keep people safe. I'm a safe person to talk to—is there anything that's been on your mind lately?" ...stop and listen...
Take action
If you or someone you know is making suicidal threats or actions, immediately call 911 or take the person to the nearest emergency room.
The Suicide Prevention Lifeline is available 24 hours a day, 7 days a week and is free and confidential. Call 988.
Additional resources are available below.
Help for parents and caregivers


Parents and caregivers, try to find a regular time to check in with teens that works for them. Often that means not right after school/work/practice, during other demands like chores or homework, or when you yourself are stressed or anxious.

Dr. Shayla Sullivant from the Developmental and Behavioral Health team at Children's Mercy has developed a video series just for parents and caregivers of tweens and teens.

View the Prepped and Ready videos.
Resources


National Suicide Prevention Lifeline


Resources for LGBTQ+ people
Resources for parents and caregivers
NAMI Missouri Helpline: (800) 374-2138
A non-emergency line that provides information on local services and resources for people with mental health concerns. Available: Monday to Friday, 9 a.m.-5 p.m.
Prepped and Ready - Video series for parents and caregivers of teens by Children's Mercy expert Shayla Sullivant, MD.
Resources for teachers, coaches and community leaders
Children's Mercy can help
As part of our vision to create a world of wellbeing for all children, Children's Mercy extends our suicide prevention efforts to reach as many children and families as possible. Here are a few of the ways we are working toward this goal:
Screening questions at our hospitals and clinics to help connect families with mental health resources when needed.
Emergency care for children in crisis at our Adele Hall and Kansas Emergency Rooms.
Partnerships with local health care providers, schools and community organizations.
Individualized safety plans for families before they are discharged from the hospital or Emergency Room.