Ronald McDonald House and Family Room
Ronald McDonald House Charities of Kansas City (RMHC-KC) has three Houses as well as a Family Room program to assist families who have a critically-ill or injured child.
The Houses, known as the Wylie House, Bernstein House, and the Longfellow House are designed to provide "a home away from home" for families who are receiving care at local pediatric health care facilities.
The Ronald McDonald Family Room, located inside the hospital, is designed to be a comfortable space for families to get away from the hospital environment.
Ronald McDonald House
It's hard enough for a family to cope when a child is seriously ill or injured. When parents and children must travel far from home, the disruption of family life only adds to the stress.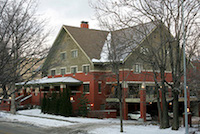 Ronald McDonald House Charities of Kansas City alleviates some of the stress by providing a home-like setting for families who have children receiving inpatient or outpatient treatment for critical illness or injury. Three Houses are located within walking distance of Children's Mercy. Each House provides indoor and outdoor spaces for families to relax and socialize while remaining close to their child's bedside.
Families receive their own guestroom, which can sleep up to six people, with attached private bath. Amenities include 24-hour access to a fully-stocked kitchen and pantry, laundry rooms, hygiene products, a medical room as well as supportive services by caring staff and volunteers. At Ronald McDonald House, families can be together and keep the routines of normal life, away from hospital lobbies and hotel rooms.
Families who have never stayed at Ronald McDonald House Charities of Kansas City must be referred by a Social Worker. For more information, contact (816) 234-3670.
Ronald McDonald Family Room
The Ronald McDonald Family Room is a special place within Children's Mercy where ICU families can relax and "get away" while staying close to their child. The Family Room offers a comfortable home-like setting including a living room area with a television, a kitchen and a quiet room for private conversations and phone calls. Seven (7) overnight sleeping rooms are available daily for ICU families. Please visit us to request a room daily.
Because the Ronald McDonald Family Room is meant to be a respite area for parents and family members, patients are not allowed. The hospital does a wonderful job taking care of patients; the Family Room is designed to take care of patient's families while their child is in the hospital.
Hours of operation: Monday–Friday 8 a.m. to 8 p.m.; Saturday–Sunday 10 a.m. to 6 p.m.
For more information, please email our Family Room Manager, Kelley Vantowle at kvantowle@rmhckc.org or call (816) 234-1533.