Spiritual Services
The Children's Mercy Department of Spiritual Services provides emotional and spiritual support to all patients and families.
Chaplains

Chaplains are available 24 hours a day to all people of any or no faith tradition. Our chaplains are professionally trained and board-certified. A nurse or the hospital operator can help you contact a chaplain.
Families of children in the hospital have unique questions, emotions and decisions.
Chaplains can:
Listen when you feel alone, afraid, or discouraged.
Support you as you think about the meaning of illness.
Help you explore your current sense of God's presence or absence.
Help you find your sources of hope and healing.
Connect you with your support community.
Pray with you.
Aid in carrying out sacred practices or rituals, such as baptism or meditation.
Lead in times of crisis and at the end of life.
Resources for patients and families

Chapel and garden

The Lisa Barth Chapel and Nancy Nutter Moore Garden are open 24 hours a day and offer places of comfort, peace and prayer. The garden also has an outdoor fountain area.
The chapel and garden are located at the Children's Mercy Adele Hall Campus on the ground floor near the Gift Shop and Cafeteria.
Chapel Library

The William T. Kemper Foundation Library is stocked with books for children and adults from many faith traditions and other helpful resources. Patients and families can borrow books from the library.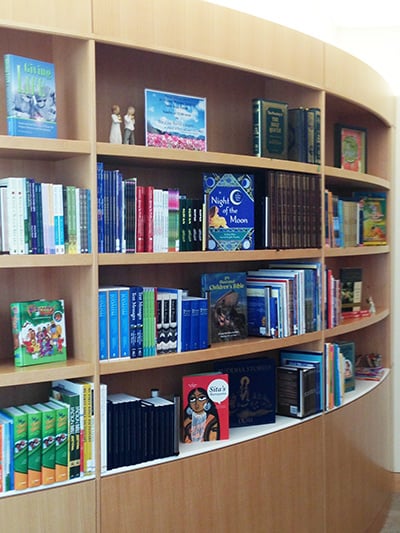 Worship

Interfaith worship services are held in the chapel and can be found on Channel 13 throughout the year.
There are no Sunday services being held while restrictions due to COVID-19 are in place.
Meditation

The chapel has a quiet room with peaceful music where you can meditate.
Special events

For families staying at the hospital, we hold special events during the year for holidays such as Holi, Eid, Passover, Christmas, and Kwanza. For dates and times, please view our event calendar.
The Chapel at Children's Mercy Kansas

The Chapel at Children's Mercy Kansas is a place of quiet for prayer, meditation, and quiet reflection. Sacred texts and books for special religious holidays are available in the cabinet. A nurse may consult the chaplain on-call at ext. 14000 to arrange for a phone call or in-person visit depending on the request. The chapel is open 24 hours a day and welcomes all people for moments of rest and renewal.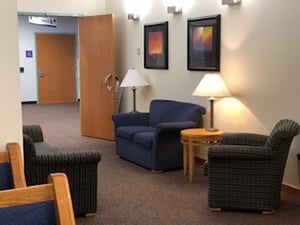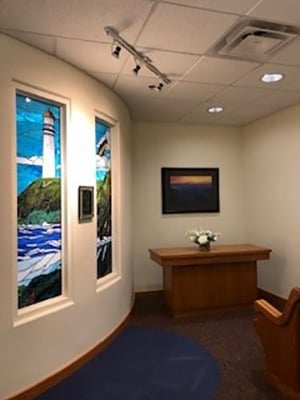 The inspiration behind the chapel
The Lisa Barth Chapel is made possible by the generosity of the family of Lisa Barth.
Contact Spiritual Services

To contact a chaplain or the Spiritual Services staff before you come for your visit or while you are here, please share your information with us, or call: (816) 915-4000.