Kreamer Resource Center for Families
The Kreamer Resource Center for Families is located on the ground floor near the Gift Shop and Cafeteria. This family resource center was designed with the needs of the family in mind. Children can explore our play area filled with toys and games while parents and caregivers catch up on personal or work related tasks using our computers, printers, fax machine, scanner, and copier. The Resource Center is also a great place to relax and take a break from the bedsite, or wait between outpatient appointments.
With self-care in mind, families can learn about our parent to parent support programs, POPS (Parents Offering Parents Support) and check out our weekly parent activities offered in our Activity Room. Families will also find information and tools to help children cope with their illness or being in the hospital.
The Resource center offers an easy check out system to borrow ipads, laptops, and new movies on DVD. The Resource Center also offers health information, books to read for enjoyment, and a private meeting space.
Resource Center Hours
Monday - Thursday 8 a.m. - 7 p.m.
Friday 8 a.m. - 5 p.m.
Saturday 10 a.m. - 4 p.m.
Closed Sunday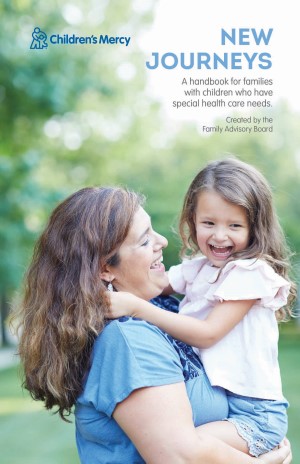 New Journeys Handbook
A handbook created by the Family Advisory Board for families with children who have special health care needs.