Lateral Meniscus Tear: Deron's Story
Meet Deron

Deron is an extraordinarily driven young athlete and student. The Coffeyville Community College Red Ravens tight end collaborated with physical therapist Nicole Hogan, PT, DPT, to overcome a repetitive knee injury that threatened to derail not only his high school but collegiate career.
Deron first worked with Nicole in April of 2019. He was a sophomore at Washington High School where he played both football and basketball. Deron thinks he first tore his meniscus during a basketball game that February, but he could still walk and play, so he continued to push through the pain. However, he was at an AAU basketball practice that March when it happened again.
"The very last drill, I cut in, and [my knee] popped again," Deron remembered. "I thought, 'That can't be good.' That's when I went to Children's Mercy."
Diagnosis and a return to football

Doctors there confirmed he had a minor lateral meniscus tear and connected him with the Children's Mercy Sports Medicine Center for physical therapy. Deron was introduced to Nicole, who has been with the Children's Mercy Sports Medicine Center since 2016. Before then, she worked with both Olympic and professional caliber athletes at the The Center in Colorado Springs. She grew up as a multi-sport athlete and played softball for Washburn University.
"The goal was to get Deron back to football with appropriate power, stability and strength to decrease his risk of [re-]injury," said Nicole. They first focused on his mobility, stability and pain management. Then, they worked on general strengthening and improved neuromuscular control to ensure he wasn't compensating for the injury by changing his movement patterns in preparation for more dynamic sport-related activities. They used classic exercises such as lunges, squats, football throws/catches on a single leg, sled-pushes and multi-directional drills to help Deron return to competitive form.
Deron returned to both basketball and football even as he continued to "re-pop" his knee from time to time during his sophomore and junior years. "Whenever I hurt it, I lost a lot of muscle mass, and sometimes when I ran, I'd feel like I was limping." Despite those setbacks, Deron fought through to excel in his senior year and earn a football scholarship to Coffeyville Community College in Coffeyville, Kansas. He felt healthy and strong during his first college football season.
"I was just getting back to full strength, honestly, a year and a half after," Deron said. "I just got my squat max back! It was feeling good, no pain, the range of motion was still there. There was no reason for me to think I'd get hurt again."
A setback

In early December, Deron was on winter break back in Kansas City. He pulled into the driveway after work, started to get out of the car, extended his right leg, and felt that same old pop.
"This time it was a little different," Deron said. "I couldn't extend my leg all the way. I couldn't walk on it. I had to hop back into the house so my dad could take me to the hospital."
They went back to Children's Mercy, where an MRI showed Deron had a displaced bucket handle tear of his lateral meniscus on his right knee.
"If you imagine a bucket and handle, and how the handle can flip over, that's essentially what it looks like," Nicole explained. "A portion of the torn meniscus may flip over and can become stuck in the knee joint." In most cases, bucket handle tears require surgery to correct, especially if the athlete is symptomatic.
Nicole worked with Deron before his surgery to improve his mobility and strength to help ensure the best outcomes post-operatively.
"I couldn't do a lot because I couldn't bend my leg—I couldn't extend it," Deron explained. They worked around his pain and weight-bearing restrictions with passive and active-assisted exercises and plenty of stretching.
"The more mobile, flexible, and stronger athletes can be going into surgery, the better position it puts them in coming out," Nicole said. "It helps set the stage for the rest of the rehabilitation process."
Getting back on track on and off the field

Deron's knee was repaired by an orthopedic surgeon on Jan. 21, 2022. After surgery, Deron stayed at home in Kansas City in February to let his knee heal. "It was locked straight for four weeks," Deron said. While waiting, Deron tried to keep up with his schoolwork from home but kept running into technical difficulties with his remote classes.
This was a frustrating month for him. Deron wanted to get back to campus and back to moving. In March, after getting his post-operative evaluations and brace unlocked, Deron returned to Coffeyville to resume school.
"I got back in March, and I had 4 Fs and a D," Deron said. He began working hard to get both his grades and his knee back in shape. He met with his teachers, who supported his efforts to make up for missed time.
"Not to brag, but I ended up with one A, two Bs and two Cs," Deron reported. "The A was in American Government. It was really a process getting back; I got scared there for a minute!"
During the spring semester, Nicole and Deron met for some virtual visits via telehealth and an in-person check-in over spring break. Deron also worked with two physical therapists in Coffeyville between March and May.
"After surgery, it was hard to bend [my knee]," Deron said, of his therapy in Coffeyville. "We were working on my walking and range of motion." This was the hardest period of therapy for Deron. He would get tired easily as he doggedly worked to get back in shape.
By the end of the semester, he was able to walk, run and jump a little and could bend his knee up to 127 degrees. In May, Deron came back to Kansas City to focus on his recovery with Nicole.
"I was excited because they have a great facility out there," Deron said, of the Village West sports physical therapy gym. They had a whole summer and 13,000 square feet to get Deron ready for football in the fall.
"This summer's goal has been finalizing and finetuning Deron's range of motion because he was still a little limited in motion when he returned," Nicole said. "We are also making sure he has the stability and foundational strength necessary to perform dynamic functional and sport-related movements with symmetrical and appropriate speed and power to be able to run and keep up with his peers on the football field with decreased risk of reinjury."
They began with lots of stretching to increase that range of motion then added strengthening and balancing work, including split squats, single-leg roman deadlifts and box step-ups. Deron would hit the weight room on his own on days when he didn't have a PT session.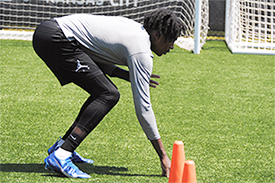 With his strength returning and improved stability, they began to integrate plyometric and sport-specific work: change-of-direction sprints, weighted-vest box jumps, the Power Plate, sled pushes and pulls, and other power-building activities. The outdoor facilities at Village West helped ease Deron back into football drills. He and his cousin started drilling outside of Deron's therapy sessions, too. They met in the mornings at Deron's old high school field to do cone workouts, run routes and catch.
"I was anxious to get back to the field!" Deron said.
Deron had a slight setback after being in a minor car accident this summer; they used icing, e-stimulation and a Game Ready ice compression unit to manage his pain and quickly get him back to training. Recently, they've been drilling for quickness, speed and hand-eye coordination.
"We're working on those unpredictable, uncontrollable movements he's going to have to master and be confident in as he gets ready for football training," Nicole said.
"I'm still not where I want to be yet," Deron said, but he has his eyes firmly set on his goals. "This season, I want to secure that starting spot."
"He's very athletic," Nicole said of Deron. "He moves well. You can just tell he has that God-given ability, those intangible qualities and skill. He has a competitive edge and determination about him, but he's also extremely kind and a respectful young man."
Deron's goals aren't just individual. He says he wants to make his teammates better, too, and he dreams of a national championship. "I can only imagine what he's like on the football field with that team mentality, focus, and drive because he carries that through, and it's evident in everything that he does," Nicole said.
Deron had praise for Nicole as well. "She's great. I can tell her where I feel the pain, and she gives me stretches that really target the area," Deron said. He laughed while remembering how he tried to stay tough during their first sessions together. "When I was first working on my range of motion, when she was stretching my knee, she's like, 'Did that hurt right there?' I'm like 'No,' trying not to cry. She just gets down to business."
A dynamic duo

When working with athletes whose main sports are outside of her personal experience, Nicole relies on research and collaboration with both patients, mentors and colleagues. She says she watched a lot of football videos to study movements, so she and Deron could replicate them in training sessions.
"We make a pretty good team in rehab," Nicole said. "He knows the logistical names of the moves and techniques he has to be able to do, and then I'm able to help him recreate those."
Recreate them, they did. "The exercises she does hit the spots she wants them to," Deron said. "Whatever injury you have, she knows the exercise and stretches; she knows how to balance it so you're not overcompensating. She has a lot of IQ in those areas."
As Nicole and Deron went into their last sessions of the summer together, they concentrated on his future goals.
"I hope he can go back stronger and better than he was before," Nicole said. "I hope he can go back to competing at the highest level and go on to achieve his dreams of playing football at a Division I and beyond. He's disciplined and a hard worker, and I think he'll continue to go far."
Deron's focus is singular. "I'm going to put all my effort into football and see where that takes me," Deron said. "At the end of the day, it's all in God's hands."
Nicole says that belief in each other is essential to the rehab process. "So much of what makes for a superior physical therapy experience is the authentic and trusting relationship you build with the athlete," Nicole said. "It's not only us having belief in them, but also them believing in us and believing we can get them where they need to be. Our goal is to be here for the athlete, to meet their individual needs, and help them get where they want to go."
Where does Deron want to go right now? "I really want to be back on campus and back to work," said Deron, who started practicing with his team again on Aug. 1.
Stories
ACL tears in both knees: Megan's story
By the time she was just 18 years old, Megan Johnson had torn the anterior cruciate ligaments (ACLs) in both knees. With the help of Children' Mercy Sports Medicine at Village West, the college softball player is ready to return to the field when COVID-19 restrictions are lifted.
Meet Megan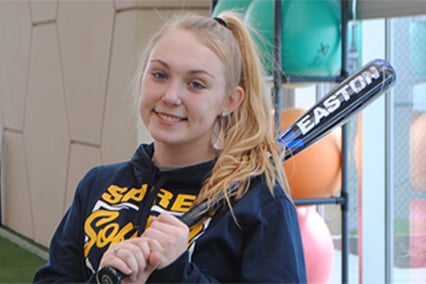 Patellar instability: Lauryn's story
Lauryn Jimenez has struggled with an unstable right kneecap since grade school, severely hampering her activity level. With surgery at Children's Mercy and physical therapy at Children's Mercy Sports Medicine Center, she's running and jumping now. Her goal is to become even more active, perhaps playing basketball or volleyball on a rec league.
Meet Lauryn