Sports Medicine Surgery
Nationally ranked by U.S. News & World Report
All surgery is significant when it involves your child. While every family wants to see their child heal quickly and get back to their daily activities, student-athletes are especially attuned to the time away from sports and school, as well as the rehabilitation they will need when surgery is required.
Expert surgical care for student-athletes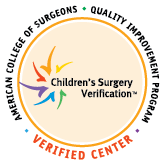 As a pediatric hospital, we are equipped to meet the unique needs of student-athletes' growing bodies. Our surgeons are board-certified in pediatric orthopedic surgery, and Children's Mercy is verified as a Level 1 Children's Surgery Center – the highest possible rating – by the American College of Surgeons.
The anesthesiology team at Children's Mercy will help your child feel as comfortable as possible before, during and after their procedure. We use treatment techniques like nerve blocks when appropriate to help control pain and reduce the amount of narcotic pain medication your child needs after surgery.
Your surgical team

Children's Mercy sports medicine surgeons specialize in expert care and treatment for student-athletes of all ages. When you visit with your surgeon and their team, your student-athlete is the center of the conversation. Athletes can expect to speak directly with the surgeon about their condition and ask any questions they might have about treatment options, recovery and rehabilitation.
Parents and caregivers are an essential part of the care team, too. The surgical team will work together with you to design a plan for surgery that fits with your family's needs and expectations. We take into consideration your child's academic and athletic schedules as much as possible when planning your surgery and recovery timeline.
Determining if surgery is necessary

After a sports injury, the sports medicine physician who cares for your student-athlete may provide a diagnosis and treatment plan. If they are concerned that your student-athlete might need surgery, they will initiate a referral to our surgery team.
We have multiple clinic locations throughout the Kansas City area for your convenience.
In many cases, we may recommend you begin physical therapy sessions to ease pain and strengthen the surrounding muscle groups prior to seeing the surgeon or between your consultation appointment and your surgery date.
If your student-athlete does need surgery, you'll visit with one of our sports medicine surgeons and discuss the options for treatment, which may include a surgical procedure. The surgeon will explain the details of the surgical procedure as well as the plan for recovery.
Choosing the best home for your student-athlete's care

For the Children's Mercy Sports Surgery team, youth and adolescent athletes are our entire focus. We are in the unique position of understanding student-athletes' concerns and goals as they work to balance their athletic, academic and personal needs throughout the recovery process.
Stories
ACL tear and rehab: Mary's story
When 15-year-old Mary suffers a knee injury that threatens her tennis career, her parents turn to Children's Mercy for expert orthopaedic surgical repair. See how customized care and world-class rehab facilities used by professional athletes enable Mary to get back on the court in time for her state high school tournament.
Recovering from surgery

Your care team will give you detailed instructions about how to care for your injury after surgery. It's important to follow these guidelines for a healthy recovery.
Medications

,

cold therapy, and

physical therapy exercises

can

all

help you manage pain after

surgery.

When you use

a combined

approach to pain management,

like we recommend, you can often reduce your

use of narcotic pain medications

while

still keeping

your pain under control.

Your

care team will

help you understand all these

pain management

tools

and can

answer

any questions

you have

at your appointments

, by phone

or via the

patient portal

.

Most student-athletes can begin physical therapy exercises at home the next day after surgery. Within a week, you will come see a physical therapist to assess your progress and help you continue to work toward recovery.
You will follow up with your surgeon 1 to 2 weeks after surgery, then 6 weeks, 12 weeks and 24 weeks after surgery. At each appointment, the surgeon will assess your range of motion, strength and function in the injured area and determine if you're ready to take on more activity.
You may be able to begin the transition back to sport after your 24 week appointment, depending on how you're progressing.
Mental wellness and sports nutrition after surgery

It can be incredibly frustrating for an active athlete to be sidelined for weeks or months with an injury. Student-athletes in particular often struggle with mental wellness when their school, practice and social routines are disrupted by an unexpected injury.
Children's Mercy has a Sports Family Therapist who is available to meet with athletes who are experiencing anxiety, depression or other mental health concerns related to their involvement in sports. Talk with your sports medicine physician for a referral to the sports therapist.
We also offer customized nutrition plans to aid in injury recovery through our Sports Nutrition Clinic. A board-certified Specialist in Sports Dietetics (CSSD) will work with your family to create a plan to help your body rebuild and repair muscle tissue after an injury.
Find Children's Mercy Sports Medicine on social media


Pediatric Orthopedic Surgery, Sports Medicine
Chief, Section of Sports Medicine; Pediatric & Adolescent Orthopaedic Surgery; Associate Professor of Orthopaedic Surgery, University of Missouri-Kansas City School of Medicine; Clinical Assistant Professor of Orthopaedic Surgery, University of Kansas School of Medicine
Pediatric Orthopedic Surgery
Pediatric Orthopedic Surgeon; Sports Medicine; Associate Professor of Orthopaedic Surgery, University of Missouri-Kansas City School of Medicine; Clinical Assistant Professor of Orthopaedic Surgery, University of Kansas School of Medicine