Sports Medicine Locations
When your child is treated by the sports medicine team at Children's Mercy, they aren't just getting excellent care designed specifically for growing bodies. In addition to their clinical care, your child will have access to world-class facilities where they can be treated, rehabilitated, and developed into stronger athletes.


Sports Medicine Center at Village West
Our newest sports physical therapy gym is made to meet the needs of all student-athletes who want to rehab in an environment specific to their sport. Village West offers a 13,000-square-foot gymnasium and state-of-the-art equipment, including an anti-gravity treadmill, the first of its kind in the area. And because the gym is also used by Sporting Kansas City and U.S. Soccer, it's not uncommon for student-athletes to work out alongside professional athletes.
Village West offers:
HydroWorx 3500i and HydroWorx 2000. These two therapy pools are the first of their kind in a health care setting in the Kansas City area and are used for rehabilitation and patient care. These are most commonly seen in collegiate and professional sports settings around the nation.

AlterG anti-gravity treadmill. We are the first facility in America to own the new AlterG Via400X with Stride Smart Gait Recording Technology. This machine records comprehensive data about an athlete's performance and syncs with medical charts so doctors and parents can stay informed on a patient's progress. The machine uses NASA-developed technology to unweight patients, which reduces impact while walking or running during rehab.

Turf area. This large area of turf allows athletes to rehab on a surface that more closely simulates their sport's on-field environment.

Weight room. Our weight room has equipment typically found in a college or professional sports training room. This allows us to train our athletes at a higher level and provide education and injury prevention by improving form and technique.

Professional-grade batting cage. The cage measures 70 feet long, which allows throwing athletes a full space to work on form, technique, and throwing progression while rehabilitating. It also lets athletes work on cutting and changing directions while throwing or kicking a ball.

Human performance and motion analysis lab. Our 2,000-square feet 3-D motion analysis and human performance lab features 20 cameras. Here, the sports medicine team can study gait and movement patterns which help us make evidence-based return-to-play decisions. This equipment also is used with cerebral palsy and spina bifida patients.

Full range of cardio equipment. We offer the latest cardio equipment for the conditioning and fitness of our athletes. This includes seven Woodway treadmills, 10 Keiser spin bikes, two adaptive motion trainers and three Hi-Tri VersaClimbers.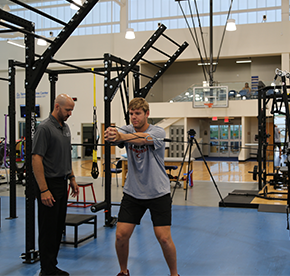 Tour the state-of-the-art facilities
Children's Mercy offers state-of-the-art facilities where student-athletes can work out using the latest equipment and techniques. Recover from injury using the HydroWorx therapy pools, AlterG anti-gravity treadmill, professional-grade batting cage, turf area, human performance motion lab and more.
Blue Valley

Our Blue Valley sports medicine gym, located in southern Johnson County, totals more than 3,500 square feet. Athletes are able to rehab from any sports injury on modern equipment under the supervision of our sports physical therapy staff, who will work to get them back on the field as soon as possible.
The Blue Valley gym includes:
Textured track lanes. Blue Valley has three tracks lanes, which are 70 feet long with textured flooring. This allows aggressive running, cutting, and change of direction tasks without losing footing.

Custom track netting. A 12-by-10-foot net allows us to throw, kick, or complete a variety of other movements specific to an athlete's sport.

Basketball court. The facility offers a partial basketball court with regulation goal which allows us to adapt treatments to sport-specific needs and activities.

Squat rack. In addition to our full range of weightlifting equipment, our squat rack enables us to challenge high-level athletes. They can work on proper form for power or Olympic-style lifting, working on handling the proper load during various phases of rehab.
Additional Sports Medicine facilities

In addition to Village West and Blue Valley, we also offer sports medicine care at four other Kansas City metro area locations, giving you more options to get treatments close to you. Our Adele Hall, Kansas, West, and East locations are all staffed by trained sports medicine and physical therapy providers who provide high-quality care that's convenient for your time and schedule.


Find Children's Mercy Sports Medicine on social media