Sports Physical Therapy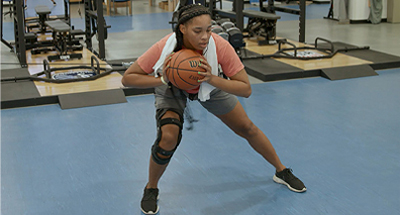 Our sports physical therapy program offers exceptional care and compassion for your student-athlete. The team at Children's Mercy Sports Medicine Center understands the needs of athletes and adjusts their treatment plan to fit the sport they play.
Our commitment to you


Your student-athlete will receive one-on-one care with a licensed sports physical therapist in a facility designed for athletes.
Your athlete will receive care from expert sports physical therapists, who specialize in treating athletes from middle school through their college career, regardless of their sport.
With knowledge in referrals to our sports-certified nutritionists, sports mental therapist or other sports medicine surgeons and physicians, our sports physical therapy team can assist your student-athlete through therapy and beyond.
Our sports physical therapists use goals instead of timelines to safely return the athlete the sport they love.
Our sports physical therapists are located at three convenient locations: Children's Mercy Adele Hall Campus, Children's Mercy Blue Valley and Children's Mercy Village West.
Services
Water therapy offers many benefits for student-athletes who are recovering from an injury, including increased flexibility, better range of motion, and less pressure on your joints as you heal. Located at Village West and Adele Hall Campus.
Completed by a trained physical therapist to treat myofascial pain. A small solid microfilament needle will be used to insert into the muscle or trigger point to alleviate pain. It can also reduce muscle tension and improve range of motion for a variety of diagnosis. Located at Village West, Blue Valley and Adele Hall Campus.
ACL Return to Sport Testing
Provide return to sport testing following ACL reconstruction utilizing the most current objective measures to justify safe return. Located at Village West, Blue Valley and Adele Hall Campus.
Utilizes negative pressures to allow for walking/running to gradually return to athlete to sport and improve cardiovascular condition. Located at Village West.
Blood Flow Restriction (BFR)
A tool to promote strengthening in the arms or legs without increasing load. Located at Village West and Blue Valley.
Provide isokinetic testing for the knee or various body parts for objective testing to justify safe return. Located at Village West and Blue Valley.
A physical therapy intervention to promote healing after a concussion. Located at Village West, Blue Valley and Adele Hall Campus.
Schedule an appointment

A request for consultation from a licensed healthcare provider is required for all new physical therapy evaluations. After we receive the request to treat your student-athlete, a representative will call you to pre-register for the first appointment.
We aim to see you within four days of the referral. We also make appointment scheduling as flexible as possible to accommodate busy lives.
Children's Mercy Adele Hall
(816) 234-3880
Children's Mercy Blue Valley
(913) 717-4750
Children's Mercy Village West
(913) 264-3000
Sports Medicine Physical Therapy