Sports Physical Therapy
Nationally ranked by U.S. News & World Report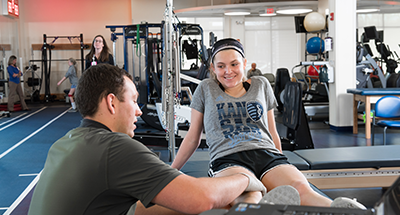 Sports Physical Therapy
Nationally ranked by U.S. News & World Report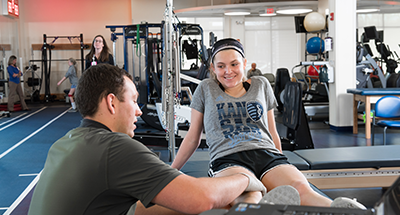 Sports physical therapy helps student athletes recover from sports-related injuries. The team at Children's Mercy Sports Medicine Center understands the needs of athletes and adjusts your treatment plan to fit the sport you play. Your child will work with an experienced sports physical therapist in a facility designed for athletes first. Our expert physical therapists are trained to meet your child's needs from middle school through their college career.
When surgery is needed for a sports injury, we work closely with our team of orthopedic surgeons. We understand the psychological impact of these injuries to help our athletes through the ups and downs of injury recovery.


Sports physical therapy appointments

A request for consultation from a licensed healthcare provider is required for all new physical therapy evaluations. After we receive the request to treat your child, a representative will call you to pre-register your child for their first appointment. We aim to see patients within four days of the referral. We also make appointment scheduling as flexible as possible to accommodate busy lives.


Scheduling an appointment

Adele Hall Campus: (816) 234-3380
Blue Valley: (913) 717-4750
Village West: (913) 264-3000


What to expect during your visit

When you arrive for your therapy visit, you'll meet with an access rep and walk through insurance information and other forms. Initial evaluations last one hour and are one-on-one with a licensed sports physical therapist. We try to have the same physical therapist work with your child throughout their treatment.
We examine your child's specific injury and do a detailed health assessment that is tailored to fit the sports they play. For example, if a baseball player comes in with an injury to the elbow, it could also be related to their hip in some way. This allows us to assess and treat your child holistically top to bottom.


Home treatment plan

After your child's evaluation, we'll create an at-home treatment plan for them to follow. This allows athletes and their families to take ownership of their care. We'll assess your child during weekly follow-up appointments to make sure the treatment plan is working. Each treatment plan and frequency is customized based off constant reassessments, appropriate progression, and collaboration with the patient, family and other appropriate support personnel.


Other appointment information

What to wear

It is important for your therapist to be able to see the body areas to be treated. Please wear clothing that allows those body areas to be easily accessible. For example, if you have a concern with your leg, either wear shorts or bring a pair to change in to.


Attending with your child

A parent, step-parent, foster parent, or legal guardian must be present to sign a consent for treatment at the initial visit. If the patient is 18 years or older, he or she may give consent themselves. If an adult other than the above-mentioned individual is accompanying your child, he/she must have a notarized letter stating the parent gives consent for treatment. At subsequent appointments, teenagers over the age of 16 years may sign themselves in as long as we have a current signed consent on file.


Rescheduling appointments

If you need to cancel your therapy session for any reason, please notify us 24 hours prior to your appointment time, or as soon as possible by calling (913) 717-4750. If you are ill (fever, vomiting, or other potentially communicable conditions), please be respectful of the therapist and other athletes in our clinic and reschedule your appointment.
Stories
ACL Injury and Recovery: Michael's Story
When Michael Shultz experienced a season-ending knee injury while wrestling, he turned to the experts at the Children's Mercy Sports Medicine. After surgery to repair his ACL and extensive rehab, he's back in action for his senior year, suiting up as No. 30 and playing middle linebacker and tight end for the Sabres.
Meet Michael