Sports Physical Therapy
Nationally ranked by U.S. News & World Report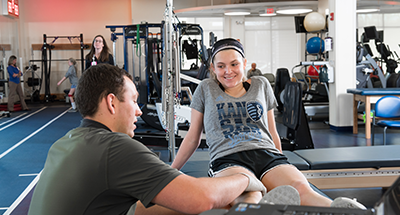 Sports Physical Therapy
Nationally ranked by U.S. News & World Report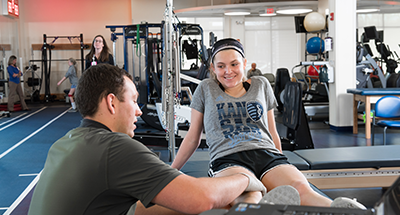 Our sports physical therapy program offers exceptional care and compassion for your student-athlete. The team at Children's Mercy Sports Medicine Center understands the needs of athletes and adjusts their treatment plan to fit the sport they play.
Your child will receive one-on-one care with a licensed sports physical therapist in a facility designed for athletes first. Our expert physical therapists are trained to meet your child's needs from middle school through their college career, regardless of their sport.
Our commitment to you

Our team works closely with our entire sports medicine staff for complete comprehensive care. With knowledge in referrals to our sports-certified nutritionists, sports mental therapist, or other sports medicine surgeons and physicians, our sports physical therapy team will get your student-athlete back to the sport they love in a safe and timely manner.
Services
Nationally ranked by U.S. News & World Report
Water therapy offers many benefits for student-athletes who are recovering from an injury, including increased flexibility, better range of motion, and less pressure on your joints as you heal. Located at Village West and Adele Hall Campus.
Completed by a trained physical therapist to treat myofascial pain. A small solid microfilament needle will be used to insert into the muscle or trigger point to alleviate pain. It can also reduce muscle tension and improve range of motion for a variety of diagnosis. Located at Village West, Blue Valley and Adele Hall Campus.
ACL Return to Sport Testing
Provide return to sport testing following ACL reconstruction utilizing the most current objective measures to justify safe return. Located at Village West, Blue Valley and Adele Hall Campus.
Utilizes negative pressures to allow for walking/running to gradually return to athlete to sport and improve cardiovascular condition. Located at Village West.
A tool to promote strengthening in the arms or legs without increasing load. Located at Village West and Blue Valley.
Provide isokinetic testing for the knee or various body parts for objective testing to justify safe return. Located at Village West and Blue Valley.
Overhead Athlete Mechanical Analysis
Our overhead athlete trained specialist will evaluate basic mechanics of baseball, softball, tennis and other sports. Our goal is to not replace coaches or trainers, but to simply look big picture at the athlete's movements to reduce potential injury risk and improve performance. Located at Blue Valley and Village West.
A physical therapy intervention to promote healing after a concussion. Located at Village West, Blue Valley and Adele Hall Campus.
Stories
Bulging Disc Injury and Recovery: Logan's Story
Logan Buffo, a three-sport athlete at Lansing High School, worked out with some serious weight as a member of his powerlifting team until multiple bulging discs slowed him down and led to chronic pain. Under the guidance of Shannon Margherio, PT, OCS, Logan began his physical therapy at the Sports Medicine Center at Children's Mercy where he learned proper form in the weight room and how to avoid injury in the future.
Meet Logan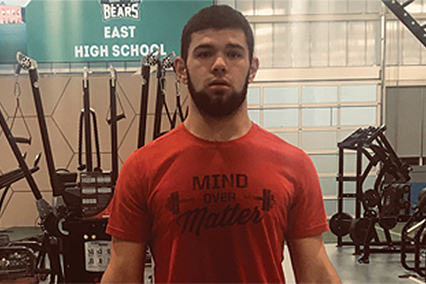 ACL Injury and Recovery: Michael's Story
When Michael Shultz experienced a season-ending knee injury while wrestling, he turned to the experts at the Children's Mercy Sports Medicine. After surgery to repair his ACL and extensive rehab, he's back in action for his senior year, suiting up as No. 30 and playing middle linebacker and tight end for the Sabres.
Meet Michael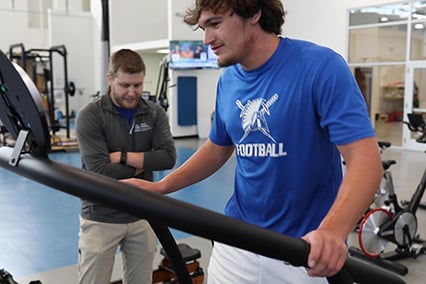 Schedule an appointment

A request for consultation from a licensed healthcare provider is required for all new physical therapy evaluations. After we receive the request to treat your child, a representative will call you to pre-register your child for their first appointment.
We aim to see patients within four days of the referral. We also make appointment scheduling as flexible as possible to accommodate busy lives.
Adele Hall (816) 234-3880
Blue Valley (913) 717-4750
Village West (913) 264-3000
Sports Medicine Physical Therapy