Spondylolisthesis Recovery: Gabby's Story
Meet Gabby

Gabby is a gymnast who has been training since she was four years old, first at the YMCA and then at Great American Gymnastics Express (GAGE). The high school junior matches flexibility and power with artistry, especially on floor exercise, her favorite event.
About a year ago, her back began feeling tight, but Gabby didn't think it was anything other than the normal aches and pains of being a Level 10 gymnast. She sought out some physical therapy but continued to compete through the pain.
"In December, I was doing a release move on bars, and I landed on my back," recounted Gabby. She thought she was ok and continued to train at the gym, but the next day, she couldn't get out of bed.
"That's when I knew something was wrong," Gabby said. Very wrong, it turns out: Gabby's L5 and S1 vertebrae had slipped out of place (spondylolisthesis), sliding forward (anterolisthesis) two whole millimeters. Her mom, Lisa, said Gabby's doctor recommended she start physical therapy with Brooke Boehmer, DPT, who has been working at the Children's Mercy Sports Medicine Center since 2018.


Enter Brooke

Like Gabby, Brooke trained as a gymnast throughout her childhood. She then joined the University of Missouri-Columbia gymnastics team in college. A torn ACL sidelined her during her freshman year, but after recovering she went on to compete on the balance beam for the rest of her university career.
Contrary to her current role, Brooke's early experiences with physical therapy weren't positive. "I had a back injury—not quite as bad as Gabby's—growing up and had to take time off," remembered Brooke. "I hated PT when I was younger!"
In college, her feelings about PT began to change. "I knew what and why I was doing the exercises they provided me," Brooke remembered. After college, Brooke began coaching at Eagles Gymnastics in Kansas City. When her gymnasts were injured, their physical therapists would ask Brooke what gymnasts needed to be able to do...and how to help them do it.
"Gymnastics is a very unique sport, and it does a lot to your body," Brooke said. "It's hard for other people to know how to help when they don't understand the sport. It's easier to have someone to talk to who knows the language. I thought, 'this is an area that I could really help.'"
Brooke has indeed made an impact on gymnastics in Kansas City, as she quickly became known as the physical therapist to call when a gymnast needed help healing. Brooke began seeing Gabby twice a week at the end of January 2022.


Getting to the core

Before her injury, Gabby had been competing through the pain and tightness, but it was preventing her from doing some of the skills she wanted to conquer. Extension-based or arching skills were especially difficult.
"Gabby said her worst pain was a four out of 10," Brooke reported, "but gymnasts typically have a very high pain tolerance. They did another MRI and decided to have her come see me for a bit. They wanted her to take some time off from gymnastics and see what we could do to get her back on track."
Brooke and Gabby started with a full-body evaluation. With all athletes, core strength is needed to provide stability for the lower back; a lack of core strength can lead to back pain and issues.
"But with gymnasts there is so much extension," Brooke said. "We also need to look at shoulder and hip flexibility and strength."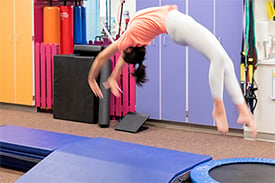 Brooke asked Lisa to pull up a video of Gabby's back handspring. They watched it in slow motion, tracking how she arched in the air and how she landed. In no time, Brooke identified the source of Gabby's pain.
"You can see exactly where there's this hinge point," Brooke said. "A lot of times I can point to exactly where an athlete's pain is before they even tell me, because it's right at that spot where there's extra movement.
"It was amazing how quickly she identified something that no one else had," said Lisa.


Relieving the stress

To ease the stress on Gabby's back, they began working on increasing her core strength and her flexibility and strength in her shoulders and hips. Brooke gave Gabby home exercises and stretches to boost her shoulders' range of motion. They used Thomas stretches and kneeling wall stretches to open her hip muscles.
They used a tool called a goniometer—a hand-held, hinging ruler that measures the angle of a joint's range of motion—to track Gabby's progress. The stretches began working almost immediately.
"After those shoulder exercises, in just the first week, my flexibility improved," said Gabby. "I started at 150 degrees, and in the first week I already improved to 160." She's at 180 degrees now.
"Although gymnasts are very flexible, you also have to have the strength within the flexibility to be able to control your body, too," said Brooke. "So along with the flexibility, we also work on strengthening those areas."
They began with body weight exercises and then progressed to weights and therapy bands. Gymnasts tend to be quad-dominated, so they put special focus on strengthening Gabby's hips and hamstrings. They also used manual and soft-tissue work to help alleviate tightness before their sessions. The trampoline and mats at the Children's Mercy Sports Medicine Center let Gabby work with Brooke on gymnastics-specific movements, while Gabby credits the Bosu ball in helping her build muscle and balance.
This spring they started slowly introducing gymnastic skills into their sessions. They began with skills that don't have any extension and certain jumps that have less forceful landings. They also worked skills on the trampoline and tumble track before moving them to the floor and, eventually, on the beam. They are working on extension-based skills now but being careful to limit the number Gabby does every day to make sure she's not overdoing it.
"It's a gradual progression and a long process," said Brooke. "I told her we have to make sure that you're going back healthy and without pain...We want her to go back stronger and better than she was before."
Having to take a break from skills work was difficult for Gabby, who loves competing. "It was very hard because I went from training 32 hours a week to absolutely nothing," she said. "I couldn't go upside down; I couldn't do any gymnastics at all. It was hard watching my teammates train and get ready for meets."


Getting ready for competition

But that slow, steady advancement is all in the service of getting Gabby back into fighting form to compete in all four events next season. As Gabby began adding more difficult skills back in, they kept the focus on flexibility, strength and technique. They record Gabby's work and play it back in slow motion to analyze her form.
"If something doesn't look right, then we're going to back off and focus on what we can do to fix it, so that it's not going to put stress on her back," said Brooke.
"Now I'm very close to getting all my skills back, which is really exciting for me," said Gabby. Doing her first back handspring post-injury was a pivotal moment in her recovery.
"I will never forget the look on her face after she did that first one," Brooke smiled. "Her eyes were so big, and she was so excited because it didn't hurt. It was the first time in a long time that she had done it without pain."
When they checked the video of that handspring against the earlier version, there was the visual evidence:
"Her shoulder angle was much more open. Her arms weren't bent when her hands were hitting the mat," said Brooke. "Her back had a nice curve. There was no hinge point."
Gabby loved being able to return to double backs, her favorite skill, and is looking forward to being able to perform her entire tumbling routines once more—not to mention release moves on bars. She's currently working on round-off back handsprings, giants and back handsprings on the beam, all without pain. This summer, Gabby will be attending a college gymnastics camp at Nebraska and preparing for her senior year of high school.
"I want to stay healthy and have my best season yet," Gabby said. She'll graduate early in December and then spend some time focusing on gymnastics. Her future goals are very clear: "I want to be a college gymnast and go to a DI school."
Brooke's goals for Gabby are to return to gymnastics without pain and for her skills to feel easier than before because she won't be fighting against her body. They are decreasing their sessions to once a week this summer as Gabby ramps her gymnastics training back up to 36 hours per week. Gabby continues to do all her shoulder, core and hip exercises every day before practice to maintain the strength and flexibility she gained with Brooke.
"She's amazing," Gabby said of Brooke. "She's really positive and she helps a lot, mentally and physically."
The admiration is mutual: "She's a hard worker and a pleasure to work with," Brooke returned.
"I wouldn't want any other physical therapist than Brooke," concluded Gabby. "She's the best, and the Children's Mercy Sports Medicine Center is a great place for physical therapy."
Stories
Bulging disc injury and recovery: Logan's story
Logan Buffo, a three-sport athlete at Lansing High School, worked out with some serious weight as a member of his powerlifting team until multiple bulging discs slowed him down and led to chronic pain. Under the guidance of Shannon Margherio, PT, OCS, Logan began his physical therapy at the Sports Medicine Center at Children's Mercy where he learned proper form in the weight room and how to avoid injury in the future.
Meet Logan