Debilitating Pain: Lauren's Story
Meet Lauren

Lauren is a 17-year-old who just graduated from Central High School in Saint Joseph, Mo., with a very specific athletic goal:

"After high school, I want to be a Division I baton twirler," Lauren shared. Specifically, Lauren wants to be a featured twirler at the University of Arkansas. Lauren was working hard to prepare for college auditions, but her persistent back pain finally reached a crisis point during a national dance competition in July 2022.

"I was in tears constantly," Lauren said. "But I told my parents: 'I'm not going home. I'm not leaving my team like this.'" She toughed out the week, but on the trip back, she couldn't sleep or eat because of the pain. Lauren and her family decided to reach out to Gregory Canty, MD, Medical Director of the Children's Mercy Sports Medicine Center, for his expertise. Lauren had seen Dr. Canty for other sports-related injuries before and trusted him.
Diagnosis

Dr. Canty spoke with Lauren and her family about the risk of overuse injuries and treatment plan options. Together, they decided to start with a trial period of rest, even though Lauren was devastated at the thought of restricting activity and putting her training on pause. She worried her lifelong dream of twirling in college was unattainable and wondered how much of her senior twirling football season could be salvaged.
After an initial period of rest, Lauren showed some improvement and begged Dr. Canty to let her start physical therapy. Dr. Canty introduced her to Nicole Hogan, DPT, at the Children's Mercy Sports Medicine Center, and they began sessions in early September. Nicole, a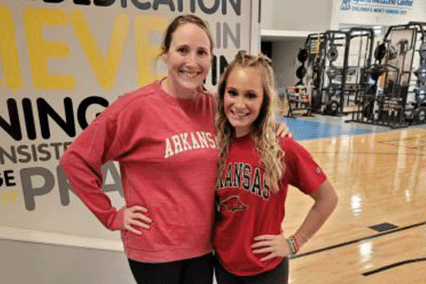 multi-sport athlete who played softball in college, has been with the Sports Medicine Center since 2016.

Nicole started Lauren on a heavy flexion-based core and spinal stabilization program and taught her techniques to help manage the pain, especially throughout her day-to-day activities. They focused on avoiding extension-based movements that could put more pressure on the lumbar spine and can lead to conditions such as spondylolysis in athletes like twirlers.

"There are so many daily activities that put us into extension, and we don't even realize it," Nicole said. "When she twirls, she lives in extension."
Moving forward

To help her keep making progress toward auditions, they began modifying a twirling routine Lauren could perform as she healed. The show-stopping skills Lauren had worked so hard to learn — toss front walkovers, toss aerials, toss back handsprings, double illusions — weren't options during her recovery.

"I would show her what I used to do," Lauren said. "And she'd say, 'OK, well, you can't do this, but you can do this.' It was a slow, step-by-step negotiation between what I wanted to do and what was safe to do."

The adapted choreography helped Lauren heal and perform through the fall football season.

"She was demonstrating improvement in proximal hip and core strength," said Nicole. "Her lumbopelvic stability was improving. And, most importantly, even though she was still having some back pain, it was gradually improving."
Another setback

At the end of the fall, they decided to have Lauren take a couple weeks off before beginning to train for tryouts. When they resumed work in November, Lauren's back pain was manageable, but now she was experiencing tingling and radiating pain into her hips and legs.

Nicole introduced muscle energy techniques to help with impaired innominate rotation and pelvic position, re-introduced foundational movements such as abdominal bracing, renewed and modified stretches to help with improved hip flexibility, and initiated nerve glides to help with nerve mobility.

When they reconvened with Dr. Canty for follow-up, he was concerned Lauren was still having occasional symptoms. He recommended they get an MRI for more guidance. Thankfully, the MRI did not reveal any significant disc herniations or any ongoing bone stress injury. Nicole and Lauren then had all the information they needed to forge their way forward through treatment.

"Her initial signs and symptoms were mostly muscular in nature," explained Nicole. "There were some muscle strength and mobility imbalances, as well as stability/control deficits we really had to address. We had to listen to how she was feeling and what she was telling us."

By December, the therapy seemed to be working. The tingling was decreasing, and Lauren was able to perform an adapted routine with her marching band at Disney World over the holiday break. It seemed like a turning point, until her recovery hit another snag: During a beach walk with her mom post-performance, Lauren stepped in a sinkhole and felt her knee buckle.

"She just couldn't catch a break!" said Nicole. She and Lauren met for a telehealth appointment in early January to address the new knee injury. Lauren had only a few weeks to be ready for her auditions in February. At this point, her back pain was under control, and the radiating pain had subsided. She was going through her twirling routine and adding some illusions back in. But part of the audition was running a mile in under eight minutes. Would her knee be ready?

Grateful she had an excellent relationship with Dr. Canty, Lauren reached out again to have her knee evaluated. They were able to confirm there was no structural damage with the knee, and they could continue training. Then Nicole and Lauren got to work — again. They added exercises to get her vastus medialis oblique (VMO) activating and to strengthen her quad muscles. They began training on the Alter G Anti-Gravity Treadmill, which uses differential air pressure technology to "unweight" runners, so Lauren could practice running in a controlled environment without over-stressing her knee. They talked through the timing of her tryout, strategizing how she could stay warm and protect the joint throughout the long, grueling audition. Nicole checked in with Lauren daily, fine-tuning her training as they counted down to tryouts.
Grabbing the baton

When the audition came, all their hard work paid off. "I made it," said Lauren, who nailed her routine and completed the mile under the time limit. "There are only two freshmen on the team, so that was pretty exciting!"

But Lauren still had some doubts. Her back pain flared up after the stress of the tryout. "I almost didn't want to commit because I was scared the pain would continue to come back," she said. "But this is a dream I do want to chase, and if Nicole was willing to keep me in therapy to find every fix she could to keep me healthy, I thought, 'OK, I'm going to trust her. This is it.'"

"It was probably one of the more complex situations I've had in a while," said Nicole, regarding their long journey to a successful tryout. "I appreciate her having the trust in me to help get us to the end result."

Lauren committed to the University of Arkansas, continued therapy with Nicole, and added to her accolades by winning first in two categories at the Missouri state baton twirling competition this spring. They are looking ahead to Lauren's first season in Fayetteville now.

"The sights are on Arkansas," said Nicole. "How can we build her tolerance back up so we're not having these crash and burn moments? We're steadily progressing volume to get her back to where she needs to be."

They put together a holistic plan that balances twirling and training while incorporating proximal strength, stabilization, lumbopelvic stability and control, overall power and endurance, and appropriate flexibility needed for her sport. It's a structured routine that builds her twirling and training volume alongside a running program. Lauren is feeling strong.

"It's been the first time [I've gone] without constant pain at practice," she said. "It's felt really rewarding to finally see this is starting to work. Nicole has helped me more than she'll probably ever know."

They worked together through the end of the school year and are figuring out details for Nicole to collaborate with Lauren's new coaches in Arkansas as she transitions to their care team.

"Dr. Canty and Nicole never gave up on me," said Lauren. "It was a slow process, but Nicole understood my goals and knew where I wanted to be."

"With the constant obstacles thrown at her, having the mindset to navigate them and perform at a high level says a lot about Lauren's character, support team and internal strength," said Nicole. "She rose to the challenge, and I'm so proud of what she's been able to accomplish."