Alter G Treadmill
The Sports Medicine Center is one of only a few Kansas City area rehabilitation facilities with an Alter G treadmill. The goal after rehabbing with the Alter G is to get the student-athlete back to working out with their full body weight as quickly and safely as possible.
What is an Alter G Treadmill?

Most of us are familiar with a regular treadmill that uses a belt or slats so we can run or walk on. The Alter G is like a standard treadmill except wrapped in a huge bubble. Student-athletes use special shorts that create an air-tight seal when zipped into the bubble.
The treadmill allows for precise and incremental controls of air pressure to unload or decrease the forces on the lower body. On a standard day, each of us walk with 100% of our body weight. On the Alter G, that can be decreased to 20% of your body weight.
How do we use the Alter G for sports physical therapy?

Each sports physical therapist at the Sports Medicine Center will create an individualized plan for the student-athletes we see. Incorporating the Alter G is commonly used with patients who have lower extremity injuries, regardless if they are surgical or non-surgical.
By decreasing the patient's body weight or decreasing the force applied, we can improve pain, mechanics or how they are moving, and provide instant feedback to help them get back to their normal mobility. Like a regular treadmill, the athlete can begin with walking at a slow pace and then progress all the way to running or sprinting.
See the Alter G treadmill at work
Stories
Debilitating Pain: Lauren's Story
Multiple challenges threatened this baton twirler's college ambitions. Nicole Hogan, DPT, got her back on track.
Meet Lauren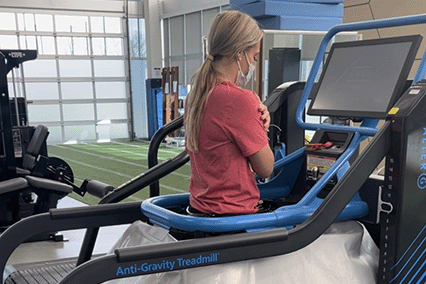 Torn ACL: Jameel's story
A talented football player, Jameel Burns seemed destined to play football in college, then an injury to his ACL during a track meet sidelined him. Children's Mercy Sports Medicine Center not only helped the starter play football his senior year, his doctor reconstructed his knee, and his therapist helped him rehabilitate it. Now he's ready to put his knee to the test at the U.S. Air Force Academy.
Meet Jameel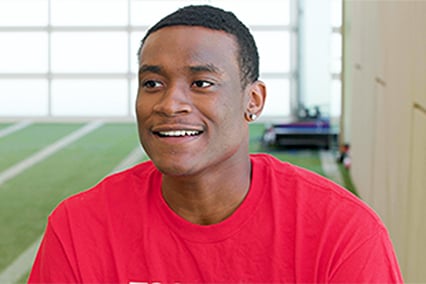 Find Children's Mercy Sports Medicine on social media