ACL Tears in Both Knees: Megan's Story
Meet Megan

At 18 years old, Megan Johnson has been playing softball since she could walk.
"It's what I do. It's what I'm good at," she said. "I played competitive ball, then played all four years in high school. Now, I'm playing for the University of St. Mary in Leavenworth."
But Megan's softball career has been anything but painless. Along the way, she's torn the anterior cruciate ligaments (ACL) in both knees in two separate incidents.
The cruciate ligaments control the back and forth motion of the knee. The ACL also provides rotational stability for the other structures in the joint.
She's had two surgeries to repair her ACLs and has spent nearly two years with Children's Mercy Sports Medicine at Village West rehabilitating the injuries.
Some people might have given up after the first ACL tear, but not Megan. She's ready to play ball again!
ACL tear #1

Megan tore the ACL in her right knee during the second game of her junior season in high school. She was only 16 at the time.
"I was just running to first," Megan said. "The opposing team overthrew the ball. I tagged the base and when I turned to run to second, I took a stride and felt like I dislocated my knee. We have a video of it. You can actually see my knee 'wobble,' and then I fall."
When Megan tried to get up, she couldn't walk. The next day she went to Children's Mercy where she was referred to a Children's Mercy pediatric orthopedic surgeon.
During a pre-surgery assessment Megan was told she had completely torn her ACL, plus she had two tears in her meniscus. The meniscus is one of two wedge-shaped pieces of cartilage that act as "shock absorbers" between the thighbone and shinbone.
Before she had surgery, Megan spent two weeks at Children's Mercy Sports Medicine Village West getting her leg in shape by working with Michael Denning, DPT, sports physical therapist.
Megan's knee was repaired during an outpatient surgery at Children's Mercy. Because the tear was so severe and involved the meniscus, Megan couldn't put any weight on her leg for the first eight weeks after surgery and had to use crutches to walk.
She also had an osteochondral defect, which occurs when bone and cartilage separate from the knee joint, causing chronic pain, and complicating her rehab.
Rehab is awesome!

Fortunately, Megan was one of the first patients at Village West, a 13,000-square-foot gymnasium with state-of-the-art equipment, including an anti-gravity treadmill, the first of its kind in the area.
"This place is soooo cool!," Megan said. "When I walked in, I was like, 'What does half this stuff do?'" Now Megan knows.
"Megan is one of the few patients who has literally used every piece of equipment at Village West," Michael said. "This facility has been great for her."
In fact, Megan was one of the first patients to use the hydrotherapy pool and anti-gravity treadmill.
In the hydrotherapy pool, Megan was able to begin moving her knee earlier than she could have on dry land. And the anti-gravity treadmill, which uses NASA-developed technology to unweight patients, reduced the impact on her joints while walking or running during rehab.
Early in her rehab, Megan let Michael know her goal was to play basketball and softball her senior year of high school, a goal she met thanks to her hard work and commitment.
"Megan was very purposeful in her rehab," Michael said. "She kept herself accountable. She just wanted to get better, and because this is a long process, that can be tough to do."
After eight months, Megan was ready to play basketball again, but she had to complete Biodex testing before returning to sports.
Biodex is a high-tech device used to evaluate strength, endurance, power and range of motion of the major joints and muscles in patients before surgery and after rehabilitation.
Thankfully, Megan passed. After being cleared by the surgeon and Michael to return to play, she re-joined her high school basketball team mid-season and completed her senior softball season. She even earned a scholarship to play softball in college for the University of St. Mary.
ACL tear #2

A few weeks after high school graduation, Megan was playing in a softball tournament when the unthinkable happened.
"I was tagging up on third and as I went to run home, I felt a 'pop,'" she described. This time it was her left knee. "I looked up at my mom and said, 'I think I did it again.'"
Megan finished that game, but as she was warming up the next day, she bent over to pick up the ball and felt another "pop." That was it.
"I emailed Michael immediately to see what he thought I should do," Megan said.
"My heart just sank when I saw that email from Megan," Michael said. "I told her to come by as soon as she could. I was afraid she had torn her other ACL."
After examining her left knee, Michael sent her back to see the surgical team, who ordered an MRI to assess the possible damage.
"As soon as I saw that my results were on the patient portal, I logged in and read the report," Megan said. "It said I had torn my left ACL. I just balled my eyes out."
Though Megan was disappointed with the results, she knew what she was facing if she wanted to play ball again—another surgery and several more months of rehab, but there was some good news.
"I didn't damage my meniscus this time, so that has made my recovery easier compared to what I had already been through," Megan said.
Still, it hasn't been easy.
"Megan was supposed to be starting her freshman year playing college ball," Michael said. "It was a lot to handle for such a young, active athlete, but she has stayed positive."
"I knew the routine," Megan said. "I knew I could do this. I was just irritated that it happened. It is what it is. There's nothing I can do about it, except get better."
Improving Megan's performance

Michael used the pool, anti-gravity treadmill and traditional rehabilitation equipment to help Megan recover from the second ACL injury. But to get her back in playing form, he also used the Human Performance Lab at Village West.
"Megan bats left-handed, and this most recent injury was to her left knee," Michael said. "I was concerned about the weight she was putting on that back foot, and I wanted to know at what point in her swing that transference was occurring."
The lab is equipped with state-of-the-art technology including 19 3D cameras, six force plates installed in the floor to measure movement and a 16-channel wireless EMG. The force plates measure changes in pressure and weight distribution as the athlete moves, or in Megan's case, swings a bat.
Reflective markers are placed on the patient's shoulder, elbow, wrist, pelvis, hip, knee, ankle and foot. With the help of the motion capture cameras that read the markers using infrared rays, a 3D model of Megan was created on the computer that showed where and when her weight changed from back foot to lead foot.
"By using the lab, we were able to break down to the millisecond the point in her swing that weight transference was occurring," Michael said. "It was a great evaluation and training tool for Megan."
Let's play ball!

After nearly two years, Megan is ready to leave rehab and get back on the ball field. She's returned to playing, but she's continuing to fine-tune her hamstring muscles.
"Megan's been injured since before she started her freshman season, but she's been really responsible about doing her exercises and keeping up with her therapy," Michael said.
Megan said having Michael as her therapist throughout this process has made it easier.
"Michael is my 'bestie,'" Megan said. "It's fun having someone like him to work with. I tell him everything about school and my friends and we 'razz' each other a lot. If I had a therapist who was boring, I wouldn't feel motivated, but I've never felt like giving up."
Michael agreed that back-to-back injuries can be difficult to overcome, but if anyone can do it, Megan can.
"Megan has been focused on the end game throughout her rehab," he added. "That has helped her tremendously. I'm not just her physical therapist. I'm her friend and sometimes like a coach and I want to see her be healthy and successful."
The outfielder is ready to make that happen.
"Whenever I tell someone I've torn both my ACLs, they're like, 'Why are you still playing ball?' And I'm like, 'Why not?' It's going to be fun to get back to softball! I'm looking forward to throwing somebody out."
Find Children's Mercy Sports Medicine on social media


Stories & Videos
Torn ACL and meniscus: Berlin's story
When Berlin Butler-Swanger tore her ACL playing soccer, she heard the classic "pop," then fell to the ground in pain. But she fought back. After surgery and months and months of working with Children's Mercy Sports Medicine, she's confident in her knee and ready to return to the field.
Meet Berlin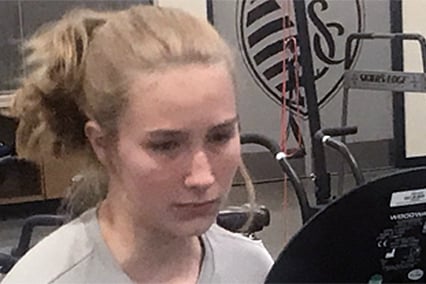 ACL injury and recovery: Michael's story
When Michael Shultz experienced a season-ending knee injury while wrestling, he turned to the experts at the Children's Mercy Sports Medicine. After surgery to repair his ACL and extensive rehab, he's back in action for his senior year, suiting up as No. 30 and playing middle linebacker and tight end for the Sabres.
Meet Michael