Patellar Instability: Lauryn's Story
Meet Lauryn

The first time Lauryn Jimenez dislocated her right kneecap, she was in the 4th grade, playing with some friends, leaping through the air like a ballerina.
"I was just playing around when I landed wrong and my kneecap popped out," Lauryn said. "It was pretty painful and I went to the Children's Mercy Adele Hall Campus emergency room where they put my kneecap back in place, and recommended physical therapy."
Lauryn followed doctor's orders. She went to physical therapy and wore a knee brace, but she continued to struggle. Whether she was going up for a rebound on the basketball court, walking down the hall, kicking a soccer ball, or marching in the band, she knew her kneecap might pop out at almost any moment.
"You're done."
Despite several trips to the emergency room to get her kneecaps put back in place, Lauryn's right kneecap continued to be unstable. Finally, in the 8th grade, her parents told her they didn't think it was a good idea for her to play sports.
"There were a lot of waterworks when we told Lauryn she couldn't play basketball or softball anymore," said Chelley Kulman, Lauryn's mom. "It's hard for parents to decide how far to let your child go before saying, 'You're done.'"
Even after the cast was removed and the skin infection cleared up, Baylee's ankle was still painful, so she turned towards a surgical solution.
Kneecap instability

Lauryn was diagnosed with patellar instability, which occurs in about six out of every 100,000 adolescent patients, including traumatic injuries. At this point, the cause of atraumatic dislocation or instability in unknown, but it is suspected that the alignment of the limb may play a role.
To correct the problem, Lauryn had a surgery called an osteotomy to address alignment issues in her right leg.
The osteotomy was performed on June 3, 2019, at the Children's Mercy Adele Hall Campus. During the surgery, Lauryn's femur, or lower thigh bone, was cut and reshaped to take pressure off the knee joint and improve alignment.
Six weeks later, Lauryn began physical therapy at Children's Mercy Sports Medicine Center Village West, working with Michael Denning, DPT, CSCS, sports physical therapist.
Michael focused on traditional physical therapy exercises, helping Lauryn regain the strength and flexibility in her right leg, but he also recommended she see his colleague, Kayla Greiner, PT, DPT, OCS, physical therapist at Children's Mercy Sports Medicine Center Village West, to incorporate a few sessions of aquatic therapy into her rehab.
Working in the Village West state-of-the-art therapy pool helped Lauryn feel like she was making progress during the early stages of her recovery. The buoyancy of the water reduced the weight on her right knee.
"The pool was really cool," Lauryn said. "The pool floor raised up so I could get in easier. It was like something out of a science fiction movie. Plus, they were able to put a stationary bike on the floor and lower it down so that I could ride the bike under water. It was pretty impressive.
"I wasn't able to fully walk or ride a bike on land, but in the pool I could. It was a nice change after being on crutches for so long, and It helped me get my confidence back," Lauryn said.
Michael added techniques like blood flow restriction training, or BFR, to Lauryn's therapy regimen. BFR training involves wrapping a restrictive device, similar to a large blood pressure cuff, around a limb during different forms of training and movement. Studies show BFR increases muscle growth.
"By using BFR, you get similar benefits to the muscles that you would from traditional strength training," Michael explained. "It stresses the muscles so they get stronger, but protects the joints since it is typically just body weight exercises."
After several months of rehabilitation at Village West, at the end of 2019, Lauryn was re-evaluated and was still going to need the second surgery.
"Lauryn's kneecap was still loose, and it was going to get better on it's own, so we decided to move forward with the second surgery," Chelley said.
At first, Lauryn said her therapy focused on the basics—just walking and bending her leg correctly. "I had lost a lot of muscle in my right leg," Lauryn said.
Lauryn returned home the same day, and a couple of weeks later started rehabbing her knee again, just about the same time the COVID-19 pandemic hit.
Walk before you run

Though COVID-19 was spreading throughout the community, the staff at Village West was taking every possible precaution to stop the virus in its tracks—requiring everyone to wear face masks, sanitizing their hands, and going through temperature checks and health screenings.
"Michael said I was a priority patient, so I continued my therapy," Lauryn said.
"I felt good about Lauryn going to therapy at Village West," Chelley said. "It's all physical therapy and sports medicine patients, and the atmosphere was very safe."
At first, Lauryn said her therapy focused on the basics—just walking and bending her leg correctly. "I had lost a lot of muscle in my right leg," Lauryn said.
Michael agreed. "Our original goal was focused on daily function, just for Lauryn to live a normal teenager's life. She didn't really have any aspirations of returning to an athletic lifestyle."
In fact, Michael said Lauryn had learned to adapt to her weak right knee prior to surgery, going down stairs using what he described as a controlled fall.
"When she showed me how she was going up and down the stairs, it made me nervous. That was one of the first things we worked on," he said.
Soon Lauryn was trotting up and down the steps. "When she showed me how she was going down the stairs after therapy, we both had huge smiles on our faces. That was a big milestone for Lauryn, and it made me think, 'Hey, she just went down the stairs. What else can she do?'"
Michael continued to set new goals for Lauryn, pushing her a little further each time. "Lauryn has been very motivated and dedicated throughout her rehab. If ever there was a time she was frustrated, she didn't show that to me. She just kept working harder."
"Look Mom! I'm jumping!"

Lauryn's hard work was paying off and soon she was running and jumping. "I remember Lauryn came home after one rehab session and she was so excited. She said, 'Mom, look!' And she jumped. She hadn't been able to jump for years."
As Lauryn's knee grew stronger, her reality shifted. She could see a world where she would be able to do the activities she loved, like marching in the band or performing in show choir. And the sports she'd given up on in the 8th grade? They might be possible with a little more work, too.
"In my opinion, Lauryn has made great progress since her second surgery. That goes back to her dedication and her work ethic," Michael said. "Despite COVID, she never missed an appointment. She stayed responsible and focused. She's not your average teenager."
Today, Lauryn has advanced from low-end table exercises to training with equipment typically used to rehabilitate competitive athletes, like lifting weights and running agility ladders. "It's been nice to see this transformation for Lauryn."
Light at the end of the tunnel

By the end of the year, Michael thinks Lauryn may be able to leave rehab behind, but he'll recommend she continue to work out on her own for the next year.
"Lauryn represents the Children's Mercy Sports Medicine Center mission as a whole," Michael said. "We want everyone to be active. The benefits that come with activity are endless for the mind and body."
Kevin Latz, MD, Children's Mercy Sports Medicine Center Medical Director added, "At the Children's Mercy Sports Medicine Center, our end game is to promote an active lifestyle. We want our patients to find something they enjoy, something they can do, and make them well so they can do that, whether it's marching band or more traditional sports. We want all of our patients to live active, healthy lives."
In Lauryn's case, she may not be a traditional athlete, but she's determined to regain the function of her right knee so she can get out and enjoy life.
"I'm going to be really happy when I am finished with rehab. I miss playing sports—the feeling of being able to rebound a basketball or play softball. I never thought I would experience that again," Lauryn said.
But with help from Children's Mercy Sports Medicine and Michael, she will.
"Michael changes up my therapy every session," Lauryn said. "It's never boring, and he knows when to push me. We even share the same taste in music. Sometimes he switches the overhead music at Village West to alternative rock." Panic! At the Disco is a favorite!
From a parent's perspective, Chelley agreed Lauryn has responded well to surgery and therapy.
"Everyone at Children's Mercy can relate to Lauryn or myself, whether it be the therapists or the doctors. Our experience here has been outstanding!"
Though Lauryn's senior year of high school will look different from what she had expected due to COVID, she can't wait to get to college.
"I'm not sure where I'll go, but I want to major in zoology and study animals," she said.
In the meantime, Lauryn is focused on wrapping up her high school career—playing in the band, serving as president of a leadership club, performing in the show choir and putting the finishing touches on her rehabilitation—making sure her knee is strong and ready for life.
"At the end of my therapy sessions, Michael and I play horse. It feels really good to just shoot the basketball," Lauryn said.
"I would like to be able to play sports again. I want to be able to play a game of basketball or join a volleyball rec league in college and be able to play without fear of dislocating my kneecap."
And Michael thinks she can.
"The light is at the end of the tunnel," Michael said. "It's no longer a question of if Lauryn will be able to play sports, but when? That day is rapidly approaching."
Find Children's Mercy Sports Medicine on social media


Stories
Torn ACL: Hartwell's story
During his quest to wrestle at the 2019 Kansas state championships, Hartwell Taylor tore his ACL. At Children's Mercy Sports Medicine Village West, Hartwell not only did traditional therapy-based exercises, but his therapist prescribed blood flow restriction training, or BFR, helping him regain full use of his left leg and a shot at the 2020 state championship.
Meet Hartwell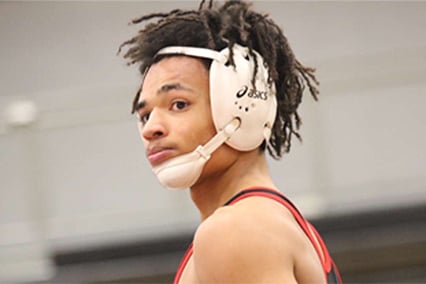 Torn ACL and meniscus: Berlin's story
When Berlin Butler-Swanger tore her ACL playing soccer, she heard the classic "pop," then fell to the ground in pain. But she fought back. After surgery and months and months of working with Children's Mercy Sports Medicine, she's confident in her knee and ready to return to the field.
Meet Berlin