Spina Bifida: Milo's Story
Spina bifida surgery post delivery
Like many couples, when Ryan and Ashley Murphy found out they were pregnant, they anxiously began planning for the arrival of their second child, Milo. What they didn't plan for was the unexpected news that he had a neural tube defect called open myelomeningocele, the most severe form of spina bifida.
"After I had a routine second trimester alpha-fetoprotein test, my obstetrician called to tell us Milo's AFP level was elevated," Ashley said. The doctor advised her to schedule an advanced ultrasound scan with a maternal fetal specialist at 20 weeks of gestation to see what the AFP results might mean.
"The specialist told us we were having a boy, and that he definitely had a hole in his lower spine," Ashley said.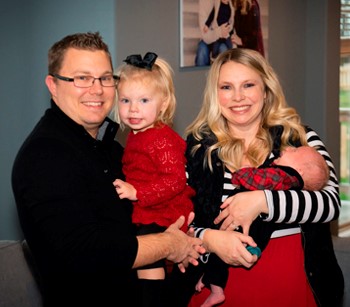 Spina bifida happens if the spinal column of the fetus doesn't close completely during the first month of pregnancy. This occurs in one in 3,000 live births in the U.S. As a result of the spina bifida, there is damage to the child's nerves and spinal cord that can result in lifelong disabilities such as leg weakness or paralysis, and loss of bowel and bladder control. Surgical repair closes the opening in the spine, preventing infection and further damage to the spinal cord and nerves.
The specialist referred the couple to the Elizabeth J. Ferrell Fetal Health Center at Children's Mercy Kansas City to learn more about options to repair the defect.
At the Fetal Health Center, they met with a team of experts, including Emanuel "Mike" Vlastos, MD, a fetal surgeon; Paul Grabb, MD, a pediatric neurosurgeon who specializes in the spinal closure surgery; and Timothy Bennett, MD, Medical Director of the Fetal Health Center.
"Early on, we knew if we were candidates for the fetal surgery, that's what we wanted," Ryan said.
That's because repairing the opening in the spinal cord while the baby is in the womb improves the odds significantly that hydrocephalus won't develop. Hydrocephalus is a buildup of spinal fluid in the brain that must constantly be drained via a hollow tube or shunt. The shunt is typically needed for the rest of the patient's life, and often means periodic operations for repair or to treat infection.


More hurdles to clear

Before the Murphys could qualify for fetal surgery, there were still a few more hurdles to clear. An MRI and another advanced ultrasound exam confirmed the spina bifida diagnosis. But an amniocentesis uncovered a genetic abnormality that would prevent Milo from being a candidate for fetal surgery—low-level mosaicism of Trisomy 13.
"Dr. Vlastos broke the news to us over the phone," Ryan said. "He was direct and empathetic. He let us know that current rules for the surgery prohibit any genetic abnormalities.
"That was a pretty challenging moment for us," Ryan admitted. "Not only because we were concerned about what the defect meant for Milo's development, but because it also disqualified him from the surgery."
Though the next day was a Saturday, Dr. Vlastos promised to call Ryan and Ashley back to answer any additional questions, and he did.
"Dr. Vlastos called around 6 p.m. that evening, which really impressed us. He was patient, reassuring, and answered all of our questions as best he could, distinguishing between facts and speculation regarding the genetic disorder," Ryan said.


A different plan!

After accepting that fetal surgery was no longer a possibility for Milo, the couple began working with the Fetal Health Center team to develop a new plan to have the closure surgery after delivery. As the weeks went by, Ashley had routine ultrasound examinations to be sure Milo was otherwise healthy.
"The nursing and perinatal sonographers in the Fetal Health Center were amazing," Ryan said. "We had the opportunity to work with several of the sonographers, and they made the weekly sonograms almost fun and helped us to celebrate small wins. They even made us feel like we were having a normal baby who happened to have spina bifida, as opposed to having a spina bifida baby."
"As we got to know Dr. Bennett, I felt very comfortable and at ease with him at our appointments. He was very comforting and I felt taken care of," Ashley added.
As the weeks progressed, Ashley scheduled a Cesarean section at 39 weeks of gestation, followed by the closure surgery for Milo. But Milo had a different plan. At Ashley's 38-week visit to the Fetal Health Center, her amniotic fluid was low, putting the pregnancy at risk.
At this point, Milo was considered a full-term baby, and there was no reason to delay the delivery. So, on Oct. 10, 2018, Ashley had an uncomplicated C-section, giving birth to 6-pound, 10-ounce Milo.
After Ashley held him for a few minutes, Milo was taken to the Neonatal Intensive Care Unit for monitoring prior to surgery. Dr. Bennett followed up with Ashley, visiting her in the Fetal Health Center, and Milo in the NICU.
"Even though Dr. Bennett was not our obstetrician, he made us feel that he really cared about my care and Milo," Ashley said.
The next morning, Ryan and Ashley met with Dr. Grabb to discuss the surgery that he was about to perform to close the opening in Milo's spine. Milo wasn't even 24 hours old yet.
"Milo's surgery went great," Ryan said, "but he had to stay in the NICU to be sure he remained on his stomach so that his back would heal."
Just 11 days after surgery, Dr. Grabb cleared his tiny patient to lie on his back, making it possible for Milo to have a few necessary tests before he could be released from the hospital.
"In all of our interactions with the physicians and clinical staff in the Fetal Health Center, Neurology department and the NICU, they were patient and thorough," Ryan said.
"Our sonographer and many of the neonatal nurses also shared some of their personal stories with us," Ryan added. "Because we spent so much time with them, those personal anecdotes helped us develop relationships with them as people instead of just nurses taking care of Milo."
Ashley agreed and added, "The sonographers and nurses were always very thorough and answered our questions. They took great care of Milo and our family!"


Progress and hope

At only 12 weeks old, it's too soon to tell how the spina bifida and mosaicism may affect Milo's growth and development, but as Ryan said, "So far, so good."
Milo hasn't had to have a shunt yet, and his back is completely healed. But Ryan and Ashley know after all he's been through, it's likely he'll face more challenges.
"Milo doesn't kick his legs like other babies," Ryan said. "That's common in babies with his diagnosis. We're anticipating that as he gets older, he may need some help walking, either with leg braces, a walker or a wheelchair."
To be proactive, Ryan and Ashley are already taking Milo to classes at the Britain Infant Development Center for physical, occupational and speech therapies, and they're working with Missouri First Steps, also on physical therapy. The are also continuing to visit with specialists at Children's Mercy.
For other families who may be facing similar circumstances, they suggest connecting with Kansas City area families whose children have spina bifida. "Their advice was really helpful to us," Ryan said.
The couple also found strength by sharing Milo's story on social media, and starting a blog so that family and friends could follow the pregnancy and Milo's progress.
Today, Ryan and Ashley are enjoying time with their newborn and his older sister, 2-year-old Harper. And they've learned a valuable lesson—life for Milo may not look the way they had originally imagined, but even with its challenges, they imagine that he will have a very fulfilling life.
Stories
Spina bifida: Sarah and Hadley's story
At their 20-week ultrasound, Sarah and her husband, Jed, were excited to learn Sarah was carrying a baby girl. But their doctor also gave them some very serious news—their child had a neural tube defect called open myelomeningocele, the most severe form of spina bifida. Sarah's doctor shared that fetal surgery might be an option for Hadley. Sarah and Jed turned to Dr. Emanuel "Mike" Vlastos at Children's Mercy to create a care plan.
Meet Sarah and Hadley
Spina bifida: Mary Kate's story
Having a child is nothing new for parents Jean and Brendan McPherson, who already have four children. But the diagnosis of their fifth child is something they could have never imagined they would experience. Little Mary Kate had open myelomeningocele—also known as spina bifida. With the direction of Dr. Vlastos and the fetal surgery team, the McPhersons made the decision to give Mary Kate surgery while still in the womb.
Meet Mary Kate