Spina Bifida: Sarah and Hadley's Story
Fetal Surgery of Spina Bifida
At age 41, first-time mom Sarah Fetterhoof's pregnancy was considered high-risk from the start. But as the Topeka woman reached the halfway point in her pregnancy, she felt like things were going well.
"I'd had a miscarriage a couple of years earlier, but I thought at 20 weeks, we were in a 'safe zone' and I could start to really enjoy this pregnancy," Sarah said. "We honestly just wanted to know the sex of the baby."
At the ultrasound, Sarah and her husband, Jed, were excited to learn she was carrying a baby girl. But their doctor also gave them some very serious news—their child had a neural tube defect called open myelomeningocele, the most severe form of spina bifida.


Exploring their options

Spina bifida happens when the spinal column of the fetus doesn't close completely during the first month of pregnancy. This occurs in one in 3,000 live births in the U.S. If not repaired, it can damage the child's nerves and spinal cord, resulting in lifelong disabilities that include leg weakness or paralysis and loss of bowel and bladder control.
According to research, results from fetal spina bifida surgery are much better than results from traditional surgical repair after birth, but the procedure is only offered at a handful of hospitals across the nation.
"Our doctor in Topeka told us fetal surgery might be an option for Hadley and referred us to Dr. Vlastos with the Children's Mercy Fetal Surgery program," Sarah said.
As luck would have it, Emanuel "Mike" Vlastos, MD, had joined the Elizabeth J. Ferrell Fetal Health Center at Children's Mercy in 2017. A highly experienced fetal surgeon, he has expanded the program's services to include open myelomeningocele repair and other advanced in-utero procedures.
When the Fetterhoofs met with him, Dr. Vlastos explained that timing is critical for myelomeningocele repair, the surgery Hadley needed. This delicate procedure must be performed by 25 weeks, 6 days of gestation to limit and prevent further progressive damage to the fetus' spinal cord.
"At this point, I was sad, confused, overwhelmed and 21 weeks pregnant," Sarah said. "We still needed to have an amniocentesis, fetal cardiac ultrasound and fetal MRI before we could move forward with scheduling surgery."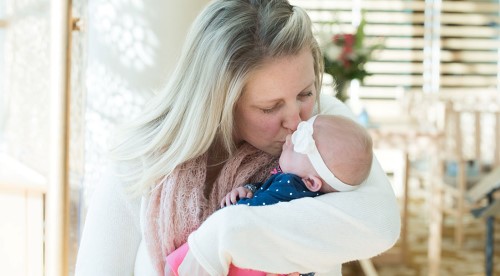 Taking the next steps

Hadley's fetal cardiac ultrasound was normal, but her MRI confirmed another defect associated with spina bifida called Chiari malformation 2. This rare malformation occurs where the base of the brain enters into the upper spinal canal. This usually leads to hydrocephalus, a buildup of spinal fluid in the brain that must constantly be drained via a hollow tube called a shunt. 85-to-90 percent of newborns with spina bifida will require a shunt. The shunt is typically needed for the rest of the patient's life and often means periodic operations for repair or to treat infection.
Repairing the opening in Hadley's spinal cord while in the womb improved the odds significantly that she wouldn't develop hydrocephalus or need a shunt. But the surgery wasn't without risks for mother and child. As an open operation requiring a large incision, women who undergo the procedure must deliver any future children via C-section.
Sarah and Jed came back to Children's Mercy to meet with Dr. Vlastos, as well as Paul Grabb, MD, a pediatric neurosurgeon, and the other members of the fetal surgery team.
"We prayed and prayed about what to do, and decided surgery was the best choice for Hadley," Sarah said.
On Nov. 15, 2017, at 24 weeks, 6 days of gestation, Sarah and Hadley made history, becoming the first patients to undergo fetal surgery for myelomeningocele at Children's Mercy.
During the surgery, Dr. Vlastos and the fetal surgery team opened Sarah's uterus, and with Hadley still in the womb, exposed her back, surgically closing the opening in her spine, then returning her to Sarah's uterus for the remainder of the pregnancy.
The surgery went well for mother and daughter. After only four days in the Fetal Health Center, Sarah was released but remained close by at the Ronald McDonald House, just in case there were any complications.


Special delivery

Two weeks after the surgery, Sarah was released to return to her Topeka home. She was only home three weeks when her water broke.
This time, Sarah and Hadley returned to the Fetal Health Center via the Children's Mercy Maternal Fetal Transport team and ground ambulance. The dedicated transport team is the only one of its kind in the region and is designed to provide safe and specialized transport for pregnant women, like Sarah, who need immediate access to a higher level of care. The team is in house 24 hours a day, seven days a week and utilizes all modes of transport—helicopter, ground ambulance, turbo prop or jet aircraft.
At 29 weeks, 4 days, Sarah was still months away from her due date. The goal was to keep her from delivering Hadley until 37 weeks of gestation.
"The staff at the Fetal Health Center was wonderful," Sarah said. "The nurses, the doctors, everyone was very supportive while we were there." But Hadley had other plans, making an early entrance into the world on Jan. 10, 2018 at 32 weeks, 6 days.
Though she was about seven weeks premature and had to stay in the hospital's level IV Neonatal Intensive Care Unit, Hadley's back had already healed from the fetal surgery. And after spending just three weeks in the NICU, she was ready to go home.


Cherishing life with Hadley

Finally home, Sarah and Jed are cherishing life with their newborn, feeding her, changing diapers, and looking forward to watching her grow and develop.
"During this first year, we'll have to watch Hadley closely to see if she needs a shunt, but so far, she's fine," Sarah said. "We'll visit the NICU Neonatal Follow-Up Clinics at Children's Mercy and eventually the Spina Bifida Clinic to be sure she continues to do well." Hadley also has a club foot, so physical therapy and casting to treat the foot are in her future.
Now on the other side of a "whirlwind" that began with her 20-week ultrasound, Sarah said she believes fetal surgery to repair the opening in Hadley's spine was the right choice for their family.
"It was a bonus that we were so close to Kansas City and Children's Mercy," Sarah said. "Traveling to another state would not have been an option for us. We're fortunate that Dr. Vlastos came to Children's Mercy when he did. The stars aligned for Hadley."
Stories & Videos
Spina bifida: Mary Kate's story
Having a child is nothing new for parents Jean and Brendan McPherson, who already have four children. But the diagnosis of their fifth child is something they could have never imagined they would experience. Little Mary Kate had open myelomeningocele—also known as spina bifida. With the direction of Dr. Vlastos and the fetal surgery team, the McPhersons made the decision to give Mary Kate surgery while still in the womb.
Meet Mary Kate
Spina bifida: Milo's story
The Murphys were excited to welcome their second baby – a baby boy - to their family. What they didn't plan for was the unexpected news that he had a neural tube defect called open myelomeningocele, the most severe form of spina bifida. After the diagnosis they learned that he was not a candidate for fetal surgery but they worked with the Fetal Health Center team to create a care plan fit for Milo.
Meet Milo