MACI Surgery Recovery: Hidde's Story
Meet Hidde

Hidde Roessink is known for his strength. As an NCAA Division I athlete recovering from a season-ending injury, he's had to rely on both his own resilience and the tenacity of his team at Children's Mercy Sports Medicine Center.
Hidde grew up playing basketball in Arnhem, The Netherlands. As a teenager he played on high-level amateur teams and the national team in the FIBA U16 European Championships. The 6'10" junior started his college career at Oklahoma State University in 2019 and transferred to the University of Missouri-Kansas City in 2020. He struggled with knee injuries since high school, but it wasn't until eight games into his first UMKC season that the pain finally took him out of play.
Hidde began therapy with Kaylee Hoffman, DPT. They focused on strength and stabilization to reduce the stress on his knees, but they weren't seeing the progress they wanted.
"Hidde's very, very strong, injured or not," Kaylee said, "which masks the injury pretty well. But to return to that high level of competition, we needed him at 100 percent, not 75 or 80."
On April 23, 2021, Hidde had MACI® surgery on his left knee under Dr. Christopher Shaw at University Health. Pre-surgery, Hidde's healthy cartilage cells were sent to a lab and embedded onto a collagen membrane. During surgery, the membrane—sized to fit the cartilage damage—was implanted into his left knee, where the healthy cells can grow to repair the area.


Patient progress

Recovery from the MACI procedure takes patience and discipline as the body rebuilds knee cartilage. In the first few weeks after surgery, a straight-leg brace keeps the knee locked out and the new cartilage guarded. Physical therapy then focuses on safe incremental increases in knee range of motion. Kaylee said many athletes rush the healing process after the MACI procedure because they mistake feeling good with being healed. The implanted membrane is fragile and needs time to grow.
"If you bend the knee past a certain degree, you could cause further damage and take two steps back rather than two steps forward," Kaylee explained, reporting that Hidde was patient with his recovery. "He never pushed it too far, because he knew that in the end [taking it slow] would get him released to basketball faster."
About six weeks after surgery, Hidde was able to get off crutches, even if his movement was still restricted—and protected—by a knee brace. Physical therapy began emphasizing strength building in preparation for a return to full range of motion.


Enter the Children's Mercy Sports Medicine Center

In October 2022, Hidde joined Kaylee at the Children's Mercy Sports Medicine Center to continue his post-surgery recovery. They trained together twice a week as he continued to regain function in his knee.
"Kaylee really knows how to push me and get the best out of me," said Hidde. "Every workout, I know I'll be very tired. She'll know a way to get everything out of me."
Kaylee was happy she gets to see Hidde's recovery through.
"I think we really bonded over the fact that I played college basketball," said Kaylee, who played for the University of Wyoming from 2010 to 2014. "I think he appreciates my understanding for basketball and that I can provide higher-level drills during our sessions."
"It really helped that she understood what I was going through," Hidde agreed. "[Her experience] was important in getting me back to playing basketball again."
Kaylee stayed in close collaboration with Hidde's head coach and weightlifting coach at UMKC to help keep Hidde on the path to full recovery. They also made sure Hidde was getting the encouragement he needed, especially with his family being an ocean away.
"Thank God for phones and FaceTime," Kaylee said, "but sometimes it's nice to have someone in person just say, 'Hey, you're killing it, dude.'"


Playing strength catch-up

When Hidde was almost ready to return to running and jumping, he and Kaylee hit a hiccup. They tested his left and right quad and hamstring strength to see if he was balanced enough for more advanced movement, but his left leg tested at 75 percent of his right. They wanted to get to 80 or 90 percent before introducing high impact movements. It seemed that Hidde was too strong for his own good.
"My left leg would get stronger, but the right would get stronger as well, so I couldn't really catch up," Hidde explained.
They used two modalities to build strength in that trailing leg and get through this challenge: dry needling and blood flow restriction (BFR).
Kaylee had used dry needling to help with muscle tightness at the beginning of Hidde's recovery, and she brought it back to help wake his muscles up. "We used it on his vastus medialis oblique (VMO), which is where he was struggling the most." After starting a session with dry needling, Hidde was able to feel his quad get sore before his knee, signaling the treatment activated the muscle.
They also turned to BFR to help strengthen Hidde's recovering leg. BFR uses a cuff to reduce blood flow, in this case around 80 percent, to the area you're trying to strengthen. With BFR, the muscle must exert much more effort to do the same amount of work, so "easier" exercises can be much more effective.
"There was a point where his knee wasn't tolerating a lot of higher-level things, so we had to bring it back to simple exercises like straight leg raises," explained Kaylee. "We used BFR so we could fatigue him just as much as we would under more difficult exercises."
"I used to not be a fan of the BFR because it would burn quite a bit," said Hidde, "but BFR really helped build the muscle."


Patience, perseverance ...

By this past February, Hidde's knee was strong enough to start to run and jump again, so they began focusing on neuromuscular reeducation, or helping his brain and body connect for proper, safe movement. They worked on performing different movements on his non-injured knee in front of a mirror and then replicating the movement on the left.
"Hidde is a perfectionist," Kaylee said. "If it's his last rep, and it's not good, he'll redo it. It's the same with basketball. He works hard, and if he doesn't do it the way he likes it, he'll redo it."
At this point, they knew he wouldn't be able to return to that season's play, so they set their sights on returning to full practice in June. Hidde continued to build strength, learn to read his body's reactions, and perform skills in ways that protect his knees.
"With little steps, we just kept going and going...and now we're almost done," Hidde said. "It's pretty exciting."


... and play

At the end of most sessions, Kaylee and Hidde will play PIG or have a free-throw shoot-out, although you'll get different stories if you ask who can claim court bragging rights.
"I think we're about 50/50," says Kaylee.
"I'm way ahead," Hidde laughed. "Don't let her say that!"
"He might be beating me, but I'm still doing pretty good for being washed up!" Kaylee conceded. "It's a lot of fun, and it makes PT seem like less work—we're having fun and working out all in one."
As they look ahead to this summer, Hidde and Kaylee are continuing to fine-tune both fundamentals and advanced skills. He's returning to individual training sessions with his coaches, and his knee is tolerating the work well.
Hidde and his team are looking forward to the future with hard-won optimism, knowing that he's put in the work to come back better than ever.
"My main goal is to play again next season and hopefully stay healthy for a long, long time," said Hidde. "I've had my fair share of injuries now! I want to win a lot of games, win some championships."
Kaylee shares his hopes. "I can definitely see him playing past Division I basketball," she said. "He's got the size and the shot and he's physically strong."
"Kaylee knows what she's doing," said Hidde, returning the compliment. "She knows how to get people back on track. She's very driven and excited to get me playing again. She really cares about that, and that feels pretty good to me."
Stories
ACL tears in both knees: Megan's story
By the time she was just 18 years old, Megan Johnson had torn the anterior cruciate ligaments (ACLs) in both knees. With the help of Children' Mercy Sports Medicine at Village West, the college softball player is ready to return to the field when COVID-19 restrictions are lifted.
Meet Megan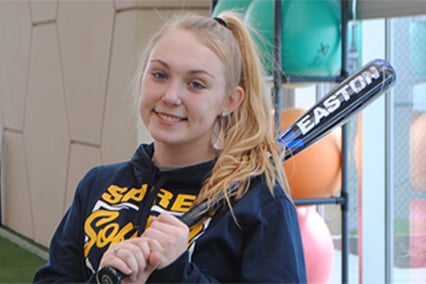 Torn ACL: Hartwell's story
During his quest to wrestle at the 2019 Kansas state championships, Hartwell Taylor tore his ACL. At Children's Mercy Sports Medicine Village West, Hartwell not only did traditional therapy-based exercises, but his therapist prescribed blood flow restriction training, or BFR, helping him regain full use of his left leg and a shot at the 2020 state championship.
Meet Hartwell