Tommy John Surgery Recovery: Gage's Story
Meet Gage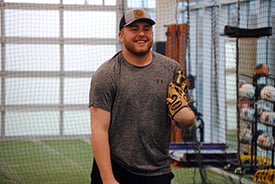 By his own count, Bradley "Gage" Gulley is old: twenty-one years, to be exact. He laughed as he said he's only got four more years until he reaches the cut-off age for treatment at Children's Mercy Sports Medicine Center: He has to get all of his injuries in now! Most people don't look forward to physical therapy, but Gage is not most people. And—according to Gage—the Sports Medicine Center is not most clinics.
Gage pitches at Rockhurst University. The junior is currently spending the season rehabilitating after Tommy John surgery, and he knew exactly who he wanted by his side on his journey back to the mound: Michael Denning, DPT, CSCS, and the staff at Sports Medicine Center at Village West.
Why? Because he's been trusting his athletic career to Michael and the Sports Medicine crew since he was 15.
"We have a really good bond," Gage said of Michael. "He'll always be in my life. We've built that connection together over the past six years."
He remembers being nervous for his first day of therapy for a hip flexor strain in the middle of his high school sophomore football season. He'd never been to physical therapy before and didn't know what to expect. "That first day, I had a great connection with Michael, and it really helped," said Gage. "After that, I was excited to go back and work to get better."
Gage shared that the enthusiasm of the Sports Medicine staff is contagious. "They do a good job of making you feel like you belong there and helping you enjoy therapy."
Michael said that admiration goes both ways. "It's a funny cliché, but Gage is engaging. Everyone knows Gage! He can talk to literally anyone—he could talk to a wall," laughed Michael. "He's a big guy with a big personality, and people are naturally drawn to him."
But for Gage, that's just the natural response to the care he's gotten at Children's Mercy. "It's a positive environment," he said. "I've built a relationship with almost everyone there." He goes on to list the people at the Sports Medicine Center who have helped him over the years: Michael; Kevin Latz, MD; James Roberson, MD; Zach Gove, DPT, CSCS; Melissa Brown, RN, CPN: and Angie Vanderpool, MSN, ONC, CPNP.
"They treat me as if I was their own kid," Gage said.


A long history with the Sports Medicine Center

It's not a surprise that the Sports Medicine team feels like family: Gage has spent quite a bit of time with them since 2016, when he was a two-sport high school athlete (football and baseball). Two years after the hip flexor strain, he came back for knee pain in January 2017, then again for help with back pain in June 2017.
In 2019, now a catcher at Rockhurst, Gage worked with Zach Gove on shoulder and elbow pain and hip and core strength. He had surgery with Dr. Latz for a chondral injury to his left knee that October.
Michael said that post-surgery therapy was Gage's first serious recovery effort. He worked with Gage for more than three months to regain his strength. "He's always done a really good job of maintaining focus," said Michael. "He knows where he wants to go, and he knows there's a road to get there."
Michael and Gage took a slow-and-steady approach and integrated plenty of balance work. "We'd play this game where we would balance on one leg while throwing a football back and forth," Michael remembered, chuckling. "The first one who fell would have to do planks. The problem was he has a cannon! I was getting this 80 mile-per-hour football thrown at me, and I was scared to catch the ball."
That combination of play and trusting-the-process helped prepare Gage for his biggest athletic challenge yet.


Ulnar collateral ligament reconstruction

After a successful knee rehabilitation, Gage switched to pitching. He has a powerful arm, and the combination of ingrained catcher-style throwing mechanics with pitching force was too much for his elbow. He had ulnar collateral ligament reconstruction (Tommy John surgery) with an outside surgeon in June 2021, then began eight months of intensive therapy with Michael.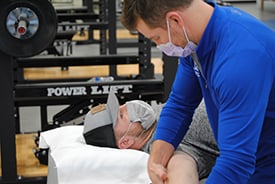 "Gage had a rough start," Michael shared. "He had some weird reactions to the stitches, and then a lot of nerve tightness and pain at the beginning."
Michael and Gage applied almost all of Village West's resources to help the therapy progress. From Blood Flow Restriction (BFR) to hands-on treatments, Michael said having all the tools at their disposal on any given day was valuable.
"We have the luxury of getting immediate feedback on whether something is working," Michael said. "We can try something on the table, then go to the turf and see whether it feels better or not."
Gage said the nerve tightness was frustrating, and it felt like it was taking forever to move forward. "Michael recently got certified to offer dry needling," Gage recalled of that tough time. "I love him and trust him with everything he does. So I said, sure, let's try it."
Dry needling inserts tiny solid-core needles into trigger points or tight muscles to help reduce pain and tightness and boost blood flow. Gage said the treatment worked well and loosened his arm up quickly, even after the first session. "It was very cool. It doesn't hurt, and it was really helpful," Gage said. "I was skeptical, but it's a great technique!"
Michael said that the Keiser Triple Trainer resistance training machine was another core part of Gage's recovery. "We did a lot of power work with Gage," Michael said. "The Keiser trainer will show you your maximum power output and give you real-time feedback on how hard you're trying."
Because of some of those early setbacks, Michael waited a conservative 26 weeks before introducing throwing back into Gage's therapy. "Gage is a realist," Michael said. "When I made him wait to throw, he said OK. He knows that we're making decisions in his best interest, and that we've had success together previously. He knows it's going to work."
Now that they are nearing the end of the recovery process, they are working on the mechanics of his throw and using video footage to finetune his ball-path. Core and hip control are also key metrics on the path to keeping Gage healthy on the mound. Michael reported they are in the last few weeks of his therapy and will continue to dial in the details.
"About a week ago, I threw off the mound with Michael," said Gage. "I was nervous and hesitant because I don't want to tear [ again and start over. But we're getting there. We're in the home stretch."


The future

Gage and Michael share the same goal: Going into next fall's season at 100 percent.
"Gage is an intelligent athlete," Michael said. "He can feel the difference in these small changes. He can feel whether it's creating tightness in the elbow. He can take these cues and put them on the field. That's a credit to him. It's really hard to do."
At the same time Gage is working toward his short-term baseball goals, he's also looking toward his long-term future. He's studying exercise science and considering becoming a high school athletic trainer or physical therapist himself.
"It's fun for me to see him get excited about anatomy," Michael said. "A lot of it is clicking for him, and he can see how the therapy we're doing works within the body."
For now, Gage is keeping his career options open, but he remains sure of one thing:
"I tell everyone who needs physical therapy, Children's Mercy is the greatest place ever!" Gage says. "I swear up and down that it helped me be where I am today."
Stories
Foot pain: C.J.'s story
C.J. Lyon is a competitive track and cross-country runner, but foot pain almost put a stop to her senior track season. After being referred to Children's Mercy Sports Medicine Center, she adjusted her training to include more strengthening exercises. Now C.J.'s back in the race, preparing to run track and cross country in college.
Meet C.J.