Foot Pain: C.J.'s Story
Meet C.J.

Blue Valley Northwest senior C.J. Lyon is no fair-weather runner. A dedicated cross country and track competitor, she runs six days a week, up to 40 miles a week, whether it's raining, snowing or sleeting.
"I ran all winter in the snow and ice, but I really love running in the rain. It just feels so nice," she said. Plus, C.J.'s best friends are her teammates, and she finds running helps with her ADHD. "Running is a great way to focus and burn off any extra energy. It's very therapeutic for me," she added.
But all that running can add up to injuries. In the past, C.J. has fractured her left foot and injured her peroneal tendon. So, when C.J.'s right foot began hurting in early 2021, it brought her running routine to a halt.
"The pain started under my big toe and spread to the side of my foot," C.J. said. "I could walk, but I had to stop running. I would rate the pain a 5 on a scale of 0 to 10. It wasn't unbearable, but I knew I needed to do something about it if I wanted to run track this spring."
Running to Children's Mercy

When C.J. went to the Children's Mercy Sports Medicine Center with right foot pain, it was recommended she begin working with Kayla Greiner, PT, DPT, OCS, sports physical therapist at Children's Mercy Sports Medicine Center Village West, and an expert in assessing running mechanics.
Kayla, who runs recreationally, understands what motivates and inspires running athletes. To further help her patients, she recently received additional training as a certified running gait analyst, levels I and II, through Run DNA.
As one of the only certified running gait analysts in the area, Kayla can evaluate and classify a runner's gait to prescribe corrective exercises and gait retraining plans using 2D and 3D motion analysis.
"Almost every sport requires running at some level," Kayla said. "The running gait analyst certification gave me the knowledge and understanding to customize a treatment plan for each athlete's unique needs."
In C.J.'s case, Kayla knew she had her work cut out for her if her patient was going run track her senior season. "C.J. had some postural alignment and strength issues that were contributing to her right foot pain, plus, she had been running 40 miles a week. That combination made her more prone to overuse injuries," Kayla said.
To tackle the problem, Kayla developed a treatment plan that included the aquatic therapy treadmill and the Alter G treadmill to accelerate C.J.'s rehabilitation while improving her cardiovascular fitness to be in shape to compete in track. Both are special rehabilitation tools found at Children's Mercy Sports Medicine Center Village West, a 13,000-square-foot gymnasium with state-of-the-art equipment designed to aid student-athletes as they recover from sports injuries.
"Even though I had done rehab before, this was my first time at the Children's Mercy Sports Medicine Center Village West. I thought it was really cool to have access to all the equipment and professional care I needed to get back to running in one place," C.J. said.
The aquatic therapy treadmill made it possible to use the buoyancy of the water to unweight C.J. to avoid her foot pain with running and plyometric activities. Kayla was able to introduce higher level single leg alignment and impact interventions to accelerate C.J.'s. training program.
The Sports Medicine Center also is one of the few Kansas City area rehabilitation facilities with an Alter G treadmill. The Alter G is like a standard treadmill, except wrapped in a huge bubble that uses NASA-developed technology to unweight patients. This allows for precise and incremental controls of air pressure to unload or decrease the forces on the lower body.
"I think the Alter G was helpful to get back into running because I could run without as much stress on my bones and joints," C.J. said. "The underwater treadmill helped me to be able to do more exercises than I could have done on land."
Adjusting Therapy

To be certain the work they were doing was on target, Kayla added a 2D running analysis to C.J.'s therapy.
"Now that C.J. could tolerate running on land, the 2D analysis could be used to screen for any changes that needed to be made to C.J.'s physical therapy plan to prevent the pain from returning," Kayla said. "Because C.J.'s foot was turned out when she was running, we worked on her ankle mobility to prevent further injury. We also worked to increase the number of steps she takes in a minute, or her running cadence, to inherently improve her form and allow for ideal alignment and joint position for impact at heel strike."
In addition, Kayla incorporated discussions into their sessions surrounding the special challenges female runners face, addressing nutrition and regular menses and their impact on bone health. She introduced cross training and plyometric strengthening to enhance performance and overall health and wellness.
Once C.J. began running again, her foot felt good, but she experienced pain in her shins, so Kayla added a session of functional dry needling to her therapy. Kayla is also a functional dry needling specialist from EIM who frequently uses dry needling to address her patients' muscular pain and dysfunction.
Dry needling involves a small, solid microfilament needle which is inserted into a trigger point by a trained physical therapist. A trigger point is a tight spot within the muscle tissue that develops due to injury, overuse or dysfunction.
Functional dry needling can decrease pain, reduce muscle tension and improve range of motion, allowing the therapist to target issues that cannot be felt manually. Oftentimes electrical stimulation in conjunction with dry needling provides the re-set the muscle needs to overcome an acute injury.
After the first session of dry needling treatment, C.J. felt better, and was ready to hit the track, taking second place in the open 800-meter run, her first meet of the season. She's continued with dry needling as part of her therapy regimen.
Preparing for College

C.J. has earned a scholarship to run both cross country and track at Emporia State University, Emporia, Kan. She hopes to major in psychology and crime and delinquency studies. "I've wanted to be an FBI agent since I was 8 or 9," C.J. said. "I am looking forward to college and running."
Until then, C.J.'s plans are to finish her track season and graduate high school. She will also continue to work with Kayla until classes start in the fall. "Our work up until this point has been about helping C.J. run track, but once the season is over, we'll ramp up her physical therapy treatment plan so her body can tolerate the mileage needed to run cross country at the collegiate level," Kayla said.
"Kayla is fun to work with," C.J. said. "She's very motivating and knows how to push me in the right ways without overworking me. I have seen a difference in my running and general strength after working with her, and I no longer have pain in my foot."
"Runners like C.J. are awesome to work with because they're highly motivated and really willing to listen and make the changes needed to run successfully without any issues," Kayla said. "I look at progress in terms of what C.J. can do and what her goals are. She's now running in track meets and competing. That was her goal when we started, and it's my goal, too."
"I've had a really positive experience working with Children's Mercy and Kayla," C.J. added. "They've taken great care of me and have made sure I've gotten the very best care."
Find Children's Mercy Sports Medicine on social media


Stories
Patellar instability: Lauryn's story
Lauryn Jimenez has struggled with an unstable right kneecap since grade school, severely hampering her activity level. With surgery at Children's Mercy and physical therapy at Children's Mercy Sports Medicine Center, she's running and jumping now. Her goal is to become even more active, perhaps playing basketball or volleyball on a rec league.
Meet Lauryn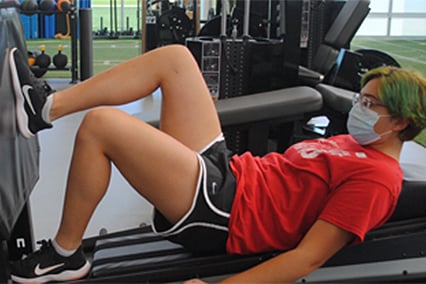 Torn ACL: Jameel's story
A talented football player, Jameel Burns seemed destined to play football in college, then an injury to his ACL during a track meet sidelined him. Children's Mercy Sports Medicine Center not only helped the starter play football his senior year, his doctor reconstructed his knee, and his therapist helped him rehabilitate it. Now he's ready to put his knee to the test at the U.S. Air Force Academy.
Meet Jameel