Exertional Compartment Syndrome: Dayana's Story
Meet Dayana

When Dayana Vazquez Rubio tore the anterior cruciate ligament (ACL) in her left knee in the spring of 2019, she was playing club soccer and living in Oklahoma City. She had surgery there and started rehabilitation several weeks before moving to Kansas City, Kan.
That's when the 16-year-old first met Kayla Greiner, PT, DPT, OCS, Sports Physical Therapist at Children's Mercy Sports Medicine Center Village West. Village West offers student-athletes a 13,000-square-foot gymnasium and state-of-the-art equipment, including an anti-gravity treadmill, the first of its kind in the area. And because the gym is also used by Sporting Kansas City and U.S. Soccer, it's not uncommon for student-athletes to work out alongside the pros.
When Dayana was referred to Kayla in August 2019, she was already about 12 weeks into her therapy regimen. As Kayla continued to work with her, Dayana mentioned a pain in the front of her lower right leg.
"Dayana said she'd had the lower leg pain even before the ACL tear, so I noted it," Kayla said. As her physical therapy progressed, Kayla began pushing Dayana to perform more return-to-sport activities, like drills and footwork.
But she began experiencing cramps in her lower right leg so severe, she'd have to stop what she was doing and rest. "There wasn't anything that seemed to make the pain better," Dayana said. "I just had to wait for it to pass."
"Her pain came on during an intense therapy session," Kayla recalled. "The front of Diana's lower right leg turned red and swelled. She had to sit down and rest due to the pain. That is when I knew something more serious was wrong."
Painful Diagnosis

A highly experienced sports medicine physical therapist, Kayla suspected her patient had a condition called exertional compartment syndrome, so she contacted Dayana's pediatric orthopedic surgeon, Kevin Latz, MD, Chief, Children's Mercy Sports Medicine Center.
True to its name, exertional compartment syndrome, or ECS, is a condition that causes pain with exertion. Although ECS can occur in other compartments, the vast majority of cases are in the lower leg, like Dayana's.
There are four compartments in the lower leg: one in the front, one on the outside, and two in the back. Each compartment has a covering of fibrous connective tissue called fascia. ECS happens when the muscles expand during exercise and the fascial covering around the muscles becomes so tight it essentially strangles the muscles.
That's when the patient experiences an aching pain in the compartment that becomes sharp if activity continues. Symptoms typically subside quickly when activity stops, as Dayana's did.
"I have to give Kayla credit for identifying this in Dayana and alerting me to the problem," Dr. Latz said. "She sensed something wasn't right, and it wasn't."
To confirm the diagnosis, Dr. Latz performed a test to measure the compartment pressures in her leg. The test involved using a special instrument that analyzes pressure through a large needle inserted in the muscles in each compartment. Dr. Latz measured the pressures in Dayana's leg at rest and after exercise.
"We do all we can to make the patient as comfortable as possible during this test, but it is an uncomfortable procedure," Dr. Latz said.
The test confirmed that Dayana had ECS in all four compartments in her right leg, and Dr. Latz described the possible treatment options to his patient.
"Dr. Latz was very nice and explained everything the surgery involved so that my parents and I could make a decision," Dayana said. "Because my parents speak Spanish, he even made sure an interpreter was at our appointments so they could understand what he was saying."
"It's very important to communicate all the nuances involved in a complex diagnostic procedure and surgery such as this with the patient and their family," Dr. Latz said. "In most cases, we saw Dayana at Village West and utilized an iPad so a Children's Mercy interpreter could be available virtually. They do a great job of helping us with these conversations."
Dr. Latz told Dayana she didn't have to have surgery, but because the condition was so disabling for her, she would likely have to give up playing soccer if she didn't have it. For the talented teen who has been playing the game since she was only 5 years old, that just wasn't an option.
So, Kayla put Dayana's therapy on hold, and Dr. Latz performed an outpatient procedure called a fasciotomy on June 1, 2020. During the procedure, he made incisions in each compartment, cutting open the skin and fascia covering the muscles and relieving the pressure.
Back in Therapy

A few days later, Dayana was back at the Children's Mercy Sports Medicine Center, but the mid-fielder couldn't exactly pick up where she left off.
"When I came back, Kayla started me in the pool. I was able to walk on the treadmill, jump and carried a weight around in the water to work on my balance," she said.
The state-of-the-art therapy pool made it possible to use the buoyancy of the water to unweight the patient, avoiding pain or swelling. Dayana also could perform movements in the water that had previously caused her pain. "I wanted to see how Dayana would respond before we tried any impact on land," Kayla said.
For the next eight weeks, Dayana exercised in the pool, eventually progressing to land-based therapy. "That's when we picked her rehab up where we had left off before surgery," Kayla said. "We began working on jumping mechanics, control and power. I wanted to make sure there were no residual symptoms from the ECS."
After months in therapy, first for her ACL and then for ECS, Dayana began to feel like she was making progress.
"I was very happy when Kayla gave me a soccer ball and a drill to do," Dayana said. "It was hard, but I was so happy. It felt good to get that soccer ball back."
Reaching Her Goals

Kayla said her patient overcame several challenges while she was in her care. She moved to a new city, started therapy with a new therapist, was diagnosed with ECS, had surgery, returned to rehab, and also had to deal with COVID restrictions.
"Dayana has adapted well though. She has a supportive family who made sure she was at every appointment, even after they moved about an hour away from our facility. Dayana is extremely competitive and very determined to get back on the field," Kayla said.
That's where she's hoping to be this spring, barring COVID-19 restrictions. After nearly 18 months since tearing her ACL, Dayana was released from therapy in December 2020, and she's now playing on her high school soccer team, the Lone Jack Mules.
"I love soccer," Dayana said. "I enjoy playing and winning with my team. It's basically my whole life and what I do when I'm not in school."
In fact, Dayana is so serious about the game, she'd like to play soccer in college, and one day become a professional.
"From the beginning, my goal was to be able to play soccer again," Dayana said. "Kayla and Dr. Latz did all they could to help me reach that goal."
Find Children's Mercy Sports Medicine on social media


Stories
ACL injury and recovery: Michael's story
When Michael Shultz experienced a season-ending knee injury while wrestling, he turned to the experts at the Children's Mercy Sports Medicine. After surgery to repair his ACL and extensive rehab, he's back in action for his senior year, suiting up as No. 30 and playing middle linebacker and tight end for the Sabres.
Meet Michael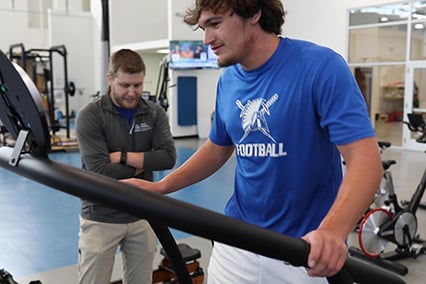 ACL tears in both knees: Megan's story
By the time she was just 18 years old, Megan Johnson had torn the anterior cruciate ligaments (ACLs) in both knees. With the help of Children' Mercy Sports Medicine at Village West, the college softball player is ready to return to the field when COVID-19 restrictions are lifted.
Meet Megan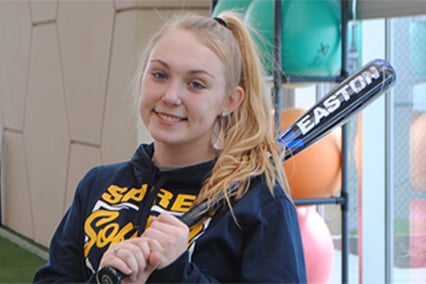 Pediatric Orthopedic Surgery
Section Chief, Sports Medicine; Associate Professor of Orthopedic Surgery, University of Missouri-Kansas City School of Medicine; Clinical Assistant Professor of Orthopedic Surgery, University of Kansas School of Medicine