Gastroenterology
Nationally ranked by U.S. News & World Report
Gastroenterology
Nationally ranked by U.S. News & World Report
Pediatric Gastroenterology 

The Division of Pediatric Gastroenterology at Children's Mercy is one of the largest in the U.S. We are nationally recognized for providing excellent care for children with intestinal, liver, esophageal and nutritional disorders. Our experienced gastroenterology (GI) team collaborates across departments and incorporates the latest research to give every child the best possible care experience. 
Comprehensive care from pediatric experts 

Children and teens with GI conditions benefit from our comprehensive, child-centered care. We look at all the possible contributing factors to their disorder to find the best course of treatment.  
For example, our Abdominal Pain Program combines mental and physical health care to address the root causes of chronic abdominal pain. Families meet with both a gastroenterologist and pediatric psychologist from their very first visit. Together, they explore the various factors that interact and contribute to chronic abdominal pain and create a treatment plan designed to improve them. 
The team in our Polyposis Clinic is breaking new ground with research into hereditary childhood polyposis syndromes - conditions where small growths called polyps cause problems in the digestive tract. Using genetic testing and individualized medicine, the team is able to grow replicas of a child's specific polyps in the lab to test and see which medication will work best for that child. 


Meet the team 

We have many GI specialists at work to help care for children with a wide range of conditions. Our care team includes not only pediatric gastroenterologists and advanced practice nurses, but also clinical psychologists, nutrition support nurses, dietitians, social workers and pharmacists. 
Meet the entire team of pediatric GI specialists at Children's Mercy. 


Caring for the whole child 

Physical, mental, emotional and social aspects can all play a role in abdominal pain, constipation and other common GI concerns. Often there are biological factors (like inflammation, hypersensitivity and gut flora), psychological factors (like mood, anxiety and sleep problems) and social factors (like relationships with family members and peers or problems at school) that contribute to the problem.  
Treating just one area at a time may not be effective, but when we take a combined approach to care, the majority of families report significant improvement in their child's condition.


Research  

Our commitment to providing the best medical care goes hand-in-hand with our dedication to discovering new and more effective treatment methods through clinical research. Current GI research areas include abdominal pain, inflammatory bowel disease, liver care, polyposis, GI issues in children with autism, and many other areas. We also collaborate with the Genomic Medicine Center to diagnose gastroenterology conditions at the genetic level. 
Powering Children's Potential


We have over 70 active research projects ongoing within GI and I think one of the most impactful is our partnership with the Genomics Center, collaborating with Genomic Answers for Kids, diagnosing GI conditions and GI diseases at the genetic level. It has been an incredibly great partnership. We are actively researching in areas of abdominal pain, polyposis and inflammatory bowel disease, as well as liver and drug delivery systems.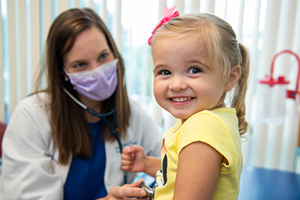 Learn more about what makes our Division of Pediatric Gastroenterology one of the best in the nation in this new Powering Children's Potential video.
Watch the video
Conditions
Gastroesophageal reflux

Obesity-related liver disease

Gastrointestinal bleeding

Liver disease

Biliary disease

Hepatitis
Treatments offered
Consults by our pediatric-dedicated nutrition support team

Urgent outpatient consultation or visits can be accommodated upon physician request by speaking with a GI physician.

Enteral and parenteral nutrition therapies

Pediatric endoscopy suite - procedures include:

Upper endoscopy

Colonoscopy

Small bowel capsule

Therapeutic advanced endoscopy: balloon dilation, polypectomy

Double-balloon enteroscopy

Transnasal endoscopy

Esophageal and rectal manometry

PEG tube placement

Percutaneous liver biopsy

Esophageal pH studies (including BRAVO)

Breath hydrogen analysis

Fecal transplant
Intestinal Rehabilitation Center:

Intestinal rehabilitation

Surgical repair

Bowel lengthening procedure

Research

Nutrition support

TPN-induced liver disease

Intestinal atresia

Malabsorption diseases

Pseudo obstruction