Polyposis Center
Nationally ranked by U.S. News & World Report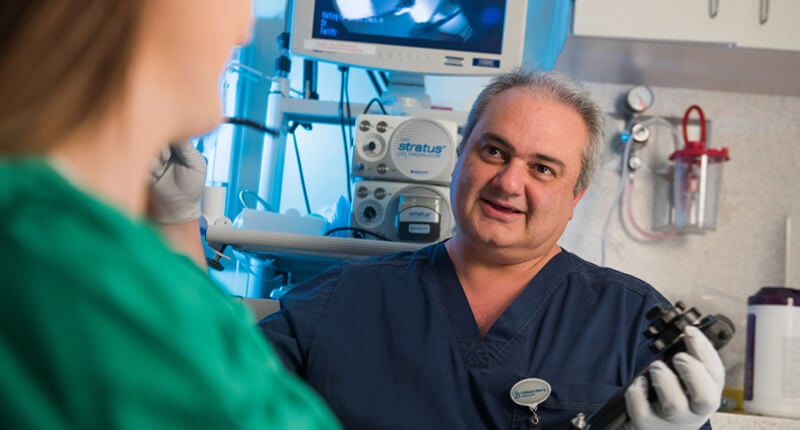 Polyposis Center
Nationally ranked by U.S. News & World Report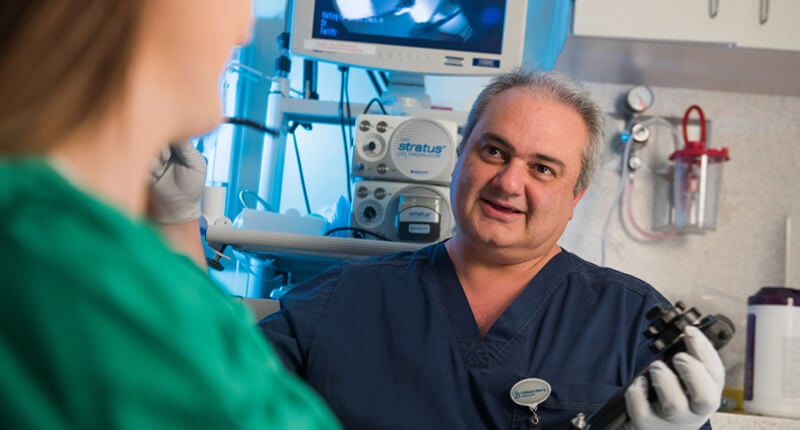 Gastrointestinal polyposis

Polyps—abnormal tissue growths in the large intestine—are relatively common in children and generally do not mean anything in terms of risk of serious illness. However, there is a select subgroup who have several polyps or a suspicious family history that make a hereditary condition with increased cancer risk a possibility. Given how rare these conditions are, many pediatric gastroenterologists seek the help of a multidisciplinary program that includes more specialized gastroenterologists, such as the Polyposis Center at Children's Mercy.
The Polyposis Center offers highly specialized care for children with gastrointestinal polyposis. We are the only comprehensive, multidisciplinary team in the region with expertise in diagnosing and treating pediatric polyps and related intestinal cancer syndromes.
Our team collaborates extensively with similar national and international centers to remain at the forefront of clinical care, advanced endoscopic procedures, and research in this field.


Why children with polyps need specialized care

Children, sometimes even very young, can develop a single polyp in the colon by chance. However, children with several polyps, polyps in the rest of the intestine or polyps with unusual characteristics when studied in the lab may have a far more serious condition.
Some children with many polyps may have few or no symptoms but an expert review of their family history leads to a diagnosis of one of several different polyposis syndromes. This has, of course, important consequences. Polyposis syndromes reflect a pattern of developing polyps and also usually a risk of cancer inside and outside the colon.
Oftentimes, these children—with the right testing—are found to have detectable genetic mutations related to their condition. Ideally these children should be seen and treated by a team made up of individuals with a passion for treating these complex conditions. The team needs to include pediatric gastroenterologists, genetic counselors, social workers, psychologists and pediatric surgeons.
Children's Mercy is committed to providing these resources in a single multidisciplinary clinic, which allows us to make communication and coordination of care for your child as seamless and safe as possible.


Find out more about what to expect before, during and after your visit to the Polyposis Center
Your care team

The Polyposis Center team is led by Dr. Thomas Attard, a board-certified gastroenterologist who is internationally recognized for his expertise in treating children with gastrointestinal polyps.
Your care team may include:
Caitlin Lawson, MS, CGC, a certified genetic counselor who is a member of the national hereditary polyposis interest group
Megan Drovetta, LMSW, LCSW, a social work and psychology liaison who helps your child cope with the psychological impact of their condition and helps your family navigate insurance coverage and out-of-state referrals
Dr. Shawn St. Peter, a pediatric surgeon with extensive experience in the surgical care of children with polyposis syndromes
A dedicated research team that supports our research mission, including offering information and options to our families who are seeking to participate in research trials.
In addition to medical expertise, everyone on the team brings their personal knowledge and passion for helping kids to provide comprehensive care for your child.
Why Children's Mercy—dedicated to you and your family through your journey

We understand that your family may travel very far to meet with us and trust us with the care of your child. We are humbled and energized by that trust. We know full well that even the mere mention of the word "cancer" is the last thing families want to hear.
We want to care for your child as a whole person, being sensitive to the medical, psychological and social impacts of their condition.
We are fully committed to research and cutting-edge care to improve the lives of all children with polyposis syndromes. We network with similarly committed providers nationally and around the world to continually share new ideas and find better treatments.
Our team is dedicated to accompanying your family safely through the journey, seeking solutions and always staying one step ahead.
Conditions
Children's Mercy has an expert team ready to diagnose and treat all types of polyposis syndromes, including:
Familial adenomatous polyposis (Gardner syndrome)
Juvenile polyposis syndrome
Lynch syndrome
Peutz-Jeghers syndrome
PTEN hamartoma syndrome
Stories
Peutz-Jeghers syndrome: Toby's story
A rare genetic condition causes polyps to continually form in Toby Nguyen's intestines. But thanks to the Children's Mercy Polyposis Center and a unique test called double balloon enteroscopy, it's under control.
Meet Toby