Pulmonary and Sleep Medicine
Nationally ranked by U.S. News & World Report
Pulmonary and Sleep Medicine
Nationally ranked by U.S. News & World Report
The Pulmonary and Sleep Medicine team treats a wide variety of acute and chronic respiratory disorders and sleep disorders in children. Our Sleep Disorders Program is the only pediatric program in the region accredited by the American Academy of Sleep Medicine. This means your child will receive the highest level of care available. Additionally, our Cystic Fibrosis Center is accredited by the Cystic Fibrosis Foundation for clinical care, education and clinical research.
Children treated in the program receive care from a multidisciplinary team. The team includes eight board certified pediatric pulmonologists. The entire pulmonary team is comprised of clinic nurses, nurse practitioners, pediatric respiratory therapists, medical social workers, dietitians, clinical psychologists, polysomnography technologists and more.

Education of other health professionals provides the opportunity to extend our "medical home" concept into their community practices. In this way, we support good communication and continuity of care for our shared patients.
We also provide ongoing community educational support to Greater Kansas City area schools and hold annual seminars for families of children who have Cystic Fibrosis and Narcolepsy.


Program highlights
The Pulmonary Medicine Service provides comprehensive ambulatory and inpatient services for children with a wide variety of acute and chronic respiratory diseases. Our Pulmonary Function Laboratory provides a full range of diagnostic testing for children of all ages. We collaborate with many divisions throughout Children's Mercy to provide multi-disciplinary care through sub-specialty clinics.


We serve the largest population of children with narcolepsy in the region. Special programs, including Narcolepsy Family Education Day, have been developed to meet the complex needs of these children.


Our Sleep Disorders Program, including an updated and expanded Sleep Laboratory for overnight studies, is the only pediatric program in the region accredited by the American Academy of Sleep Medicine.


Our Cystic Fibrosis Center is accredited by the National Cystic Fibrosis Foundation for clinical care, education and clinical research.


Our infant and pediatric home ventilator programs enable infants and children to be at home with their families while working toward the goal of freedom from ventilator support.


We offer in-person and telemedicine visits at several locations across Missouri and Kansas.
Administrative service

Members of the Pulmonary and Sleep Medicine team are active locally, regionally and nationally in administrative service to the health care community.
Pulmonary and Sleep Medicine is represented on more than 30 standing committees within Children's Mercy and the University of Missouri – Kansas City.
We have representatives on three statewide committees, the Missouri Sleep Society, the Rare Disease Advisory Council which provides recommendations to Missouri HealthNet, and Missouri Maternal-Child Learning and Action Network.
Finally, team members have leadership positions with 25 national committees, representing the following organizations:
American Academy of Pediatrics
American Academy of Sleep Medicine
American Thoracic Society
American Board of Pediatrics
American Lung Association
Children's Hospital Neonatal Consortium
Cystic Fibrosis Foundation
Gilead Sciences
US News and World Report Pulmonology Working Group
Wake Up Narcolepsy
Scholarship

Members of the Pulmonary and Sleep Medicine team are fully committed to and engaged in a broad range of scholarly activities, including:
Clinical and translational research
Publication in peer-reviewed journals
Presentations at national meetings of professional organizations
Teaching and Education

Our commitment to teaching and education is no less than to other components of the Children's Mercy mission. All faculty engage in the education of clinical fellows, residents and medical students using several different formats. We are also engaged in a wide variety of activities for other learners at many levels of their education, exchange programs with allied health care professionals from around the country, Docent programs at UMKC, regional educational consortia, professional CME programs and patient/family education programs.
Sleep tips
Learn about sleep disorders in children and tips and guidelines to better manage them.
Clinical Services
Asthma challenge testing and education

Comprehensive pulmonary function testing for children including body plethysmography

Cystic Fibrosis Center

Flexible fiberoptic bronchoscopy and lavage

Infant pulmonary function testing

Methacholine or other bronchoprovocation testing

Neuromuscular Respiratory Disease

This well-established clinic allows us to work with a multidisciplinary team to address all aspects of preventative and interventional health care for this medically complex and at-risk population.



Patient and caregiver education

Pediatric Home Ventilator Clinic

A joint effort with Otolaryngology brings together a team of health care professionals to provide comprehensive care for children with tracheostomies who require chronic home ventilation.



Pulmonary Complications of Neuromuscular Diseases

Patients with a variety neuromuscular diseases — including Duchene's Muscular Dystrophy and Spinal Muscular Atrophy — are seen in this comprehensive, multidisciplinary clinic. Our services include screening examinations, pulmonary function testing, anticipatory guidance, and routine clinical care.



Pulmonary Complications of Sickle Cell Disease

Children's Mercy has one the largest pediatric sickle cell programs in the country. This multidisciplinary clinic helps children and adolescents with sickle cell disease who require specialized pulmonary care.



Sleep diagnostic unit and polysomnography
Conditions
Asthma

Allergic asthma
Exercise-induced asthma
Life-threatening asthma

Chronic lung disease of prematurity
Congenital airway and lung abnormalities
Cystic fibrosis
Interstitial and diffuse lung disease of childhood
Pneumonia and respiratory infections
Pulmonary hypertension
Pulmonary complications of sickle cell disease
Pulmonary complications of neuromuscular disease
Pediatric tracheostomy and home ventilation
Primary ciliary dyskinesia
Restrictive lung disease (neuromuscular and thoracic disorders)
Sleep disorders

Sleep apnea
Narcolepsy
Restless limb and sleep-related movement disorders
Behavioral insomnia and sleep disorders
Parasomnias (sleep terrors, sleep walking)
Stories
Cystic fibrosis: Amber's story
At 35, Amber Dawkins has been fighting a formidable foe her entire life—cystic fibrosis. As a child, the Children's Mercy CF Care Center helped keep her healthy. Now 35 years old, Amber is determined nothing will stop her from living her life to the fullest, not even CF. Read how she's beating the odds, competing on one of the world's biggest stages in the athletic competition, "American Ninja Warrior"!
Meet Amber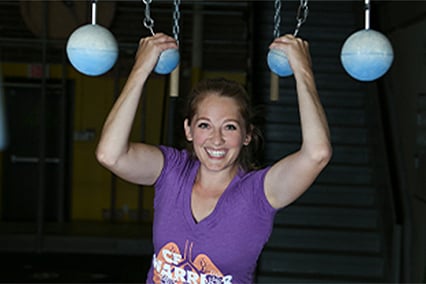 Eosinophilic asthma: Hunter's story
In a matter of a few hours, Hunter Box went from being a healthy, active 17-year-old, to a severely ill teen struggling for his next breath. After two hospitalizations, he was diagnosed with eosinophilic asthma and a rare complication called plastic bronchitis. Now, thanks to the Children's Mercy Advanced Asthma Interdisciplinary Respiratory (AAIR) Clinic, Hunter's asthma is under control.
Meet Hunter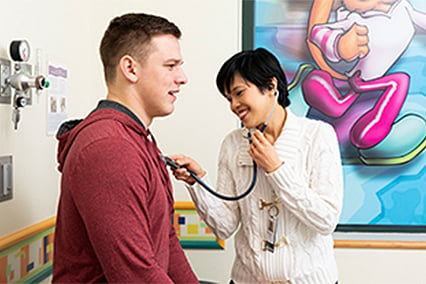 Contact information

Patients and families

To make an appointment
(816) 983-6490

We strongly encourage families to contact our hospital directly to schedule appointments and we request that patients bring relevant medical records and X-rays with them on their first visit.


Health care professionals
Pulmonology and Sleep Medicine Division Office
(816) 983-6644