Advanced Asthma Interdisciplinary Respiratory (AAIR) Clinic
The AAIR Clinic helps kids with severe asthma to better manage all aspects of their health that affect their asthma.
Asthma that's not well-controlled can lead to sleep problems, missed days at school and frequent emergency room visits or hospitalizations. Sometimes it can even keep kids from doing the activities they love, such as sports or dance.
The AAIR clinic brings together a team of experts to evaluate all the factors that might be influencing your child's asthma and address them with medications and lifestyle changes. Our goal is to help your child be healthy and free of any troublesome symptoms.


Your advanced asthma care team

The AAIR Clinic team includes several different specialists who all work together with you to build an effective care plan for your child. Depending on your child's needs, your team may include:
A pediatric pulmonologist who specializes in lung problems

A pediatric allergist who specializes in allergy and immune system problems that are often present alongside asthma

A registered nurse coordinator

A social worker who helps with resources and problem solving

Respiratory therapists who help with breathing tests and asthma education

A nutritionist who helps with healthy lifestyles and weight management

An environmental health nurse who helps to avoid possible triggers inside or outside your home
Conditions
Your child may need to visit the AAIR Clinic if they are using high-dose asthma medications for severe asthma and still:
Has poorly controlled asthma

Needs oral steroids (prednisone or orapred) more than once a year

Has daytime or nighttime cough or wheezing weekly while on medications for asthma

Has had to visit the emergency room or hospital more than once a year

Has needed to be in the intensive care unit (ICU) for breathing problems

Does not respond to their asthma medications or is having problems with medications
Stories
Eosinophilic Asthma: Hunter's Story
In a matter of a few hours, Hunter Box went from being a healthy, active 17-year-old, to a severely ill teen struggling for his next breath. After two hospitalizations, he was diagnosed with eosinophilic asthma and a rare complication called plastic bronchitis. Now, thanks to the Children's Mercy Advanced Asthma Interdisciplinary Respiratory (AAIR) Clinic, Hunter's asthma is under control.
Read Hunter's story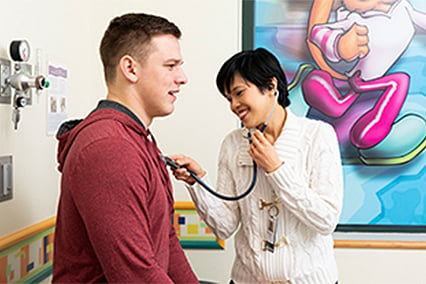 What to expect

The AAIR Clinic is located at the Children's Mercy Adele Hall campus in downtown Kansas City. When you come to the clinic, we will talk with you about your child's breathing and medical problems, as well as ask you about your home environment and your child's nutrition.
We will do a physical exam and perform breathing tests.
Together with you, we will make a plan for how to better control your child's asthma and which medications will help most.
Diagnostic tools may include:
Spirometry: a breathing test that measures air flow in and out of the lungs (measured at every visit)

Exhaled nitric oxide: a test that measures inflammation in the airway

Allergy skin testing or blood testing: tests for reaction to indoor and outdoor allergens

Chest X-rays: quick pictures of your child's chest and lungs

Lung volume testing: a breathing test that measures lung volumes

Inhalation challenge testing: helps to find out if your child has asthma

Exercise challenge testing: a treadmill test to see if your child's exercise symptoms are because of asthma

Laryngoscopy/bronchoscopy: a test that uses a camera to take a look at your child's vocal cords or airways

CT scans of chest: pictures that help us look at your child's lungs more clearly


Advancing care for all kids with asthma through research

Children's Mercy is actively involved in ongoing research projects to improve care for all kids with asthma. You may have an opportunity to participate in research to help us understand more about severe asthma and how it affects children. This helps us develop better treatments in the future. Being part of a research study is voluntary and will not affect your child's medical care.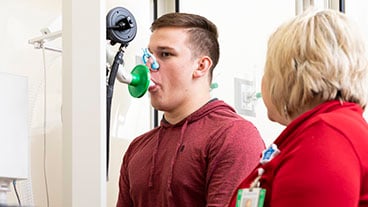 Asthma in kids
Find out more about symptoms, causes and prevention tips for asthma in kids from Children's Mercy pulmonologists Dr. Nadine Mokhallati and Dr. Jade Tam-Williams.