Exertional Compartment Syndrome: Saige's Story
Meet Saige

Saige Wimes is one serious soccer player—so serious the senior at St. Teresa's Academy has been playing competitively for six years. When she was a freshman in high school, she even landed a scholarship to play forward at the University of Kansas in 2022.
"I was already talking to colleges in the 8th grade," Saige said. "I've been playing since I was 5 years old. Soccer is a really big part of my life. I go to practice every day and play games almost every weekend."
So, when she began experiencing a strong pain in her left calf, a burning sensation around her shin, and then her foot went numb, she wasn't sure what to think.
"The first time this happened, it was during a game," Saige said. "I played through the first half with a numb foot."
When she came off the field, an athletic trainer checked Saige's left leg and foot out but couldn't identify the problem. Over the next few weeks, she saw a chiropractor who said her feet were misaligned and a doctor who thought she had shin splints, but the pain persisted whenever she played or worked out.
"The pain was sporadic, sometimes bothering me for a whole game, then maybe not for a couple of months," Saige described. "Last season it was really bad."
Eventually, she saw two different adult orthopedic surgeons who thought she had a rare condition called exertional compartment syndrome, or ECS, but they weren't sure.
By the time Saige came to see Kevin Latz, MD, Chief, Children's Mercy Sports Medicine Center, she was experiencing pain in both legs, and was missing parts of games. "On a scale of 1 to 10, with 10 being the worst pain I've ever had, I would say it was a 7," Saige said.
Exertional compartment syndrome

Dr. Latz confirmed that Saige had ECS, a condition that causes pain with exertion. Although ECS can occur in other compartments, most cases present in the lower leg, like Saige's.
There are four compartments in the lower leg: one in the front, one on the outside, and two in the back. Each compartment has a covering of fibrous connective tissue called fascia. ECS happens when the muscles expand during exercise and the fascial covering around the muscles becomes so tight it essentially strangles the muscles.
That's when the patient experiences an aching pain in the compartment that becomes sharp if activity continues. Symptoms typically subside quickly when activity stops, like when Saige would sit the rest of a game out.
"Knowing that in college I would be playing and practicing even more often, I couldn't see how I could go on this way," Saige said. "I thought, 'How am I supposed to play college soccer if I am restricted by this problem?' I was scared that I wouldn't be able to play soccer again at a super-high intensity."
Dr. Latz explained ECS to Saige, as well as how it's diagnosed and treated. "Dr. Latz said I didn't have to have surgery, but that a procedure called a fasciotomy was the only cure for the problem," Saige said. The procedure would involve Dr. Latz making incisions in each of the four compartments in her legs, cutting open the skin and fascia covering the muscles, and relieving the pressure.
But first he wanted to confirm the diagnosis by measuring the compartment pressures in her legs. This test involved using a special instrument that analyzes pressure through a large needle inserted in the muscles in each compartment.
Dr. Latz described the test as an uncomfortable procedure. "We do all we can to make the patient as comfortable as possible during this test," he added.
For Saige, the test confirmed she had ECS in all four compartments in both legs. "My parents and I considered my options for several months, then in June 2021, I decided to move forward with the surgery.
"Dr. Latz explained everything in great detail, including the recovery process," Saige added. "He said he thought I should be able to play at a very high level after surgery. I felt a lot better after I saw him and everyone at Children's Mercy."
Getting back on the field

Just a few days after Dr. Latz performed surgery assisted by Micah Sinclair, MD, orthopedic surgeon, Saige began the recovery process, working with Kayla Greiner, PT, DPT, OCS, Sports Physical Therapist at Children's Mercy Sports Medicine Center Village West.
Village West offers student-athletes a 13,000-square-foot gymnasium and state-of-the-art equipment, including an anti-gravity treadmill, the first of its kind in the area. And because the gym is also used by Sporting Kansas City and U.S. Soccer, it's not uncommon for student-athletes to work out alongside the pros.
"I'm definitely a Sporting KC fan," Saige said. "Since I started my rehab, I've seen several of the players there." Beyond working out with the pros, Saige said she was surprised by how nice the Village West facility is. "It feels like they have everything you need and I know I am in good hands there."
Saige began her recovery in the pool where she was able to walk on the treadmill, jump and even run. The state-of-the-art therapy pool makes it possible to use the buoyancy of the water to unweight the patient, avoiding pain or swelling. Saige also could perform movements in the water that had previously been painful.
"We wanted to get Saige in the pool as quickly as possible, and she really made great progress," Kayla said. Saige also worked on land-based therapy, starting with ankle mobility and foot flexibility.
To assist with the transition to the higher functioning body mechanics necessary for competitive play, Kayla utilized the anti-gravity treadmill, which features NASA-developed technology to unweight patients. This reduces the impact on their joints while walking or running during rehab.
Kayla also put Saige on a running program that she faithfully followed. By the end of September, Saige was ready to get back on the field for her club team, the KC Athletics.
"I only missed the first few games this fall," Saige said. "When I returned to play, I was able to play 12 to 15 minutes in each half, and it felt really good. I didn't have any pain.
"But the most exciting part was just being back on the field with my teammates and parents cheering me on," she said.
The best team!

As someone who has played a team sport most of her life, Saige knows all too well how important it is to have strong players on her side, and she said her Children's Mercy team was the best!
"I couldn't have asked for a better experience than I had with Dr. Latz," Saige said. "He went above and beyond. He answered all my questions and made sure I was OK throughout the testing and surgery. I saw other doctors before I came here, but Dr. Latz was just so much more knowledgeable and confident in the process and the most comforting of them all. He made this experience so much better for me. I would recommend him to anyone."
And working with Kayla has been easy and fun for Saige. "When I'm working with Kayla, I feel like I am working out with a friend. We're serious when doing my therapy, but I also feel like I can joke around with her. That just makes the recovery process so much more enjoyable."
"Saige has a great sense of humor, which really helps the rehab process go smoother, and her work ethic is on point!" Kayla said. "She was here for every appointment and gave 150% effort each time. Her diligence and determination have helped her recover. She's the perfect patient!"
For Saige, perfection is being able to play the sport she loves again without being in constant pain. "My care team has been the best I could ask for. I feel really good about the progress I've made and the care I have received from Children's Mercy," Saige said. "It means a lot to me that I was able to have this surgery. Now I can spend my senior year playing the game I love without pain."
Find Children's Mercy Sports Medicine on social media


Stories
Exertional compartment syndrome: Dayana's story
When Dayana Vazquez Rubio was diagnosed with exertional compartment syndrome (ECS), she was already a patient at Children's Mercy Sports Medicine Center, rehabbing from an ACL tear and surgery. After treatment and therapy for ECS, she has continued to recover, and is ready to return to her favorite sport, competitive soccer.
Meet Dayana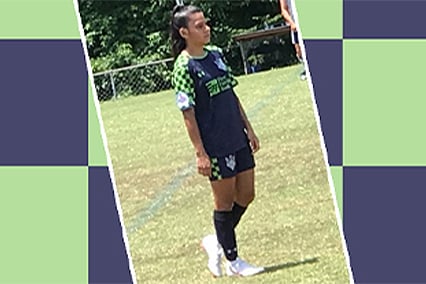 Pediatric Orthopedic Surgery
Chief, Section of Sports Medicine; Pediatric & Adolescent Orthopedic Surgery; Associate Professor of Orthopedic Surgery, University of Missouri-Kansas City School of Medicine; Clinical Assistant Professor of Orthopedic Surgery, University of Kansas School of Medicine