Comprehensive Epilepsy Center
Comprehensive Epilepsy Center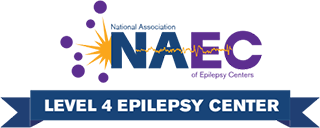 The Comprehensive Epilepsy Center at Children's Mercy offers innovative treatment and support for children with seizure disorders and their families. We are recognized by the National Association of Epilepsy Centers as a Level 4 Center, the highest level in epileptic care.
As one of only a dozen pediatric epilepsy centers in the nation, we are able to provide you with the most complete diagnostic and treatment services available.
Our EEG lab, which performs tests to evaluate and record brain wave patterns to detect potential problems, is ABRET certified. This means our technologists and facilities meet the highest standards for providing excellent quality EEGs every time. Fewer than 10% of labs across the country achieve this certification.
Whether you're looking for a diagnosis, a second opinion, or the latest research-supported treatment options, the Children's Mercy Comprehensive Epilepsy Center team is here to help.
Your expert epilepsy care team

Your epilepsy care team will include a variety of experienced professionals. We have four epileptologists who have undergone extensive additional training to become triple board certified in child neurology, epilepsy and clinical neurophysiology: Dr. Ahmed Abdelmoity, Dr. Lalit Bansal, Dr. Mohammed Ilyas and Dr. Kailash Pawar. Only a handful of doctors across the nation have achieved this level of expertise in all three specialties.
Our neurosurgeons have experience with every type of surgical procedure approved to treat epilepsy, including laser ablation and other innovative techniques, such as the ROSA robotic surgical assistant. Children who undergo epilepsy surgery at Children's Mercy outperform the national average for seizure freedom one year after epilepsy surgery.
Each area of our clinic, from the Epilepsy Monitoring Unit to the Ketogenic Diet Program, has dedicated staff members who specialize in that field. Your child's team members may include:

• Epileptologists (child neurologists who specialize in epilepsy)
• Neurosurgeons
• Neuropsychologists
• Advanced practice registered nurses (APRNs)
• EEG and radiologic technologists
• Nutrition and dietary specialists
• Social workers
Conditions
Drug-resistant epilepsy from a variety of causes

Epilepsy Syndrome, including but not limited to:
Absence
Juvenile Myoclonic epilepsy
Lennox Gastaut syndrome
Dravet Syndrome
Doose Syndrome
Benign Epilepsy with CentroTemporal Spikes (BECTS)
Benign occipital childhood epilepsies
Other epilepsy types related to:

Cortical dysplasia
Angelman Syndrome
Rett syndrome
Neonatal stroke
Hypoxic ischemic encephalopathy (HIE)
Post infectious, autoimmune, post traumatic, and others
Other genetic abnormalities
Advancing epilepsy care through research
Our team is actively involved in research that helps continually broaden our understanding of pediatric epilepsy.
We also participate in clinical trials for new medications and procedures. Ask your child's neurologist if any of these studies would be a good fit for your family, or view a list of current clinical trials.
Stories
Drug-resistant seizures: Derek's story
Thirteen-year-old Derek Ahlstedt began having seizures when he was only 18 months old, and has struggled with them ever since. Thanks to new technology called ROSA® Brain, a Children's Mercy neurosurgeon was able to pinpoint the source of his seizures, and remove the dysfunctioning portion of his brain. He's now seizure-free and looking forward to the possibility of driving one day.
Meet Derek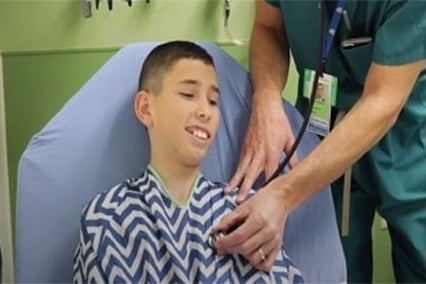 Ketogenic diet for pediatric epilepsy: Vito's story
Diagnosed with the rare genetic disorder Glut1 as an infant, Vito Costanza had constant seizures until beginning the ketogenic diet at Children's Mercy. Thankfully, the diet has been a lifesaver for Vito.
Meet Vito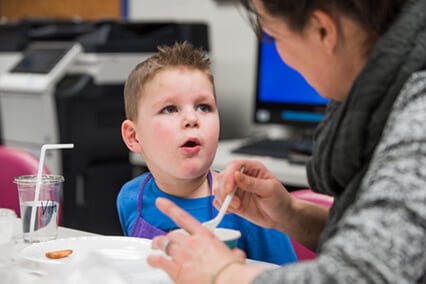 Consultation request process

To request a consultation for a new patient at the Comprehensive Epilepsy Clinic, please complete the Epilepsy Clinic Referral Form and fax to (913) 696-8580.
An Epilepsy Program Coordinator will contact the parent to schedule the appointment and will also notify the primary care physician of the date/time of the appointment.
To request a consultation regarding a follow-up patient, please have the parents contact the Epilepsy Clinic directly at (913) 696-8950.