Dravet Syndrome: Comprehensive Care for Children and Teens
What is Dravet Syndrome?

Dravet Syndrome is a rare and severe form of epilepsy that affects 1 in every 15,700 people.1 Dravet Syndrome's symptoms affect many different systems in the body. Patients can experience a wide variety of comorbidities (multiple, simultaneous disorders), including seizures, cognitive delays, and behavioral challenges. Eighty percent of Dravet Syndrome patients have an SCN1A gene mutation, but not all patients with this mutation develop Dravet Syndrome, and not all patients with Dravet Syndrome have this mutation.1 Dravet Syndrome is usually detected in infancy, and its effects are lifelong.
Children's Mercy has a cross-disciplinary team of specialists who work together to improve the quality of life for young patients with Dravet Syndrome. Our goal is to make it easier for our patients and their families to access the holistic care they need.
Symptoms and diagnosis of Dravet Syndrome

Early symptoms of Dravet Syndrome include multiple myoclonic seizures (with or without a fever) in normally developing children under 1-year-old, seizures that last longer than 10 minutes, and seizures that resist treatment with antiepileptic drugs after age 2. Other typical early symptoms include developmental delays after age 1, speech delays, and behavioral challenges.1 Children with Dravet Syndrome can have many different types of seizures (myoclonic, hemiclonic, atypical absence, focal and status epilepticus); these seizures persist in adulthood. Dravet Syndrome is also associated with a higher risk for SUDEP (Sudden Unexplained Death in Epilepsy).
People living with Dravet Syndrome typically experience a variety of symptoms outside of epilepsy, including:
Developmental delays
Sleep disorders
Feeding and gastrointestinal challenges
Movement and gait disturbances
Behavioral and mental health issues
The specialists at Children's Mercy can help determine if your child is experiencing Dravet Syndrome, another type of epilepsy, or another disorder associated with an SCN1A gene mutation.
Why multidisciplinary treatment is important

Although there is not yet a cure for Dravet Syndrome, there are many options available to treat its symptoms. Because patients with Dravet's Syndrome deal with multiple challenges, it is important that treatment addresses the full range of issues impacting the patient—not just seizures.
Children's Mercy Comprehensive Dravet Syndrome Clinic

Our innovative half-day clinics are held regularly to provide holistic, coordinated care for Dravet Syndrome patients. Our convenient, central location offers an all-in-one solution for families seeking quality, multisystem Dravet Syndrome treatments. All the specialties needed to address Dravet Syndrome's web of connected conditions are represented, including ones that are traditionally hard to schedule, like sleep medicine and psychiatry. The clinic is designed to reduce the time and travel needed to obtain treatment and provide families with access to new and/or less common medicines and therapies.
Specialty and treatment options at the Comprehensive Dravet Syndrome Clinic
The Comprehensive Epilepsy Center: Recognized by the National Association of Epilepsy Centers as a Level 4 Center, the highest level in epileptic care, our epilepsy specialists deliver cutting-edge treatments including medication (anti-seizure medications for maintenance and "rescue medications" to stop prolonged seizures) and neurosurgical therapy, such as Vagus Nerve Stimulation (VNS).
Sleep Medicine: Treating the variety of sleep disorders patients with Dravet Syndrome experience, our Sleep Disorders Program is the only pediatric program in the region accredited by the American Academy of Sleep Medicine.
Clinical Genetics: Our geneticists offer state-of-the-art evaluation, diagnosis, treatment, and counseling for the full range of SCN1A disorders.
Pediatric Gastroenterology: Nationally recognized, our experienced gastroenterology team can address common Dravet Syndrome issues, like poor feeding, difficulty swallowing and chewing, and constipation.
Developmental and Behavioral Health: Our psychiatrists provide support for Dravet Syndrome patients with developmental, psychiatric, or psychological concerns, including ADHD, perseveration, behavioral problems, and other challenges.
Nutrition Services: Our dieticians can help develop ketogenic and other relevant dietary interventions for patients with Dravet Syndrome.
Neuropharmacology: Part of our internationally recognized Division of Clinical Pharmacology and Toxicology, our neuropharmacists help Dravet Syndrome patients find the most effective medications for their needs.
Social Work: Our social workers offer comprehensive assessments of the psychological and social factors impacting Dravet Syndrome patients' progress and provide supportive counseling, trauma response, crisis intervention, and care coordination.
The clinic can also refer patients to other Children's Mercy specialties, including:
Pediatric Neurosurgery
Cardiology
Orthopedics
Endocrinology
Pulmonology
Metabolic specialist
Speech pathology/therapy
Occupational therapy
Physical therapy
If you are referred to our clinic, our coordinator will talk with you to learn more about your child's current challenges and care history. Our team will review your child's needs together and collaborate to provide a custom, holistic care plan. We will schedule appointments with the appropriate clinic specialists, monitor progress and provide close, ongoing support.
Dravet syndrome: Sebastian's story
Sebastian is an energetic, happy 8-year-old who loves climbing, dogs, green vegetables and the American flag. He had his first seizure at 6 months, but it was several frustrating years before his parents discovered his Dravet diagnosis with the help of Children's Mercy Kansas City.
Meet Sebastian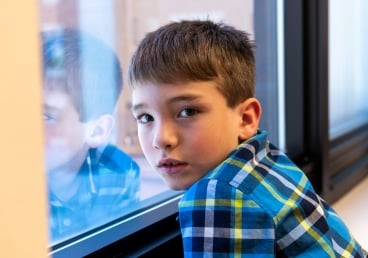 Dravet Syndrome: Tenley's Story
Tenley is a people-loving 10-year-old who adores roller coasters, swimming and cheerleading. She also also lives with Dravet Syndrome, a rare form of severe epilepsy with symptoms that affect almost every system in the body. With the help of the Epilepsy Center, Tenley has gone from experiencing hundreds of seizures a day to a life full of the things she loves.
Meet Tenley