Dravet Syndrome: Tenley's Story
Tenley is a people-loving 10-year-old who adores roller coasters, swimming and cheerleading.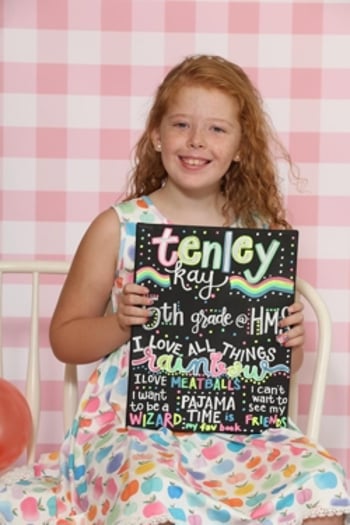 "She's definitely something," Tenley's mom, Hollie, laughed. "That crazy red hair will get you!"
Tenley also lives with Dravet Syndrome, a rare form of severe epilepsy with symptoms that affect almost every system in the body. With the help of Lalit Bansal, MD, Director of the Epilepsy Surgery Medical Program and the Children's Mercy Comprehensive Dravet Syndrome Clinic, Tenley has gone from experiencing hundreds of seizures a day to a life full of the things she loves.
Tenley was 7 months old when she began having febrile seizures; a few months later, her absence seizures began. Her rural hospital ER referred Tenley and her parents, Hollie and Dustin, to Children's Mercy Comprehensive Epilepsy Center. A 24-hour EEG confirmed that Tenley was having a high number of seizures, and genetic testing revealed the SCN1A gene mutation linked to Dravet Syndrome. Tenley and her family worked with several different physicians at Children's Mercy before connecting with Dr. Bansal, who specializes in drug-resistant epilepsy, in 2016.
"She's a very joyful person," Dr. Bansal said of Tenley, sharing that it took several years to connect deeply with her, but now Tenley comes to the clinic looking for him. "She's happy and smart. She never complains. She likes to tease me."
"Doctor Bansal has been a lifesaver," Hollie said. "The way he looks at Tenley...I know he cares."
Together, they tackled Tenley's epilepsy and behavioral issues (a common challenge for children with Dravet Syndrome) with every tool in the box. "It was rough," Dr. Bansal said. "She was having more than 100 seizures a day: absence seizures, myoclonic seizures, generalized tonic-clonic seizures."
They tried 10 different medications to find the right fit alongside implanting a Vagus Nerve Stimulation (VNS) device in December 2016. VNS uses electrical impulses to regulate seizures; it can stop seizures before they start and/or shorten them using a hand-held magnet to trigger the device.
"Hollie and Dustin are very open to new changes," Dr. Bansal said. "They are willing to explore and see what can work."
Hollie and Dustin, both nurse practitioners, liked that trying VNS didn't involve the side effects and withdrawal symptoms that come with making medication changes. Tenley sailed through the minor implantation surgery and has been living with her VNS device ever since. The treatment has greatly reduced the number and length of Tenley's seizures.
"Her seizures are never over three minutes anymore," Hollie said, reporting that Tenley's seizures only occur about once a week now. "The rescue meds that cause all those side effects — we've been able to cut back on those."
Tenley was one of the first patients to attend the Comprehensive Dravet Syndrome Clinic in February 2022. Previously, the only specialist Tenley saw was Dr. Bansal; they tried to coordinate their other care locally (the family lives two hours outside of Kansas City). Through the new clinic, Tenley has access to one-location multidisciplinary treatment with eight core specialties relevant to Dravet Syndrome symptoms, plus easy referrals to other specialists in the Children's Mercy network.
"I'm really excited to have the Dravet clinic available," Hollie said. "We can go down for a half day, five to six hours. Everybody's on the same plan, and they all share notes! The thing we've loved the most is getting hooked up with the behavioral health specialist."
Hollie said that they've often discussed Tenley's quality of life with Dr. Bansal, who prioritizes treatments that allow patients to do the activities that give them joy while minimizing or eliminating seizures.
"I think he really understands us as parents and as medical professionals," Hollie said of Dr. Bansal. "He understands our goals and works with us on them. He treats us as people. He doesn't talk at us. He talks with us."
Hollie also emphasizes her entire family's quality of life. She says Tenley has taught them how to live in the moment. "Dravet Syndrome has definitely changed us, but it doesn't control us," Hollie said. They have made it a point to not let fear stop them from traveling and having fun together. They've been parasailing in the Dominican Republic, surf-riding in Jamaica and are going to Disneyland soon for Epilepsy Awareness Day.
Hollie and Dustin help educate their community about Dravet Syndrome and how it affects so many of the body's systems. "I tell them seizures are only a little part of it," Hollie said. "That's the more manageable part." Hollie has also met with other families dealing with epilepsy through the POPS (Parents Offering Parent Support) Program at Children's Mercy.
"Live life; don't let it live you," Hollie says to other Dravet Syndrome families, urging them to have fun despite the disease's complications. "Keep doing you. Your kids are still your kids. You may have to make modifications, but live life because you don't know how long you're going to have each other."