Reaching Out for Epilepsy in Adolescents and Children through Telemedicine (REACT)
Epilepsy is one of the most common chronic neurologic conditions in children. Yet, it is difficult for these children to receive adequate care, as most doctors specializing in pediatric epilepsy are located in large cities.
In the Midwest, the closest qualified center is often hundreds of miles away. Time constraints, the cost of travel and lodging are often barriers for families.
Studies show early treatment and a proper diagnosis lead to a better quality of life, with improved mental abilities and less likelihood of developing epilepsy that does not respond to medications.
Through the REACT Program, Children's Mercy is proud to partner with community providers across Kansas to improve access to specialized epilepsy care and to spread knowledge and resources across the state.

Improving access and epilepsy care through the REACT project

REACT is funded by the Health Resources and Services Administration (HRSA) and is a collaboration with the American Academy of Pediatrics (AAP). REACT seeks to increase access to quality, coordinated health care for children and youth with epilepsy, specifically for those residing in rural and medically underserved areas in the state of Kansas. REACT links pediatric epilepsy specialists with Primary Care Providers (PCPs) in these communities, providing remote access and training through telemedicine.
What REACT will do:
Improve access to care through telemedicine
Improve mental health of children and youth with epilepsy
Increase shared decision making
Improve communication with specialists
Provide effective education in epilepsy management
Ensure a smooth transition to adult epilepsy care
Producing a family-centered medical home

The success of REACT is based on creating a "medical home" for children and youth with epilepsy. A medical home is a place where all the patient's care is coordinated. To be community-based, primary care providers (PCPs) are often the best option for a medical home. REACT will support this by strengthening the capabilities of PCPs through partnerships, resources, education and access. This means that patients and families will receive the care they need, right where they live.
Virtual event: "Epilepsy Uncovered" with Children's Mercy neurologists
As part of our efforts to spread epilepsy knowledge and resources across the state, Children's Mercy hosted a live webinar on August 5 for patients, families and providers. Children's Mercy neurologists provided helpful information, including:
Epilepsy and seizure education
Tips for parents on managing children who have seizures
Overview of epilepsy medications and other treatment options
Watch the recording from the August 5 event.
How REACT works

Through REACT, Children's Mercy epilepsy specialists will serve as mentors and colleagues, sharing their medical knowledge and expertise with the PCPs participating in this project.
Together, they will create new learning communities where PCPs receive support to improve their abilities to effectively treat children with epilepsy and where families are equal partners in their child's treatment.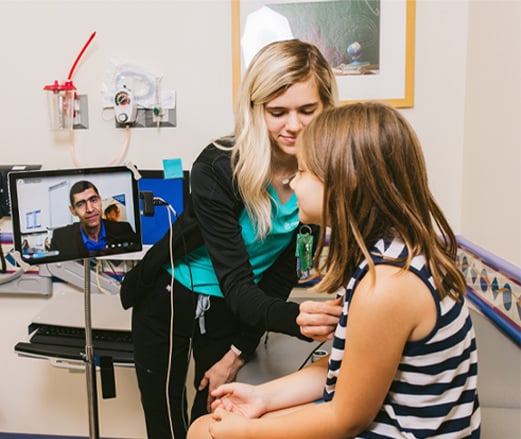 Telemedicine

Telemedicine technology provides opportunities for patients who live long distances from a Children's Mercy location to receive their care closer to home. Patients and providers meet using computers with very secure internet connections. The providers examine, diagnose and make recommendations for the patient with the help of special cameras and a specially trained telefacilitator. See how a Telemedicine visit works.
Depending on certain complications of your child's condition, in-person visits to Children's Mercy may be required to see a specialist. Every effort will be made to keep your child's care at the local primary care provider.
Telemedicine will be part of standard care and should be covered by most insurance providers.
They are very secure. Even if an unauthorized line were to connect during a session, nothing could be seen or heard due to the level of security.