Neurology
Nationally ranked by U.S. News & World Report
Neurology
Nationally ranked by U.S. News & World Report
The Children's Mercy neurology department ranks among America's top pediatric neurology programs, according to U.S. News & World Report. We provide innovative solutions to care for your child, like the Sarli Family Foundation Neurology Clinic, and our Comprehensive Epilepsy Center, one of only twelve pediatric epilepsy centers in the nation.
The Children's Mercy Comprehensive Stroke Center is the only pediatric stroke center in the region and one of just ten in the nation. Rapid diagnosis, treatment and follow-up services help kids who experience a stroke to receive the best possible care.


Experienced pediatric neurologists

Our neurology team has more than 100 staff members, including pediatric doctors, nurses, imaging specialists and others who are experts in the developing brains and nervous systems of children.
All of our physicians are board-certified in neurology, meaning they have passed rigorous additional qualifications in this area of study. Many also have advanced expertise in a specific area of neurology, such as epilepsy or movement disorders. We are part of care teams for newborns in the Neonatal Intensive Care Unit (NICU) who need neurological care.
Children's Mercy has three of the very few doctors in the nation to be triple board certified in pediatric neurology, epilepsy, and clinical neurophysiology.
Our family-centered approach means that we've built a team of experts who will work together with you and your child's primary care doctor to find solutions that work for your family.
Neurology services include:
Brain imaging

Evaluation of anti-epileptic drug efficacy and adversity

Vagal nerve stimulator implantation

Inpatient epilepsy monitoring unit

Epilepsy surgery

Outpatient epilepsy clinic

Neurophysiologic testing: Brain Stem Audio Evoked Response (BSAER)

Electroencephalogram

Evoked potentials

Intraoperative electrophysiological monitoring

Somatosensory responses

Video-EEG monitoring

In some cases, you can visit with your doctor from a location outside of Kansas City through our telemedicine clinics. Talk with your neurology team about whether it is a good fit for your family.
Watch Powering Children's Potential - Neurology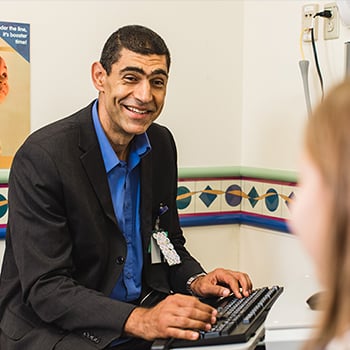 We're not just among the top tier of epilepsy centers. We're really leading the way. We're one of only a handful of epilepsy centers for adults and pediatrics that were able to do over 20 epilepsy surgeries in a calendar year.
Check out CEO Paul Kempinski's new Powering Children's Potential interview with Ahmed Abdelmoity, Neurology Division Director, to learn more about our nationally ranked Pediatric Neurology and Neurosurgery program.
Watch the video
Conditions
We can help with all kinds of neurological conditions, including:
Developmental delay

Epilepsy/seizure disorders, including Dravet Syndrome

Kernicterus (brain damage caused by excessive jaundice)

Migraines/headaches

Movement disorders and spasticity (tremor, dystonia, chorea, ataxia, dyskinesia, and others)

Neurodegenerative disorders (Batten disease, Huntington's disease, and others)

Neurodevelopmental disabilities (autism, ADHD, Angelman syndrome, dyslexia, learning disorders, and others)

Neuroimmunological disorders

Tourette syndrome
We also offer neurometabolic and neurogenetic evaluations.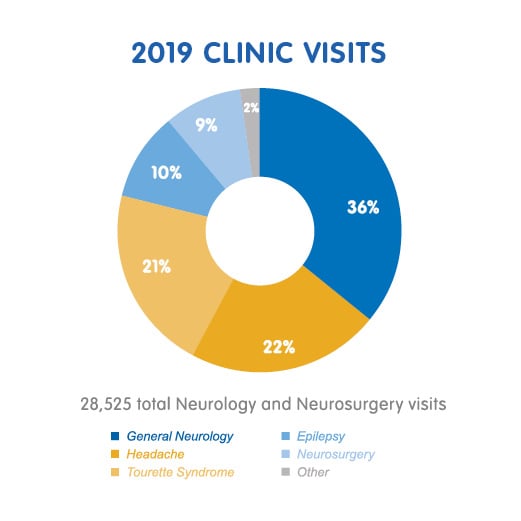 Research to improve lives
The Children's Mercy Research Institute is working to translate medical research into better ways of treating sick kids. We currently have many studies in progress related to epilepsy, movement disorders, Tourette syndrome, stroke, headache, neurogenomics, development of new treatments in neurology, and developmental neurology.
Medical education programs
Stories
Protein C deficiency: Will's story
It wasn't likely that Amber and Blake McKinnon would have another child with a rare blood clotting disorder, but when it happened, the Children's Mercy Elizabeth J. Ferrell Fetal Health Center and Level IV Neonatal Intensive Care Unit were there for them. Today, their second son, Will, is a healthy toddler thanks to the lifesaving care he received as soon as he was born.
Meet Will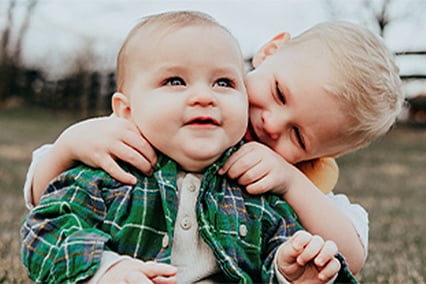 Pediatric stroke: Ben's story
The Children's Mercy Comprehensive Stroke Clinic stabilized newborn Ben McKinnon using blood thinners after he had a life-threatening perinatal stroke. Today, the toddler is walking and running, thanks to early intervention.
Meet Ben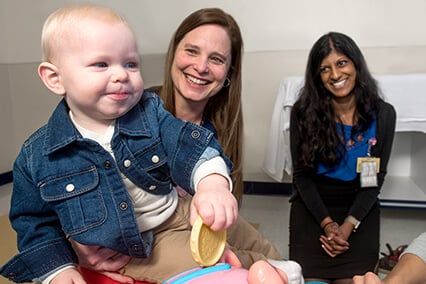 Pediatric epilepsy: Gary's story
Christian Kaufman, MD, Children's Mercy pediatric neurosurgeon, performs an intricate surgery to remove abnormal brain tissue, which should help stop severe epileptic seizures for Gary. Months later, Gary is seizure-free, and is slowly being taken off his anti-seizure medications.
Severe spasticity and dystonia: Josie's story
At three-years-old, a rare condition damaged Josie's brain, impacting her ability to speak and leaving her with a severe movement disorder. The Children's Mercy Comprehensive Movement Disorders and Spasticity Clinic recommended an intrathecal baclofen pump be implanted, and now Josie is on the road to recovery.
Meet Josie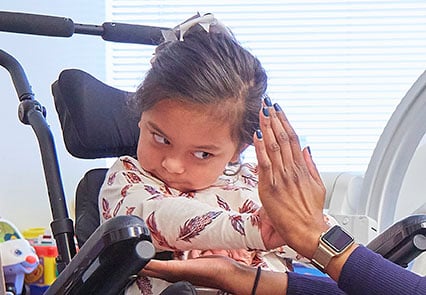 The inspiration behind our unit
The transformative care at our Neurology Clinic is made possible by the Sarli Family Foundation.