Pediatric Stroke: Ben's Story

Call it a mother's intuition, but Amber McKinnon had an uneasy feeling the entire time she was pregnant that something just wasn't right.
Then on Jan. 13, 2017, baby Benjamin was born full term at Saint Luke's East, where Amber is a cardiac nurse. At 8 pounds, 20 inches, for nearly 24 hours, her newborn seemed perfect.
But as Amber was breastfeeding Ben, he began to turn blue. "I asked my husband Blake if he could see Ben's chest rising and falling, and he said, 'No.' He pulled the call light, and everyone came running."
Ben was experiencing brief episodes when he would stop breathing, but his doctors weren't sure why. Initial testing indicated he might have an enlarged heart. To be sure he received the best care possible for a newborn, he was transferred to the only Level IV Neonatal Intensive Care Unit in the region, Children's Mercy Kansas City.
There, Ben underwent blood testing, an electroencephalogram, a cardiac ultrasound, and CT and MRI scans of his brain.
The MRI showed Ben had had a stroke affecting the right side of his brain, probably just a few days before Amber gave birth. But what could cause a seemingly healthy, full-term infant to suffer a life-threatening stroke before being born?
The cardiac ultrasound revealed Ben had two holes in his heart, one called patent ductus arteriosus, or PDA, and one called patent foramen ovale, or PFO. And, he had multiple clots in his large blood vessels, including a 2.2-centimeter blood clot in his inferior vena cava, the large vein that carries deoxygenated blood from the lower and middle body into the right atrium of the heart.
"The doctors thought the blood clots might have broken off, traveled through Ben's heart, then to his brain, causing the stroke, but we will never know for sure," Amber said.
Where the clots formed and why will likely remain a mystery, but to treat them, Ben was referred to the Children's Mercy Comprehensive Stroke Clinic, one of fewer than 10 pediatric stroke centers nationally, and the Midwest's first and only dedicated pediatric stroke center offering comprehensive, individualized treatment protocols for children.
The Children's Mercy Comprehensive Stroke Clinic team sees patients ranging in age from infants, like Ben, to 18 years old. It streamlines hematology, neurology and rehab services under one umbrella for the best outcomes and family's convenience.
"Strokes in children are as common as brain tumors," one of the Stroke Clinic doctors said. "Hospital-wide, we treat 60 to 100 children for stroke annually, and perinatal stroke occurs in one in 2,800 live births."
A multispecialty team including neurology, hematology, radiology and rehabilitation medicine consulted on Ben's case. He was one of the first patients from Children's Mercy enrolled in the International Pediatric Stroke Study database.
"We're excited that Ben gets to help pave the way for the Children's Mercy Stroke Clinic and stroke research," Amber said.
Ben's condition was stabilized using blood thinners, and after nine days in the NICU, Amber and Blake took him home.
"Three months after the stroke, Ben's ultrasound showed the PDA had closed on its own, but he still has the PFO and a scar from the largest clot. He doesn't need surgery, and he doesn't seem to have any neurological damage from the stroke. In fact, his gross motor skills are advanced for his age," Amber said.
The Stroke Clinic team will continue to see Ben every three to six months as he grows, and First Steps visits Ben monthly to provide physical therapy. Up to three out of four children with stroke have permanent disabilities, whether it's motor, sensory or cognitive. That's why children need to be monitored throughout their developmental period, so their health care team can know their limitations and challenges and figure out the best treatment plan.
Long term, Ben is being tested for a clotting disorder called protein C deficiency, and he may need to take an anticoagulant for the rest of his life.
"It's hard to believe that at 1 year old, Ben has had seizures, a stroke, a blood clot and possibly protein C deficiency," Amber said. "He's had a lot to overcome!"
But he has. In fact, to look at him, no one would ever guess all Ben has been through. Ben is showing remarkable recovery and growth from a neurodevelopmental standpoint. He is walking, running and doing all the things a 1-year-old should thanks to early intervention, physical therapy and a blood thinner to prevent recurrent clots and stroke.
"From the beginning, this has been a roller coaster ride," Amber said. "The worst time in our lives was followed by the best. We felt like every prayer we had was being answered, and it all started when Ben was transferred to Children's Mercy.
"They made sure every specialty was on his case and they did a wonderful job of keeping us in the loop," Amber added. "Thank you to everyone at Children's Mercy for being a part of Ben's care at such a critical time in his life. It was an answered prayer for our family. Everyone we have come in contact with has been such a blessing."
Related Stories
Pediatric stroke: Talan's story
A 2 ½ years old Talan Turner suffered a devastating stroke. After months of physical, occupational and speech therapy at Children's Mercy, Talan is walking, running and chasing the family dog.
Meet Talan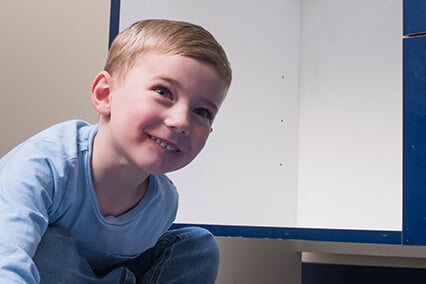 Perinatal stroke: Sadie's story
Before she was born, Sadie Ewy suffered a perinatal stroke. That's why her family turned to the Children's Mercy Comprehensive Stroke Clinic. Now 2, she's doing so well she's "high-fiving" her doctors.
Meet Sadie