Pediatric Stroke: Talan's Story
At 2 ½ years old, Talan Turner was growing and developing just like most kids his age. But on March 22, 2016, as he played in the back yard of his home in McLouth, Kan., the unthinkable happened—the toddler had a stroke.
"Talan had just thrown the ball to our dog, and the dog kicked it back," said his mother, Tiffany. "When Talan bent over to pick the ball up, he literally just fell over."
As his older sister, Madison, tried to help her brother up, she grabbed his left arm, but it was completely limp.
"Immediately, I knew something was wrong," Tiffany said. When she reached Talan, the whole left side of his body was limp and he couldn't speak. She called 911.
"It occurred to me that Talan might have had a stroke," Tiffany admits, "but all I could think was, 'Kids don't have strokes.'"
With the severity of Talan's symptoms, the ambulance crew transported him nearly an hour away, to Children's Mercy Kansas City.


Searching for answers

The hospital's emergency room staff first suspected that Talan had suffered a seizure, a common occurrence in young children.
"Talan had been ill with a stomach virus about three weeks earlier, and he had never completely recovered," Tiffany said. "But he'd had no other health problems."
As the doctors searched for answers, they admitted the toddler. The next day the weakness on his left side and his inability to communicate persisted, prompting the neurology attending physician to order an MRI. The test confirmed that Talan had indeed suffered a stroke.
"Talan didn't have a clot in his artery, which is what most of us think of when we think of stroke," explained Roha Khalid, MD, Talan's pediatric neurologist. "He had what is called focal cerebral arteriopathy, a condition responsible for about 35 percent of all pediatric strokes. Of those, the majority have had a recent viral illness."
In Talan's case, the stomach virus he had had a few weeks earlier had caused inflammation in his body. "The inflammation is likely what made the vessel in Talan's brain spasm. There is a strong link between pediatric stroke and inflammation from a seemingly minor illness," Dr. Khalid said.
The stroke had weakened his left arm and leg, and severely restricted his ability to communicate.
"Everything was just gone," Tiffany said. "Numbers, colors, shapes, toilet training, walking, talking and feeding himself—it was all gone. We had to start from scratch. Talan needed help with every little detail of life."
Talan's doctors prescribed physical, occupational and speech therapies to help him regain the skills he had lost. After a 12-day hospitalization, he returned home to begin the long road back to his childhood.
"We used a combination of therapy at Children's Mercy and Parents as Teachers from our local school district to help with Talan's rehabilitation," Tiffany explained.
An inspiration for the Comprehensive Stroke Clinic team

"When Talan came into the ER, we did not have a stroke protocol in place or a stroke team," Dr. Khalid said. "Even though the type of stroke he had would not have changed his course of treatment, Talan's case made us realize is that we need to have a better system in place to take care of children experiencing stroke."
With Talan as their inspiration, Dr. Khalid and her colleagues developed a stroke protocol which allows children presenting with stroke-like symptoms to be emergently triaged to undergo neurologic evaluation and neuroimaging within an hour of presentation.
In addition to Dr. Khalid, the team included: Jennifer Flint, MD, pediatric critical care medicine; Celeste Tarantino, MD, emergency medicine; Sathya Vadivelu, DO, rehabilitation medicine; Paul Grabb, MD, neurosurgery; Tim Zinkus, MD, radiology; and Marcie Goeden, MD, pediatrics.
Multispecialty teams of neurology, hematology, emergency care services, neonatal and pediatric intensivist, transport, radiology, neurosurgery, and rehabilitation medicine are available 24/7 and consult on about 60 to 100 stroke patients a year.
Children ranging in age from infants to 18 who are diagnosed with stroke are followed in the Children's Mercy Comprehensive Stroke Clinic. The clinic streamlines hematology, neurology and rehab services under one umbrella for the best outcomes and the family's convenience.
"Talan's case made it obvious to us that even pediatric health care workers don't always recognize how prevalent and common stroke is in children," Dr. Khalid said. "We want everyone to think stroke first. Whether you are a medical professional or a parent, if you see a child who is experiencing unexplained weakness on one side of the body, you need to think stroke."


Progress one day at a time

Today, Talan's therapy is progressing well. He can walk, run and even chase the family dog. But he's not finished with his recovery.
In fact, Talan is starting botox injections to relieve the spasticity in his left hand and foot. He'll also continue to work on his speech and gross motor skills, like skipping and jumping. And, he takes a baby aspirin every day to prevent another stroke.
"Children who have an arteriopathy have about a 20 percent chance of a recurrence within the first year," Dr. Khalid said. " The fact that Talan has made it past that one-year mark is a very good sign and our hope is that he will never have another stroke, but we keep him on a baby aspirin every day to minimize that risk as much as possible."
A preschooler at McLouth Elementary School, Talan loves spending time with his grandpa, taking care of the cows, building fence and riding tractors, all great therapy for him.
Going forward, Tiffany said the family is taking things one day at a time. "Talan has made a lot of progress in the past two years. His medical team at Children's Mercy is the best, and they believe he can do more. We could not have received better treatment."
Related Stories
Pediatric stroke: Ben's story
The Children's Mercy Comprehensive Stroke Clinic stabilized newborn Ben McKinnon using blood thinners after he had a life-threatening perinatal stroke. Today, the toddler is walking and running, thanks to early intervention.
Meet Ben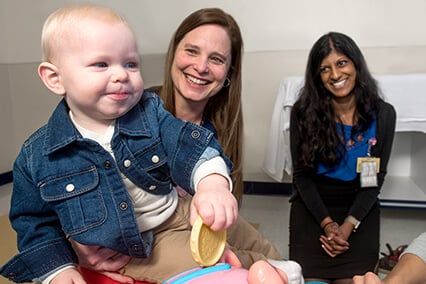 Perinatal stroke: Sadie's story
Before she was born, Sadie Ewy suffered a perinatal stroke. That's why her family turned to the Children's Mercy Comprehensive Stroke Clinic. Now 2, she's doing so well she's "high-fiving" her doctors.
Meet Sadie