Epilepsy: Vito's Story
An unexplained "wink" was the first clue that 6-week-old Vito Costanza might be having seizures. "We were just sitting in our living room, holding Vito, when he started to 'wink' at us," said his father, Johnny Costanza.
Because the Costanzas are experienced parents with a child only 16 months older than Vito, they thought the behavior was odd, but brushed it off as a fluke. But that night as Vito's mom, Nicky, was breastfeeding her son, she noticed both of Vito's eyes blinking at a rapid pace, and she filmed the episode with her phone.
Neurology
4.8 (1,578 Reviews)
The next morning, Nicky took her son to the pediatrician and showed the doctor the video she'd recorded. After watching it, the pediatrician told Nicky to take Vito to the emergency room at the Children's Mercy Kansas City Adele Hall Campus.
While there, Vito had his first major seizure, prompting a flurry of tests to determine a possible cause. One of those tests was a spinal tap, which showed the glucose level in Vito's spinal fluid was zero.
The glucose level in his spinal fluid should have been the same as in his blood. "The doctors thought the result was an anomaly, but they weren't sure what was causing the seizures," Johnny said. "Each time Vito would have another seizure, our hearts would just break."
Even though he was admitted to the hospital and placed on anti-seizure medication, Vito's seizures continued. Over the next several days, the Costanzas began to notice every time Nicky breastfed Vito, he would have another seizure, and they suspected a connection.
"I remembered that first spinal tap result and requested a second one to see if the glucose level in Vito's spinal fluid really was zero," Johnny said. That second test confirmed Vito had no glucose in his spinal fluid, giving the family a possible diagnosis—Glucose Transporter Type 1 Deficiency Syndrome, or Glut1.
Glut1 is a genetic disorder that impairs brain metabolism. Glucose isn't transported properly into the brain, leaving it starving for the energy necessary to grow and function.
According to the Glut1 Deficiency Foundation, more than 100 different types of mutations and deletions of this gene have been found to date.
Approximately 90 percent of affected individuals have frequent seizures beginning in the first months of life. In newborns, the first sign of the disorder may be involuntary eye movements that are rapid and irregular, like Vito's.
Further testing confirmed the specific genetic mutation Vito has.
"There are only a few hundred patients diagnosed with Glut1 in the world," Johnny said. "At the time, we were told Vito was the youngest patient ever diagnosed with Glut1."
Doctors advised Nicky to quit breastfeeding Vito, and switched him to a ketogenic formula. The results were immediate—Vito's seizures stopped—but the hard work to keep him healthy had only just begun.
As Vito advanced to solid foods, he had to begin following a strict ketogenic diet to limit the risk of seizures. This is the recommended standard treatment for Glut1. The diet helps improve symptoms for most patients by giving the brain an alternate source of energy, and helps optimize brain growth and development.
The ketogenic diet is high in fat, moderate in protein, and low in carbohydrates. It is a major lifestyle change that requires the full commitment of children and families.
Families are supported by a team through every step of the ketogenic process. The Children's Mercy team includes a physician or nurse practitioner, staff nurses, social workers, dietitians and a chef educator. After the admission, the family has regular contact with nutritionists to ensure all dietary needs are being met, including meal changes. The family also has access to group and individual support services.
Though the medical community does not fully understand how the ketogenic diet works to control seizures, the assumption is that the diet calms the brain's chemicals, which decreases seizures. At least 50 percent of patients placed on the ketogenic diet have at least a 50 percent decrease in seizure frequency. Studies also show that parents report an improved quality of life after patients are placed on the ketogenic diet.
For the Costanzas, the diet has literally been a lifesaver for Vito, who will always need to follow it.
"We weigh and measure everything Vito eats," Johnny said. "Our kitchen looks like a chemistry lab, but it works. His diet revolves around olive oil, butter, whipping cream and mayonnaise. The ketogenic cooking classes at Children's Mercy have been a big help to Nicky. We all love Chef Rachel and Lindsey, his dietitian, and it's a great way to connect with other families who are following the ketogenic diet, including a handful of kids with Glut1."
Now Vito is experiencing some of the movement disorders and speech delays typical for Glut1 patients, but he still laughs, plays and rough houses with his brother, Franco.
"The Children's Mercy Ketogenic Diet program has been key to the difference between Vito surviving and thriving with Glut1," Johnny said. "He would not be the same child without the diet. We are blessed beyond blessed every day."
Related Stories
Ketogenic diet for pediatric epilepsy: Reed's story
Despite being diagnosed with a rare genetic disorder called Glut1 that causes seizures, Reed Williams is active and healthy. His family credits the Children's Mercy Ketogenic Diet Program with making that possible.
Meet Reed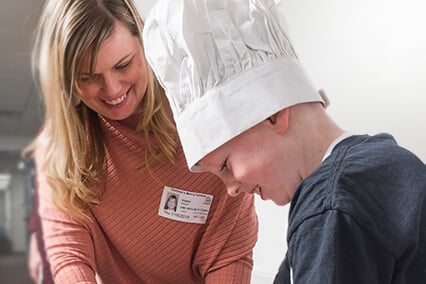 Pediatric epilepsy: Gary's story
Christian Kaufman, MD, Children's Mercy pediatric neurosurgeon, performs an intricate surgery to remove abnormal brain tissue, which should help stop severe epileptic seizures for Gary. Months later, Gary is seizure-free, and is slowly being taken off his anti-seizure medications.
Ketogenic diet for pediatric epilepsy: Santi's story
When Bertha Guillen's son, Santi, struggled with seizures, she was told he may never walk or talk. But with the help of an innovative diet plan, his epilepsy has been controlled, even without the use of medication. Watch Santi's story to see how a mother got her son back.