Neonatology
The region's highest level NICU.
Neonatology
The region's highest level NICU.
Clinical Services
Although our goal is to get your little one home with your family as soon as possible, you can rest assured that we'll continue to partner with you in your child's care as they grow. We'll help you practice caring for your baby on your own in a transition room before you leave the NICU. We'll also connect you with our Neonatal Follow-Up Clinics, an integrated team of health care professionals working together to help babies and toddlers with health care needs related to growth and development.
Children's Mercy has one of the most recognized ECMO programs in the country. ECMO is advanced treatment for babies with life-threatening heart and/or lung problems.
The Neonatal Follow-Up Clinics are an integrated team of health care professionals working together to help babies and toddlers with health care needs related to growth and development.
Infant tracheostomy care and home ventilator program is for babies who need ongoing respiratory care.
The Neonatal Evaluation and Outcomes Network (NEON) Clinic provides follow-up care for infants with complex medical problems.
Developmental follow-up services monitors developmental milestones and connect families with additional services when necessary.
The Critical Congenital Heart Disease Screening Program can detect heart defects in newborns that often have no other symptoms.
Comprehensive evaluation and management of complex cases
Comprehensive evaluation and management of complex cases including: All pediatric subspecialty services, pediatric surgery and surgical subspecialties, genetic and metabolic evaluation and counseling, unique neonatal nutrition and lactation support, clinical pharmacology and pharmacogenetics and a full range of neonatal social work services
Pulmonology services include all forms of mechanical support including high frequency oscillation, comprehensive airway evaluation, tracheostomies and multidisciplinary home ventilator program
Cardiovascular services including prenatal echocardiography and comprehensive postnatal cardiology evaluations
Conditions
Acute newborn respiratory disorders

Aspiration pneumonia

Birth transitional disorders

Birth trauma

Chronic lung disease

Coagulation disorders

Complex birth defects including:

Craniofacial malformations

CNS malformations and spina bifida

Congenital heart defects

Renal dysplasia
Conditions requiring extracorporeal membrane oxygenation (ECMO)

Congenital infections

Encephalopathy

Genetic disorders

Low birth-weight/preterm newborns

Meconium aspiration

Metabolic disorders

Pulmonary disorders

Pulmonary hypertension

Respiratory distress syndrome

Seizures

Sepsis/meningitis

Surgical emergencies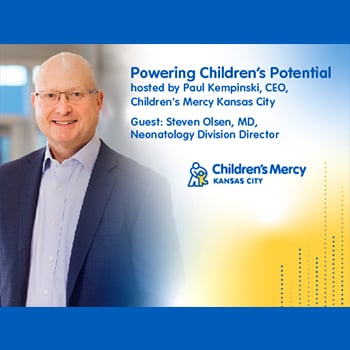 Watch Powering Children's Potential - Neonatology
Ranked number #14 in the country by U.S. News and World Report, our Neonatology Division cares for more than 1,000 patients annually, as well as 160+ patients a day through 10 other NICU programs in the community. In this episode of Powering Children's Potential, Children's Mercy CEO, Paul Kempinski, and Steven Olsen, MD, Neonatology Division Director, discuss how we are creating a world of potential for critically ill newborns in a multi-state region.
Research and Innovation
At Children's Mercy, we've been turning research into results for more than 40 years for babies with chronic lung disease through advanced treatments like nitric oxide therapy and ECMO. Our researchers also study how medications impact the smallest babies to ensure that they get exactly the right amount of medicine at the right time to help them get better.
The Genomic Medicine Center at Children's Mercy helps to quickly diagnose children with rare or complex medical conditions and connect them with the latest treatment options.
The Donald W. Thibeault Neonatal Lung and Immunology Lab conducts studies into various aspects of neonatal lung disease and bowel disease. The researchers continue the vision of Dr. Thibeault, who was passionate about translating research into better care for babies.
The Center for Infant Pulmonary Disorders is dedicated to improving treatments for chronic lung disease in infants.