Epidermolysis Bullosa Simplex: Jaciel's Story
Meet Jaciel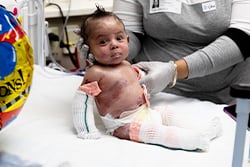 Pamela Lemus had a healthy pregnancy and normal delivery. But shortly after giving birth to her son, Jaciel Ceballos Lemus, on Oct. 27, 2020 in a Wichita, Kan. hospital, she remembers hearing the medical team whispering, "Look at his hands and feet."
Immediately, Pamela wanted to know what was wrong with her baby. "The skin on the palms of Jaciel's hands and on the bottoms of his feet was missing," Pamela said. After she held her son, the medical team took him to the hospital's neonatal intensive care unit (NICU) for further examination.
The next day, they transferred him by helicopter to Children's Mercy Kansas City, home of the only Level IV Neonatal Intensive Care Unit (NICU) in the region. Once there, Jaciel's medical team immediately went to work, trying to figure out why his skin was missing.
But the missing skin wasn't his only problem. Jaciel soon began forming blisters all over his body, some as big as quarters, and some bloody.
"Jaciel's condition was life-threatening," said Julie Weiner, DO, one of Jaciel's neonatologists. "We honestly weren't sure he would survive. He was at high risk for infection and a number of complications."
Jaciel's medical team suspected a genetic skin condition but had to wait on blood test results to confirm his exact diagnosis.
In the meantime, they carefully cared for the baby's fragile skin while Pamela recovered in Wichita. To stay on top of Jaciel's condition, she took advantage of the hospital's NICView web camera.
The NICView web camera is an innovative camera system placed above the beds of the hospital's NICU infants. This technology allows parents, family and friends round-the-clock, real-time access to their infant through a secure online portal.
"It was very comforting to see Jaciel and how he was doing, even though I could not be with him," Pamela said. Once she had fully recovered, Pamela made the three-hour drive to Kansas City to be at her son's side, but couldn't stay.
"Jaciel has a 2-year-old brother at home. We commuted back and forth between the hospital and our home in Wichita," she explained. The camera eased the separation for Pamela and relieved her anxiety. "We used the camera a lot while Jaciel was at Children's Mercy. It made me happy to be able to see my baby."
A rare diagnosis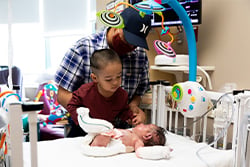 About two weeks after being admitted to the NICU, blood tests confirmed Jaciel's diagnosis—epidermolysis bullosa simplex (EBS). EBS is the result of a genetic mutation in either the KRT5 or KRT14 genes.
It causes the skin to be very fragile and to blister easily as a result of minor friction or injury, such as rubbing or scratching. Jaciel even formed blisters in his mouth, making feeding him a challenge.
"EBS is very rare," Dr. Weiner said. "We may see one case a year. The level of care that Jaciel required is only available at a Level IV NICU pediatric hospital like Children's Mercy."
Though there is no cure for EBS, treatment focuses on supportive care—preventing formation of blisters, caring for blistered skin and treating infection.
Jaciel's medical team included subspecialists in pediatric dermatology, neonatology, ENT, wound care, surgery, child life, nursing, social work and his family.
To prevent the blistering, Jaciel was covered in Vaseline from head to toe, then wrapped in special dressings to protect his fragile skin from friction and infection.
"Whenever we would touch Jaciel, we had to be sure our gloves or the stethoscope were coated in Vaseline to prevent blistering," Dr. Weiner said. "The tiniest bit of friction might cause more blisters to form."
To be certain he was in the best hands, a dedicated medical team changed the tiny baby's bandages three times a week, with dressing changes sometimes taking as long as two hours.
Because Jaciel formed blisters in his mouth that made it difficult for him to eat, he also required a feeding tube. To prevent blisters from forming in his airway during the procedure, anesthesia, surgery and ENT used a different approach to place the feeding tube, bypassing his trachea and using his nasal passage instead. Thinking outside the box paid off, and Jaciel tolerated the procedure well.
Pamela credits Jaciel's nursing team, including Katelyn Younggren, RN, and Kate Reynolds, RN, with helping her baby to steadily continue to improve. Eventually, the care team taught Jaciel's parents to perform his dressing changes, training them to take charge of his care before being released.
"Jaciel's family has been amazing," Dr. Weiner said. "They have been very involved, coming to the hospital to perform his dressing changes themselves a couple of times a week. They are an integral part of his medical care."
Ready for home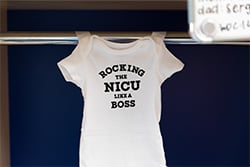 Three months after being admitted to the NICU, Jaciel's skin had finally healed and he was released to go home for the first time since his birth.
"Jaciel's arms and legs are bandaged to protect him, and he's still at high risk for infection," Dr. Weiner said. "But his skin has healed and he's doing so much better. When I first saw him, I wasn't sure he would make it, but today, he's smiling and happy, and developing just like any other 3-month-old."
Though Jaciel will see his Children's Mercy team regularly, Dr. Weiner expects that eventually, his EBS will improve, becoming more stable. "He may still develop mild blisters but shouldn't have the severe wounds he had at birth," Dr. Weiner added.
"Jaciel's skin has already grown back on his hands and feet and the blisters have healed," Pamela said. "Just by looking at him, you would never know he has EBS or all he's been through."
Pamela said Jaciel received excellent care throughout his stay at Children's Mercy, with the team helping the family understand how to care for his delicate skin at home.
"Everyone took excellent care of Jaciel and they were very patient with my baby. They were on top of everything, gave me updates, and any time I had a question, they would call me right back. I'm really grateful that they did everything they could to take good care of him," Pamela said.
Dr. Weiner puts the infant's care in perspective.
"Jaciel's skin therapy is a lifesaving treatment. He is doing well today because of everyone's dedication and attention to detail, from his bedside nurses to wound care, to the subspecialists, to social work, to case management, to his family," Dr. Weiner said.
"We all had to think outside the box to figure out what worked best for Jaciel, and that has made all the difference for this child."
Stories
Tracheostomy Program: Kieesha's story
If you want to know what life with a tracheostomy is like, just ask Kieesha. With the help of the Children's Mercy Tracheostomy Team, she's successfully managed life with a trach for almost all of her 9 years. In spite of her complex medical needs, Kieesha doesn't let her trach slow her down.
Meet Kieesha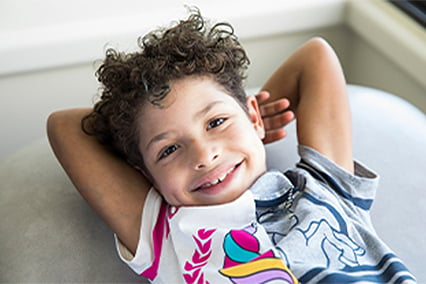 Neonatal/Perinatal Medicine
Neonatologist; Associate Professor of Pediatrics, University of Missouri-Kansas City School of Medicine