Children's Mercy Facts
Fast Facts from Fiscal Year 2022 (July 2021 - June 2022)
There are all kinds of numbers and statistics involved in health care, but each piece of information we share here represents our efforts to provide the very best care to children and families.
Learn about the remarkable kids we serve and the services we provide designed to propel our mission forward.


All ages — from before birth to 18+


Visit Children's Mercy from all over the world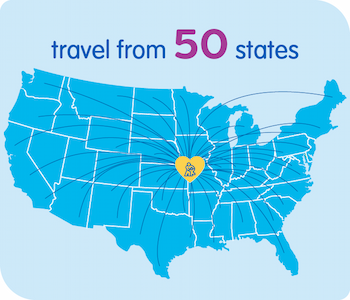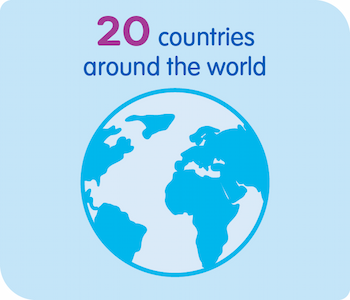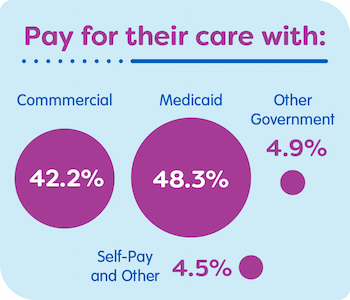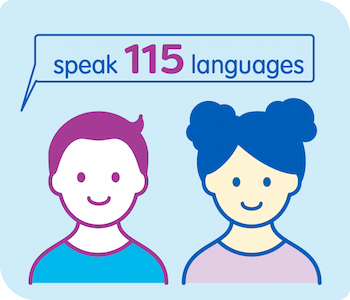 And our staff is ready to help



We completed 19,469 surgical cases, 5,942 medical transports and saw 14,345 admissions through our 390 inpatient beds.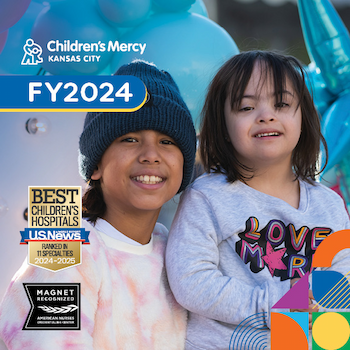 Fast Facts FY2022
Download and print a copy of our Fast Facts for fiscal year (FY) 2022.
Research



Children's Mercy is among the world's leaders in genomics, precision therapeutics and ethics.
The Children's Mercy Research Institute's dedicated tower opened in February 2021.
Genomic Answers for Kids is a first-of-its-kind National Pediatric Data Repository developed by researchers at Children's Mercy. So far we have enrolled 10,000+ participants, and more than 1,000 rare disease diagnoses have been provided to families, far out-pacing other rare disease diagnostic programs.
Our vision is for every child to have access to precision medicine — an accurate, faster diagnosis with treatment tailored just for them.
Research is integrated into everything we do at Children's Mercy. Every patient encounter, every interaction, every piece of data we collect is held to the highest research standard and is focused on finding answers for our patients and their families.
Clinical care



One of only 30 centers in the nation to be verified as a Level 1 Children's Surgery Center — the highest possible rating — by the American College of Surgeons.
Fetal Health Center, among the first to deliver high-risk babies inside a children's hospital.
Level 1 Pediatric Trauma Center has received verification from the American College of Surgeons, becoming the only ACS-verified Pediatric Level 1 Trauma Center between St. Louis and Denver.
One of the nation's largest Child Life programs, making the hospital experience more comfortable for patients and families.
Education



600 medical students each year.
30-plus subspecialty training fellowship training programs.
100 pediatric and medicine/pediatric residents annually play a crucial role in care for patients.
More than 1,400 students from dozens of nursing schools receive training here.