Health care workers are experiencing increased moral distress and burnout in the workplace, which can lead to feeling emotionally and physically exhausted as they take on more challenges at work and home. Children's Mercy is committed to promoting a culture of wellbeing and belonging, fostering workplace improvements, and supporting personalized resilience. As team members' wellbeing increases, so does our ability to better care for the children and families we serve.
Support for ALL CMKC team members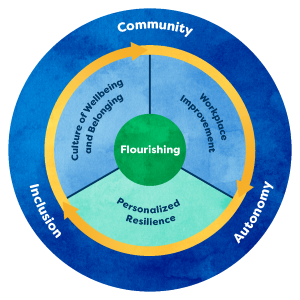 Children's Mercy has robust programs that serve to create an environment of wellbeing and foster joy in the workplace. The CMKC Center for Wellbeing is responsible for strategic approaches to address health care workers' wellbeing through developing and supporting workplace improvement projects, partnering to create a culture of wellbeing and belonging, and promoting personalized resilience to ensure team members have the resources they need to flourish in the workplace.
Center for Wellbeing initiatives include:
Elevating meaningful work in tandem with reducing non-meaningful work.
Improving a sense of community among team members.
Analyzing impacts of moral distress and burnout.
Integrating a culture of wellbeing and belonging through enterprise-wide engagement.
Support for distressed staff after unexpected difficult experiences at work or home.
Brief crisis intervention.
Community referrals for mental health and other support services.
Mindfulness-based stress reduction classes and daily Mindful Moments to help develop healthy coping skills.
Dedicated support for residents, fellows and other staff members in training.
Comforting visits from our facility dogs.
Support for leaders serving distressed staff.
Starting at the heart of the matter

Every day, CMKC team members strive to improve the health and wellbeing of children by providing comprehensive family-centered health care, committing to the highest level of clinical and psychosocial care, and exhibiting research, educational and service excellence. This can only be accomplished through engaging and developing the highly trained and compassionate individuals who save and improve the lives of children every day.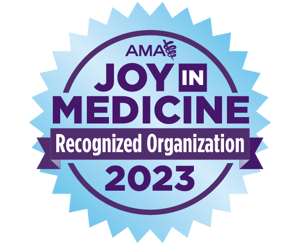 Joy in Medicine™
Children's Mercy Kansas City has earned recognition from the American Medical Association (AMA) as a Joy in Medicine™ recognized organization. The prestigious AMA distinction is granted only to organizations that meet the rigorous criteria of the Joy in Medicine™ Health System Recognition Program and demonstrate a commitment to preserving the wellbeing of team members through proven efforts to combat work-related stress and burnout. CMKC is the first and only freestanding children's hospital to receive Silver recognition.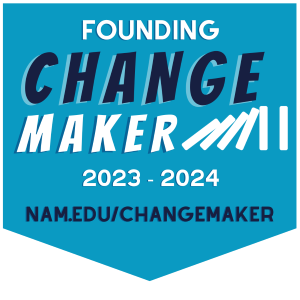 National Academy of Medicine (NAM) Change Makers
Children's Mercy has committed to being part of the inaugural cohort of the National Academy of Medicine (NAM) Change Makers campaign in affirming our dedication to supporting health care worker wellbeing as a long-term value. This commitment is a foremost priority called for in the National Plan for Health Workforce Well-being, which provides a roadmap to take action to address the health care worker burnout crisis.