2nd Annual Cerebral Palsy Family Education Day
Join us for our annual Cerebral Palsy Family Education Day hosted by Children's Mercy Hospital. Join us this year for our one day event that provides families with direct access to our clinicians, local vendors, parent panels, a national speaker and fun activities for the whole family.
Our event this year will be held at Pinnacle National Development Center used by the US National Soccer team, Sporting Kansas City, and home to our own Children's Mercy Sports Medicine team.
Schedule of Events

Our event will start at 9am, the day will include presentations by nationally recognized Keynote speakers and our own renowned faculty.
All of our education sessions will be at the beginning of the day concluding with multiple parent panels devoted to specific conditions and family fun activities.
We will also have activities and crafts for families to participate in during the presentations.


9:00 a.m.

Introduction and Welcome

10 minutes


Justin Ramsey, M.D.
Great Hall

9:10 a.m.

Keynote Speaker

30 minutes

Michele Shusterman, Founder and President at CP NOW
Great Hall

9:40 a.m.

Performance by Constantly Positive's John Deterding

10 minutes

Great Hall

9:50 a.m.

Cerebral Palsy Panel

60 Minutes

Discussion to include topic on Bullying
John Deterding, Constantly Positive
Moderator: Matt McLaughlin, M.D., M.S.
Great Hall

10:40 a.m.

POPS Program at Children's Mercy

5 minutes

Maria Nordstrom
Great Hall

10:45 a.m.

Announcements

5 minutes

Justin Ramsey, M.D.
Great Hall

10:50 a.m.

Break

20 minutes

11:10 a.m.

Break Out Sessions

45 minutes

Mom's panel – Moderator: Justin Ramsey, M.D.
Great Hall

Dad's panel – Moderator: Jessie March, BSN, RN, CPN
Classroom

11:55 a.m.

Transition to Adulthood

20 minutes

Terri Hickam, MSW, LCSW, LSCSW, ACSW, CCM
Classroom

11:55 a.m.
to 1 p.m.

Family Activities

Classroom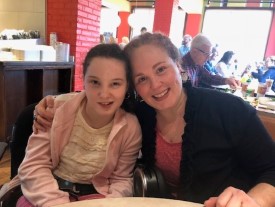 Michele Shusterman is the President and Founder of CP NOW, a nonprofit supporting the CP community, and the creator of the website CP Daily Living.
Michele is passionate about sharing her personal experience raising her daughter Lilly, who has CP and acts as a liaison to the clinical and research communities. She has contributed to two books on Cerebral Palsy and co-authored several peer reviewed journal articles. As a parent advocate and community expert, she has participated in two NIH conferences, one focused on establishing national research priorities for CP and another about determining exercise guidelines for wheelchair users.
In 2016, Michele received the Making a Difference Award from the American Academy for Cerebral Palsy and Development Medicine (AACPDM) after developing the CP Tool Kit, a supportive diagnosis resource guide for parents and caregivers. Both the CP Tool Kit and CP NOW's Wellbeing for Parents and Caregivers, can be downloaded through their website: cpnowfoundation.org
In 2017, CP NOW was awarded the Eugene Washington PCORI engagement award. Those funds led to a collaboration between CP NOW and members of the CP community to establish and publish research priorities for federal agencies, researchers and private groups. This past year CP NOW funded their first research study, an intensive camp for children with CP that tested an intensive upper and lower body therapy called HABIT-ILE.
Michele is a graduate of Barnard College and is married to Dr. Blake Shusterman, a nephrologist. They live in Greenville, SC with their daughter Lilly, 12.

Be sure to stop by one of our Children's Mercy tables:
Rehabilitation Medicine
Neurosurgery
Neurology
Orthopedics
Physical Therapy/Occupational Therapy
Transition to Adulthood Program
POPS (Parents Offering Parent Support)
Visit guest tables for additional resources:
Ability KC
Children's Stroke Foundation
Hanger Clinic
The Whole Person
Numotion
Mid-America Games
Fun Activities
Door Prizes will be raffled
Games
Snacks
Photo booth
Bling your wheelchair or Bling yourself!
Vote to see who will get "a pie in the face"!
Information about last year's event can be found below.


Cerebral Palsy Day 2018

Our very first Cerebral Palsy day yielded over 200 participants including volunteers, parents, and children. We had vendors, fun family activities, performances from local artists and our own providers, nurses and employees in attendance. Each year we look to improve the event and tailor it to what you need and want. Listed below are all of our presentations and recordings from our 2018 event.
Kansas City Cerebral Palsy Day Introduction - Dr. Justin Ramsey
Surgical Management: Selective Dorsal Rhizotomy and Inthrathecal baclofen pumps - Dr. Michael Partington, Neurosurgery
Pharmacogenomic variability of oral baclofen clearance and clinical response in children with cerebral palsy - Dr. Matthew Mclaughlin, Rehabilitation Medicine
Orthopedics and Cerebral Palsy - Dr. Kathryn Keeler, Orthopaedic Surgery
Dystonia - Dr. Keith A. Coffman, Neurology
Spasticity & Dystonia: Understanding the difference in muscle tightness - Dr. Sathya Vadivelu, Rehabilitation Medicine


Event Information and Registration
Saturday, June 1st 2019
9am - 1pm
Registration is available online or by calling our office at (816) 302-3970.
Directions
Our event will be held at Pinnacle National Development Center in Kansas City, KS. We will have free valet parking available. There is a first come first serve upper parking lot directly outside of the entrance. Once filled we will have plenty of spaces available in the lower lot.
1913 Pinnacle Way
Kansas City, KS 66111