Torn ACL: Nahomi's Story
Meet Nahomi

As she was growing up, you could find Nahomi Sanchez on the soccer field almost any day of the week.
"Monday through Friday I had soccer practice, then I played games on Saturday and Sunday," said the 16-year-old junior at Lincoln College Preparatory School. "I love the adrenaline rush I get when I'm on the field, running and kicking the ball, and I'm good at it."
But on October 9, 2019, as Nahomi was playing futsal with her soccer team, she found herself facing a painful injury—an injury that usually requires reconstructive surgery, followed by months and months of physical therapy.
"I had just received the ball, but thought I saw someone behind me, so I started sprinting," the middle forward said. "When I went to cut and turn, my cleat dug into the turf and my left leg twisted. I heard a 'pop' and immediately went down."
Nahomi's dad had to carry her off the field. "On a scale of 1 to 10, 10 being the worst pain I've ever felt, it was a 12."
Right away, Nahomi's left knee began to swell, so she went to the emergency department at the Children's Mercy Adele Hall Campus.
"The doctor in the emergency room thought I had torn my ACL (anterior cruciate ligament), but she said I would need additional testing to be sure," Nahomi added. The cruciate ligaments control the back and forth motion of the knee. The ACL also provides rotational stability for the other structures in the joint.
A few days later, Nahomi got the call confirming what she feared most—she'd torn the ACL in her left knee, and the timing couldn't have been worse.
"It's my junior year, and that's usually when colleges make scholarship offers," Nahomi said. "I didn't want to miss that. I was just really scared about what all this meant for my future."
Sidelined

After getting her MRI results, Nahomi saw a pediatric orthopedic surgeon at Children's Mercy. It was agreed that it looked like Nahomi had torn her ACL.
And though Nahomi's parents were with her, during the appointment, the conversation was centered around the patient.
"It was my injury," Nahomi said. "I was asked about my goals, and I explained that I wanted to return to play as soon as I could. I didn't want to miss out on my junior year and a possible scholarship. The surgery and recovery process were explained to my parents, and I knew what to expect."
But before her Dec. 4 surgery, Nahomi needed to strengthen her left leg, so she was referred to Julianne (Julie) Perrini, DPT, ATC, physical therapist with Children's Mercy Sports Medicine.
Expert therapy, close to home

Though Julie is based at the Children's Mercy Adele Hall Campus, thanks to a recent collaboration between Children's Mercy and the YMCA of Greater Kansas, she also sees patients at the Cleaver Family YMCA, located at 70th and Troost. That location was much more convenient for Nahomi's therapy sessions.
"Collaborating with a community organization like the YMCA helps Children's Mercy extend our reach and make our services available to children in every corner of Kansas City," said Marshaun Butler, Vice President of Clinical Support Services, Children's Mercy Hospital Kansas Operations, and Chief Diversity Officer.
"Being at the Y has been really helpful because of the equipment and space," Nahomi said. "We have the whole gym to work in. Plus, it's a very home-like atmosphere."
Julie, who sees patients at the Y on Tuesday and Thursday afternoons, said the community members enjoy interacting with the student-athletes, and the students have the opportunity to use equipment they are already familiar with.
"Many of our patients live nearby or attend schools in the neighborhood. It's wonderful to have the Y as a local resource to help our patients get stronger and ready to return to sport," Julie said.
In Nahomi's case, Julie worked with her about three weeks prior to her surgery, helping her regain the strength and flexibility in her left knee, and it paid off.
"When I first saw Julie, I couldn't bend my left knee," Nahomi said. "But two weeks into therapy, I could bend it easily. Julie was very understanding, motivating and helpful."
To be certain she was ready for surgery, Nahomi had to undergo extensive Biodex testing at Children's Mercy Sports Medicine. Biodex is a device used to evaluate strength, endurance, power and range of motion of the major joints and muscles in patients before surgery and after rehabilitation.
"I think Nahomi was very nervous about the testing," Julie said, "but she did great and was ready for surgery."
Options for recovery

On Dec. 4, Nahomi went into surgery expecting to have her ACL reconstructed, followed by six to nine months of intense physical therapy, but plans have a way of changing.
"Nahomi had a partial tear to her ACL according to her stable exam. Because of that it wasn't clear that doing an ACL reconstruction would be better for her than allowing her to rehabilitate her injury.
After discussing what she had found with Nahomi's parents, they chose not to have surgery, and instead to continue with physical therapy.
To Nahomi, that was good news. No surgery meant that she would be able to get back to therapy quicker with Julie, fast-forwarding her rehab to just three months, instead of six to nine.
Getting back in the game

Now Julie is helping her patient regain the strength in her left knee, working on jumping and cutting and focusing on injury prevention.
"When Julie tells me that we're going to play with the ball today, it really motivates me because I miss running, kicking the ball and shooting," Nahomi said.
"Nahomi is very determined to be ready for the spring soccer season," Julie added. "She's a hard worker and wants to reach the highest challenge, whether that's in the classroom or on the soccer field."
"Julie has become like a friend," Nahomi added. "She reminds me of what I need to do to get back to full strength and back in the game."
And if all goes well, that's where she'll be just in time for the spring soccer season.
"Nahomi should be ready to repeat her Biodex testing at the end of February and can return to play if cleared medically," Julie said.
Nahomi can't wait!
Watch Nahomi's story below:
Find Children's Mercy Sports Medicine on social media


Stories & Videos
ACL injury and recovery: Michael's story
When Michael Shultz experienced a season-ending knee injury while wrestling, he turned to the experts at the Children's Mercy Sports Medicine. After surgery to repair his ACL and extensive rehab, he's back in action for his senior year, suiting up as No. 30 and playing middle linebacker and tight end for the Sabres.
Meet Michael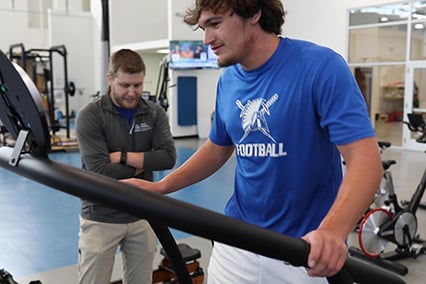 ACL tear and rehab: Mary's story
When 15-year-old Mary suffers a knee injury that threatens her tennis career, her parents turn to Children's Mercy for expert orthopedic surgical repair. See how customized care and world-class rehab facilities used by professional athletes enable Mary to get back on the court in time for her state high school tournament.