What to Expect at Your Fetal Cardiology Visit
Most families are referred to our clinic by their primary care obstetrician or maternal-fetal medicine specialist. We understand that you are anxious to get more information about your baby's condition. As soon as we receive your referral, one of our coordinators will call you to set up your appointment and answer any questions you have.  

Getting here

The Fetal Cardiology Program is located in the Fetal Health Center at the Children's Mercy Adele Hall Campus. Please bring your photo ID and insurance card when you come for your appointment.
Helpful hint:
W

rite down any questions you have ahead of time

B

ring along a support person to your appointment
Get detailed directions to your appointment location by selecting from the list below.
Parking: Upon your arrival, there is a Visitor's Parking lot (to the left) at our main entrance.  When you come into the hospital, you will be on the Ground Level. Walk to the Security Guard stations. You will need to present a driver's license or some form of picture identification (all people over 18 will need photo ID).

Security Guards will direct you to the Hall Tower: Start down the first long hallway, then take a left at the 'T' in that hallway. Go all the way to the end to find the Pink Castle Elevators. Take the Pink Castle elevators to the 3rd floor. Take a right off of the elevator to the Fetal Health Center outpatient clinic, near the NICU.

Please check in at the front desk 10-15 minutes before your appointment. Bring your insurance card to your appointment.
Parking: Children's Mercy Wichita is located in the Wesley Medical Arts Tower adjacent to the Wesley Medical Center Parking Garage. Park on the Ground or 1st floor if possible and proceed inside Wesley Medical Arts Tower to the elevators. Our clinic is on the 2nd floor, suite 201.

Please check in at the front desk 10-15 minutes before your appointment. Bring your insurance card to your appointment.
Your first appointment —

the diagnosis process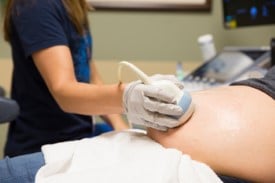 At your first appointment, one of our specially trained fetal cardiac sonographers will do a screening echocardiogram (a type of ultrasound that closely examines your baby's heart). You do not need a full bladder or any other special preparation for the exam.
Your cardiologist, nurse and nurse practitioner will immediately review your results and meet with you to discuss their findings.
Call us with your questions

When there is a new diagnosis, it's common for families to have questions. Our goal is to answer everything we possibly can before you leave your appointment. We are also available by phone at (816) 234-3209 for anything you need to ask between visits. 
We know that this can be a stressful time for you. If our Fetal Cardiology team can't take your call right away, our coordinators make every effort to return messages the same day.
Updating your primary care provider

Following each appointment, your Fetal Cardiology team will promptly send your referring provider a letter and report from your appointment that contains the findings of the echocardiogram and a detailed description of what we talked about during your consultation.
We want to stay in close communication with your local care team, especially if you live at a distance from Kansas City.
Next steps after your initial evaluation

Depending on your situation, here's what you can expect after your initial appointment:
If your tests look normal and we have no concerns, you'll continue your regular pregnancy care with your primary care provider, such as an obstetrician, nurse midwife or maternal-fetal medicine specialist. 


We may want to monitor you and your baby with some follow-up fetal echocardiograms. You'll still continue to see your primary care provider and we will collaborate with them on your care. 


We may recommend a post-delivery echocardiogram for your baby shortly after birth. We'll coordinate a plan for this with the hospital where you plan to deliver and your primary care provider. 


In some cases, your baby may benefit from immediate access to expert care from the Children's Mercy neonatology and cardiology teams after birth. If that's the case for you, we will recommend that you plan to deliver your baby right here in our  Special Care Delivery suites in the Fetal Health Center. This allows you and your support person to stay close to your baby as much as possible after delivery. 


For families who will be continuing care with the Children's Mercy Fetal Health Center teams, your coordinator will set up your next consultation and explain what to expect and who you will see at that visit.


In every circumstance, we will work together with you and your primary care provider to make a plan that best fits your family's unique situation. 
Counseling checklist for parents

Receiving the difficult news that your baby has a heart problem can be overwhelming, many times leaving you wondering what questions to ask your fetal health team. We developed a Counseling Checklist for Parents to help guide you through some of the most important aspects of delivering and caring for a baby with extra medical needs.