HOPE Clinic
Spanish-speaking cancer clinic
Clinica de Hematologia/Oncologia: Puente de Esperanza (HOPE Clinic)

Clear communication between families and care providers leads to much better health results for children. That's why Children's Mercy offers the HOPE Clinic (Clinica de Hematologia/Oncologia: Puente de Esperanza) for kids with cancer from Spanish-speaking families.
The HOPE Clinic provides bilingual clinical services, written materials and medication instructions in Spanish, and a strong network of support for your family as you navigate your child's cancer treatment. Everyone on the staff is ready to help your family understand your child's condition, treatment options, and home care instructions between visits.
Your oncology team

Your oncology team is led by Terrie Flatt, DO, MA, a pediatric hematologist/oncologist who is fluent and medically trained in Spanish.

Your team will guide you through the process of diagnosis and work with you to create a treatment plan that is tailored to your child's needs. Dr. Flatt and the entire HOPE Clinic team believe it's critical to communicate with families in their first language to ensure everyone understands the plan.
Oncologist – Dr. Terrie Flatt
Dr. Flatt is recognized for having one of the highest patient satisfaction ratings among Children's Mercy physicians. He cares deeply for the families he works with, and will make sure that language is never a barrier to getting your child the very best care.
Advanced Practice Registered Nurse
Your family will work with an Advanced Practice Registered Nurse who will be your go-to person when your family has questions or needs help along the way during your treatment and follow-up. They will help you understand your child's diagnosis and treatment plan and how it might affect your family.
Social worker – Sara Donnelly
Sara will help your family find resources in your community to assist you on your journey. She can guide you as you navigate the health care system, apply for financial assistance, or travel between your home and the hospital for treatments.
Bilingual Patient Navigator – Maria del Pilar Coromina
Maria is an experienced medical interpreter who acts as a liaison between your family and your health care team. During a stressful time, she will be there to advise you and even walk you from one place to the next within the hospital to make sure you get where you need to go.
Registered Nurse – Julie Fournier
Julie will be by your side to help with your child's care and provide comfort and support at every visit.
Improving outcomes in Hispanic populations through research

Researchers are learning that the Hispanic population is at higher risk for certain types of aggressive childhood leukemia and other cancers. The Genomic Medicine Center at Children's Mercy studies the role of ethnicity in pediatric cancer to find better treatment options and therapies for children from Hispanic families.

Children's Mercy partners with researchers in Mexico to better understand how ethnicity affects leukemia in children and develop better treatments.
Promising new targeted therapies, such as CAR T-cell therapy and other immunotherapies, are helping kids with difficult-to-treat cancers have a better shot at a cancer-free life.
Spanish-speaking cancer clinic
Spanish-speaking cancer clinic
Bone marrow transplants
Cord blood transplantation
Chemotherapy
Onsite infusion center
Patient and caregiver education and support programs
Psychology services dedicated to hematology/oncology patients
Conditions
Acute lymphoblastic leukemia (ALL)
Acute myelogenic leukemia (AML)
Anemia
Brain tumors
Ewing's family of sarcomas
Hodgkin's disease
ITP
Liver tumors
Neuroblastomas
Non-Hodgkin's lymphoma
Osteosarcoma
Other childhood cancers
Other hematologic disorders
Retinoblastoma
Rhabdomyosarcoma
Stories
Acute lymphoblastic leukemia: Elaina's story
One typical morning, Elaina's parents received a call about her bloodwork confirming the unexpected: "We think it's leukemia." Watch to hear her journey to remission, the challenges she's overcome and the research still needed to provide more treatment options for Hispanic children diagnosed with cancer.
Hodgkin lymphoma: Miqueas' story
Miqueas' mother grew concerned as a small bump on her son's neck began to grow. With limited English, she struggled to find the best care for Miqueas. After meeting with Dr. Flatt, Director of the Spanish-Speaking Cancer Clinic and cancer specialist at Children's Mercy, they found the answers and care they needed.
Meet Miqueas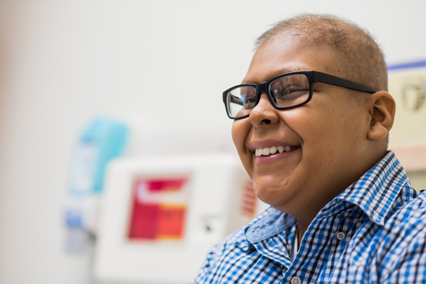 Nationally recognized care for children with cancer

Each year, the Division of Pediatric Hematology, Oncology and Bone Marrow Transplantation at Children's Mercy provides comprehensive care to nearly 2,000 children with childhood cancers, sickle cell disease, hemophilia and other blood disorders, with survival rates frequently above national averages.
Our commitment to clinical research and innovation has helped us earn recognition as one of the top cancer programs for kids in the nation by U.S. News and World Report. Children's Mercy also has received accreditation from the American College of Surgeons Commission on Cancer and the Foundation for Accreditation of Cellular Therapy.
Pediatric Hematology/Oncology, Telemedicine
Director, Spanish Language Clinic; Associate Professor of Pediatrics, University of Missouri-Kansas City School of Medicine; Clinical Assistant Professor of Pediatrics, University of Kansas School of Medicine