Soft Tissue and Bone Sarcomas
Soft Tissue and Bone Sarcomas
Soft tissue and bone sarcomas are relatively rare cancers but affect a disproportionate number of adolescents and young adults. At the first suspicion of a cancerous bone or soft tissue tumor, we urge physicians to contact our orthopedic colleagues for biopsy. The biopsy technique is important for later surgical planning if needed. After the diagnosis of a cancerous bone or soft tissue tumor, treatment will be tailored with chemotherapy and possible additional surgery and/or radiation. Our orthopedic specialists treat both benign and malignant bone tumors and are trained in reconstruction and are experienced in procedures such as limb salvage procedures, joint replacement, rotationplasty, and complex bone grafting.


Bone and soft tissue cancer treatment

This program is comprised of a group of specialists who treat bone and soft tissue tumors. This group will focus on the special needs of this cancer population. Patients are discussed at monthly multidisciplinary patient care conferences to discuss their diagnoses and treatment needs. Patients will benefit from a team approach to care that includes Pediatric oncologists orthopedic oncologists, plastic surgeons, pediatric pathologists, radiation oncologist, pediatrics radiologists, interventional radiologists, and rehabilitative professionals.


Limb salvage procedures

Patients with bone tumors in an extremity used to require an amputation. Because of the advances made in surgical techniques, many patients will be eligible for limb sparing options. The goal is to remove the entire tumor and replace affected bone with either other bones or artificial rods and joints. Following surgery, the patients work closely with the rehabilitative medicine and physical and occupational therapy department to tailor their recovery so that they will have optimal limb function.
Each year, the Division of Pediatric Hematology, Oncology and Bone Marrow Transplantation at Children's Mercy Kansas City provides comprehensive care to nearly 2,000 children with childhood cancers, sickle cell disease, hemophilia and other blood disorders, with survival rates frequently above national averages.
Our commitment to clinical research and innovation has helped us earn recognition as one of the top cancer programs for kids in the nation by U.S. News and World Report. Children's Mercy also has received accreditation from the American College of Surgeons Commission on Cancer and the Foundation for Accreditation of Cellular Therapy.
Improving care for kids with soft tissue and bone sarcomas

Our program participates in national clinical research through Children's Mercy affiliation with the Children's Oncology Group, providing the most up-to-date clinical trials. We have many basic science and translational projects that will ultimately help us better understand and treat bone and soft tissue tumors.
Through the Children's Oncology Group, Children's Mercy is researching chemotherapy regimens to determine which are more effective in pediatric, adolescent, and young adult patients.
We are launching new research collaborations with local and national groups to search for new therapeutics for bone and soft tissue tumors through our Experimental Therapeutics Program. Additionally, we are researching how to make current agents more efficacious through our renowned Pharmacology Department.
Stories
Ewing sarcoma: Alex's story
Despite the life-threatening diagnosis of advanced Ewing sarcoma, Maruska and Jeff Goodwin, Leicester, United Kingdom, were determined to find answers for their 8-year-old son, Alex. At Children's Mercy, they discovered the expertise Alex needed to not only beat cancer, but to grow stronger day by day.
Meet Alex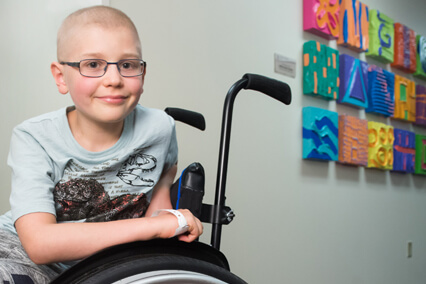 Osteosarcoma: Kambre's story
Kambre Jo Konrade started kindergarten facing a life-threatening obstacle—a grapefruit-sized mass above her knee called an osteosarcoma. The experts at Children's Mercy performed a procedure called a rotationplasty. Today, Kambre's tumor is gone, and she has good function in her leg.
Meet Kambre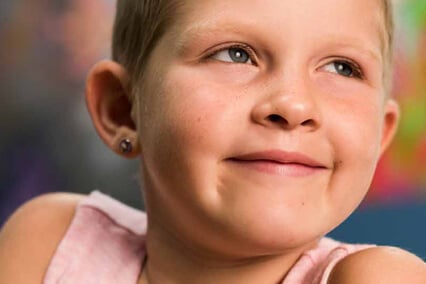 Rhabdomyosarcoma: Suela's story
At just 15 years old, Persephone Consuela (Suela) Duran was diagnosed with a rare form of cancer called rhabdomyosarcoma. Luckily, the Salina, Kan., teen lived less than 200 miles from one of the premier hospitals in the nation known for treating this deadly disease, and sought help at Children's Mercy Kansas City.
Meet Suela