Leukemia and Lymphoma Program
Children's Mercy is nationally recognized as one of the best pediatric cancer centers in the nation by U.S. News and World Report. Whether you're coming to Children's Mercy for further testing or evaluation of your child's symptoms, or you already have a confirmed diagnosis of leukemia or lymphoma and are coming to start treatment, we're ready and waiting to care for your child and your family every step of the way.


Experts in treating kids with cancer

Dr. Keith August leads a comprehensive leukemia and lymphoma team. Physicians, advanced nurse practitioners, pharmacists, nutritionists, nurses and social workers all work together to provide the best possible care for your child.
At Children's Mercy, once your diagnosis is confirmed, you will have your own dedicated team—consisting of a doctor, nurse practitioner and social worker—all the way through your treatment.
Your team will partner with you and other specialists as needed to create a care plan around your child's unique needs.


Child-centered, family-centered care

At Children's Mercy, we provide not only medical, but also social, emotional, nutritional, and educational support for your child while they are in the hospital and throughout their follow-up care.
From playgroups led by Child Life specialists to on-demand room service to hospital-based school teachers, we are dedicated to making sure your child is a comfortable as possible during every visit. Even Hunter and Hope, our trained therapy dogs, can help the hospital feel more like home.
As a parent, you are the most important member of your child's care team. We will partner with you in creating a care plan for your child, and extend support to your entire family as well.


What to expect

It is likely that your child will be admitted to the hospital for several days to a month or more at the time of their diagnosis so that they can immediately begin to receive treatments.
This is a sudden and unexpected situation for most families. Learn more about the diagnosis and treatment process for leukemia or lymphoma, and see what resources are available for your family at Children's Mercy.


Leukemia: learn more about the diagnosis and treatment process
Lymphoma: learn more about the diagnosis and treatment process

Parent support

We offer special assistance and support for parents of kids with cancer and blood disorders through our Parent to Parent program. You can find a mentor parent to talk to, get help with navigating resources, or grab a bite to eat in one of our two parent rooms while still staying just steps away from your child.


Family services

Children's Mercy provides many support services for families, including language interpreters, spiritual care and transition to adulthood programs for teens and young adults.
Treatment that exceeds expectations

With continued advances in treatment technology, many types of cancer, including Acute Lymphoblastic Leukemia (ALL), Hodgkin Lymphoma and Non-Hodgkin Lymphoma, have a very high survival rate.
Even though we see the most complex cases at Children's Mercy, our survival rates typically meet or exceed national averages.


Treatment options for leukemia and lymphoma

Treatment for leukemia and lymphoma varies by type, but often includes beginning chemotherapy as soon as the cancer is diagnosed. In some cases, your oncologist may also recommend radiation therapy, surgery, blood and marrow transplant (BMT) or additional medications.


Personalized treatment to target tough cancers

Breakthroughs in our understanding of the genetic and cellular makeup of various cancers are improving care for kids with cancer every day. Advances such as CAR-T immunotherapy make it possible for kids with recurrent or hard-to-beat cancers to have new hope for a cure. Children's Mercy was one of the first children's hospitals to offer this treatment.



Read more about how Children's Mercy helps to monitor and care for children for many years after their cancer treatment through the Survive & Thrive Program.
Conditions
Acute Lymphoblastic Leukemia (ALL)

Acute Myelogenous Leukemia (AML)

Mixed Lineage or Biphenotypic Leukemia

Chronic Myelogenous Leukemia (CML)

Juvenile Myelomonocytic Leukemia (JMML)

Hodgkin Lymphoma

Non-Hodgkin Lymphoma (NHL)

Burkitts Lymphoma (BL)

Lymphoblastic Lymphoma (LL)

Diffuse Large B Cell Lymphoma (DLBCL)

Anaplastic Large Cell Lymphoma (ALCL)

Primary Mediastinal B-Cell Lymphoma (PMBCL)
Stories
Acute lymphoblastic leukemia: Munira's story
Munira Nuru began her cancer journey just days before her 17th birthday. With the Children's Mercy Cancer Center team on her side and a determined spirit, her cancer is now in remission and her future is bright.
Meet Munira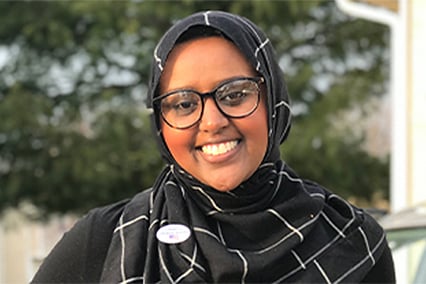 Genomic Medicine Center: Finding answers for leukemia
Thanks to ground-breaking research at the Genomic Medicine Center at Children's Mercy, new treatments provide hope to infants with acute lymphoblastic leukemia, a rare cancer of the blood and bone marrow that has a very poor prognosis. Watch as baby Brisia joins just 49 other infants around in the world in an oncology trial that pairs special drugs along with her standard chemotherapy in hopes of improving her chances for a cure.
Hodgkin lymphoma: Magnus' story
Meet Magnus, a 10-year-old battling Hodgkin lymphoma. This cancer journey is told from a perspective we don't get too often — his.
#MagnusStrong
Hodgkin lymphoma: Pepito's story
Three-year-old Pepito has Hodgkin lymphoma, a cancer rarely found in children his age. Alan Gamis, MD, a pediatric oncologist at Children's Mercy, prescribes chemotherapy and radiation to shrink the softball-sized tumor in his neck, and stop the cancer in its tracks.
Working together towards a cure

Together with our local, national and international partners, we're constantly working to find the most effective ways to care for kids with leukemia and lymphoma.
Our focus is on translational research--taking innovation from the laboratory to the bedside--with new diagnostic tools, treatments and therapies to improve patient outcomes.
As a member of the Children's Oncology Group, Children's Mercy doctors and researchers join with thousands of other cancer experts around the world who are working to find a cure for every child with cancer.
Kansas City is a growing hub for life sciences research, attracting top scientists from around the world. Our physicians and scientists are collaborating with other institutions such as the University of Kansas Cancer Center and the Stowers Institute for Medical Research to improve understanding, diagnosis and treatment of pediatric cancer and blood disorders.
The Children's Mercy Research Institute
The Children's Mercy Research Institute at Children's Mercy is creating an integrated research environment where no boundaries exist between science and medicine. In our quest to find answers to pediatric medicine's most challenging questions, we are collaborating with physicians, scientists, academic colleagues, philanthropic partners and others within our community, and around the world.