Cancer Center
Nationally ranked by U.S. News & World Report
Cancer Center
Nationally ranked by U.S. News & World Report
The Children's Mercy oncology program is a national leader in cancer treatment. Our program provides children and teens with comprehensive clinical services and innovative treatment—including Phase I Experimental Therapeutics, stem cell transplantation, and immunotherapies such as CAR T-cell—supported by the latest research.
We provide advanced treatment for children with all types of cancer at our locations in Kansas City, Joplin and Springfield, Missouri. In Kansas City, we also offer a clinic for Spanish-speaking families with bilingual staff and resources.
Pediatric oncologists and specialists

Our care team includes more than 25 pediatric oncologists and hematology specialists. Dedicated nurse practitioners help coordinate each step of treatment. This includes chemotherapy, surgery, radiation, labs, and any other services children and families need from the time of diagnosis until care is completed. Our team creates a care plan suited to each child's individual treatment needs.
Transforming pediatric oncology

As the primary pediatric cancer research institute and the only NCI Children's Oncology Group institution in the Masonic Cancer Alliance, Children's Mercy is the pediatric consortium partner for the National Cancer Institute-designated The University of Kansas Cancer Center and the Stowers Institute for Medical Research. This partnership offers progress in cutting-edge cancer research to help advance care for children with cancer.
The Division also has received accreditation from the Foundation for Accreditation of Cellular Therapy.

As a comprehensive cancer center, Children's Mercy treats more patients, with more complex disease than any other hospital in the region. We are committed to ongoing research to help develop new, more effective treatments for childhood cancer. Because of that commitment, our survival rates are frequently above national averages.
At Children's Mercy, your child's care involves so much more than medical treatment. Our Family Care Team looks at your child's unique needs—physical, developmental, emotional, educational and spiritual—within the context of your family. This helps us provide comprehensive, whole-person care for your child, while also supporting parents, siblings and other special people in their life.
Lisa Tarbell, MSN, RN, FNP-C, CPHON
Meet Lisa: A Nurse with a Heart for Hematology/Oncology Patients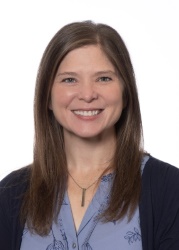 After five years as a bedside nurse, Lisa Tarbell, MSN, RN, FNP-C, CPHON, is now a nurse practitioner working with the inpatient Hematology/Oncology resident team. And while she said a healthy work-life balance is certainly a nice part of the job, she's stayed at Children's Mercy Kansas City so long — like so many employees — because of the kids.
"I just have a heart for this patient population," Lisa said. "I think you'll find that most people who stay for any significant time in Hematology/Oncology, it really is about the patients."
The Division of Pediatric Hematology, Oncology and Blood and Marrow Transplantation cares for nearly 2,000 children and families each year. Lisa said it's the culture of collaboration and teamwork that fuels that kind of success.
"I think we do a really good job of coming together in an interdisciplinary way to make sure the patient's care is as seamless as it can be," she said. "When we need other departments involved, we do a good job of working well together and communicating. Almost all of our patients have other health issues and need other specialties, and we're fortunate because we have that collaboration here."
Children's Mercy is also a part of the Children's Oncology Group (COG) and contributes vital cancer-related data to the international research and clinical trials consortium. Aggregating data from around the world allows the group to develop informed cancer protocols, which have led to new and improved treatments and increased survival rates.
"We are all following the same protocols," Lisa said of COG member institutions and added that families can be confident their children are receiving evidenced-based, cutting-edge care.
It all comes back to the level of care and the people who make the organization so special, she said.
"You are going to get exceptional care," Lisa said. "I would not take my child anywhere else — whether I worked here or not. Our doctors are wonderful and knowledgeable, our nurse practitioners are dedicated and our bedside nurses are so passionate about their jobs that it comes out in their everyday care. I'm never going to find co-workers as amazing as these."
Pediatric research with far-reaching impact
The vast majority of funding for cancer research is focused on adult treatments, which must then be explored and adapted for children much later. Children's Mercy researchers are working to define and delineate the characteristics of cancers that develop in children to better determine if there are common factors in adult cancer – even if it's a different type of cancer.
Genomic sequencing provides a tremendous amount of information about the mutations that cause cancer, allowing us to create personalized approaches to treatment for each child and their particular cancer. Much of what we learn about childhood cancer can also benefit adults through increased understanding of the disease and its treatments.
Innovators in cellular therapy
As innovators and collaborators in the field of cellular therapies, the teams at Children's Mercy are advancing the care of children with the most difficult-to-treat cancers. Children's Mercy has played a significant role in the development of chimeric antigen receptor therapies (CAR) for children and young adults.
Contact the Cancer Center at Children's Mercy

Interested in learning more about the Cancer Center? Please contact us.
Patients and families:
(816) 234-3460
Home Care:
(913) 696-8999
Referring health care providers:
New-patient requests for consultation can be made through a physician-to-physician discussion, which assists with determining the urgency of the referral.
Cancer Center Auxiliary
The Children's Mercy Cancer Center Auxiliary generates funding to improve the physical and emotional well being of children with cancer and blood disorders, as well as their families.
This auxiliary raises money to support a parent-to-parent volunteer program, psychologists and a research fellowship. Funds also go toward patient activities, and two parent rooms at the hospital.
Cancer Care Annual Report
Our 2020-2021 Cancer Care Annual Report focuses on Hodgkin lymphoma.
Previous Cancer Care Reports