Cancer Center
Nationally ranked by U.S. News & World Report
Cancer Center
Nationally ranked by U.S. News & World Report
The Children's Mercy oncology program is a national leader in cancer treatment. Our program provides pediatric patients with comprehensive clinical services and innovative treatment (including Phase I Experimental Therapeutics, stem cell transplantation, and immunotherapies such as CAR T-cell) supported by the latest research. We provide advanced treatment for children with cancer including brain tumors, leukemia, lymphoma, solid tumors (including Neuroblastoma, Wilms, Liver, Germ Cell, etc.), bone and soft tissue tumors, histiocytic diseases, and vascular tumors.
Our team conducts ongoing research to continually improve care for children, adolescents, and families.
Care is offered in Kansas City and regionally in Joplin and Springfield, Mo. Our Spanish-speaking clinic is available in Kansas City.


Pediatric oncologists and specialists

We are committed to ongoing research to help develop new, more effective treatments for childhood cancer. Because of that commitment, our survival rates are frequently above national averages. Our care team includes more than 25 pediatric oncologists and hematology specialists. Dedicated nurse practitioners help coordinate each step of treatment. This includes chemotherapy, surgery, radiation, labs, and any other services patients and families need from the time of diagnosis until care is completed. Our team creates a care plan suited to each patient's individual treatment needs.


Designated by the National Cancer Institute

As the primary pediatric cancer provider and the only NCI Children's Oncology Group institution in the Midwest Cancer Alliance, Children's Mercy is the pediatric consortium partner for the National Cancer Institute-designated The University of Kansas Cancer Center and the Stowers Institute for Medical Research. This partnership offers progress in cutting-edge cancer research to help the plight of children with cancer. The Division also has received accreditation from the Foundation for Accreditation of Cellular Therapy.

Family care team

At Children's Mercy, your child's care involves so much more than medical treatment. Our Family Care Team looks at your child's unique needs—physical, developmental, emotional, educational and spiritual—within the context of your family. This helps us provide comprehensive, whole-person care for your child, while also supporting parents, siblings and other special people in their life.
See how we will support your entire family
Cancer treatment outcomes in children
Our team is driven to continually improve treatment outcomes for pediatric cancers. Learn more about our experience including the survival rates for specific types of cancers treated at Children's Mercy as well as frequency of diagnosis.
Innovators in cellular therapy
As innovators and collaborators in the field of cellular therapies, the teams at Children's Mercy are advancing the care of children with the most difficult-to-treat cancers. Children's Mercy has played a significant role in the development of chimeric antigen receptor therapies (CAR) for children and young adults.
Stories
Hodgkin Lymphoma: Magnus' Story
Meet Magnus, a 10-year-old battling Hodgkin lymphoma. This cancer journey is told from a perspective we don't get too often — his.
#MagnusStrong
Ewing Sarcoma: Alex's Story
Despite the life-threatening diagnosis of advanced Ewing sarcoma, Maruska and Jeff Goodwin, Leicester, United Kingdom, were determined to find answers for their 8-year-old son, Alex. At Children's Mercy, they discovered the expertise Alex needed to not only beat cancer, but to grow stronger day by day.
Meet Alex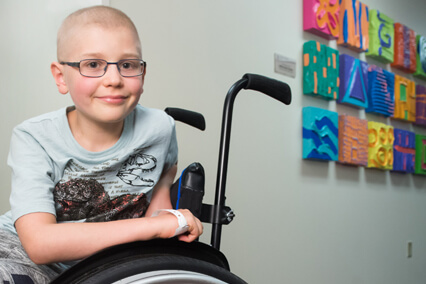 Contact the Cancer Center at Children's Mercy
Interested in learning more about the Cancer Center? Please contact us.

Patients and Families:
Home Care:

Referring Health Care Providers:
New-patient requests for consultation can be made through a physician-to-physician discussion, which assists with determining the urgency of the referral.
Cancer Center Auxiliary
The Children's Mercy Cancer Center Auxiliary generates funding to improve the physical and emotional well being of children with cancer and blood disorders, as well as their families.
This auxiliary raises money to support a parent-to-parent volunteer program, psychologists and a research fellowship. Funds also go toward patient activities, and two parent rooms at the hospital.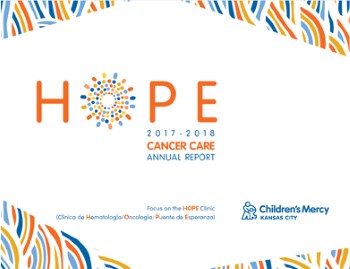 Cancer Center Report
This year's Cancer Center Report takes us back to our roots and focuses on our core tenant—do what is best for our children—beginning with this basic, and yet most critical component of medicine while incorporating new advances.