Genomic Medicine in Cancer Treatment
Cancer has vastly different origins, different mutations, and different paths in children as compared to adults. In adults, it generally takes decades of cumulative mutations to finally result in enough change in those genes to turn the cell into a cancer cell. But in children, the mutations are few. Sometimes just a single mutation is powerful enough to turn a cell cancerous. These mutations can become cancerous in a child in a much shorter time span, even children as young as a newborn.
The Children's Mercy Cancer Center Genomics Program, established in 2014, consists of a team of clinicians and researchers with the common goals of incorporating genomics into our everyday clinical treatments and research programs to improve the outcomes for children with cancer.
Giving every child an opportunity
The vision for the Cancer Genomics Program is that every child with cancer is given the opportunity to participate in clinical testing and to contribute to research.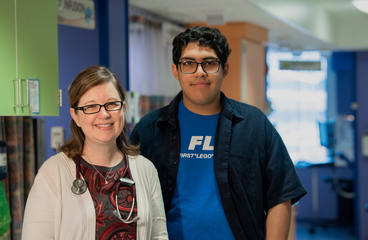 The Cancer Genomics Program serves as a bridge between the Genomic Medicine Center and the Division of Hematology/Oncology/Blood and Marrow Transplant at Children's Mercy.
The information we receive from genomic sequencing helps us identify the best possible options for treatment as quickly as possible for children with cancer.
Experts in translating genetic insights into effective treatments

It takes extensive knowledge and skill to interpret cancer genomics test results. Our specialized team of molecular oncologists interprets each child's cancer sequencing result in the context of their cancer diagnosis and germline sequencing data.
Next, we review the results in our multidisciplinary molecular tumor board. The child's oncologist discusses the clinical diagnosis and the team of experts reviews the sequencing findings to determine if other therapies might be beneficial.
In doing so, we take an individualized approach to every child and we incorporate all available data into the treatment recommendation.
Research is critical to gain understanding of the significance of sequencing results. To build a robust foundation of new knowledge, the Cancer Genomics Program has partnered with the Children's Mercy Oncology Biorepository, also known as the Tumor Bank, to sequence every single cancer case in the bank.
Whole genome sequencing for every cancer patient at Children's Mercy

The Genomic Medicine Center is now bringing genomic medicine to every cancer patient at Children's Mercy, both clinically and through its research initiatives via the Tumor Bank and the Children's Mercy Research Institute Biorepository.
By utilizing the Genomic Medicine Center's existing infrastructure, we are easily able to perform whole genome sequencing for pediatric cancer patients in-house. For such patients, this includes sequencing the genome of both their cancer cells (to look for changes that drive tumors), as well as their healthy cells (to look for inherited changes that increase the risk of developing cancer).
Investigating genetic links to ethnicity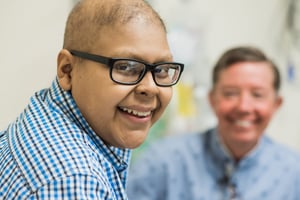 Analyzing ethnic profiles of children diagnosed with Acute Lymphoblastic Leukemia (ALL) may be crucial to improving outcome among Hispanics in Mexico and the United States.
Terrie Flatt, DO, along with collaborating institutions in Mexico, is conducting research studies to investigate genetic links between ethnicity and how children respond to treatment. By partnering with international hospitals, Dr. Flatt has established both research and clinical links that provide benefit to all.
Stories
Inflammatory myofibroblastic tumor: Clara's story
Clara was born with a tumor the size of a golf ball on the back of her tongue. Genetic testing of the tumor showed that Clara had a rare form of cancer. By obtaining approval for a compassionate use trial—essentially a clinical trial just for her—Clara's doctors were able to successfully treat her cancer.
Meet Clara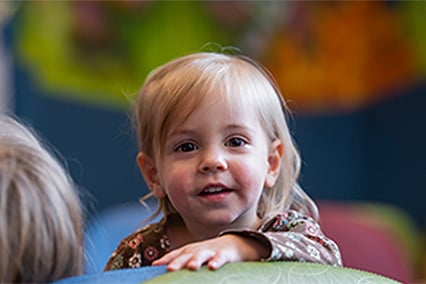 Acute promyelocytic leukemia: Teo's story
Teo was diagnosed with acute promyelocytic leukemia (APL) and started treatment immediately. Thanks to a clinical trial, Teo was able to complete his treatment much more quickly and get back to the activities he loves.
Meet Teo