Acute Promyelocytic Leukemia: Teo's Story
Meet Teo

Teenagers are famous for burning the candle at both ends, and Teo Rosales was no exception to that rule. In May 2018, he was busy with his classwork and involved in the school's robotics team, a typical sophomore at Olathe Northwest High School. But one Monday morning before school, he had a nosebleed—a nosebleed that lasted for almost two hours.
Later that week, his mother, Amee, began noticing that when her son got home from school, he would sleep all afternoon, eat dinner, then go back to sleep again. He also was experiencing lots of bruising. So when Teo's father, Ruben, took him to the pediatrician, he was referred immediately to the Children's Mercy Emergency Department.
After performing a series of blood tests, doctors delivered some devastating news to Teo and his parents. He had a rare form of leukemia called acute promyelocytic leukemia, a cancer of the blood-forming tissue, or bone marrow. "When I first heard the news, I froze. My entire world stopped," Teo said. "I looked over at my parents, and there was a moment of silence."

Teo's treatment

Teo was admitted to the hospital that night and treatment began immediately. "We knew from Teo's blood work that he was at extremely high risk for internal bleeding," said Erin Guest, MD, Director of the Cancer Genomics Program and the Cancer Center Biorepository. Teo received 6 units of blood in the first 24 hours, and 36 units of blood products in the first seven days he was hospitalized to reduce his white blood cell count and stabilize his blood's ability to clot.

Working with Dr. Guest on Teo's case was Oluwaseun "Kemi" Olaiya, MD, pediatric hematology/oncology fellow. "The type of cancer Teo had has a very specific molecular rearrangement that we can test for and target with treatment," she explained. The Children's Mercy Genomic Medicine Center performed the initial testing that determined the molecular rearrangement for Teo's cancer. Thanks to that information, Teo qualified for a special Children's Oncology Group phase III trial for patients with newly diagnosed APML, study number AAML1331.

Children's Mercy is the primary pediatric cancer provider and the only NCI Children's Oncology Group institution in the Midwest Cancer Alliance. "This is a very targeted approach for this type of leukemia," Dr. Guest said. "We have been learning a lot more about genetics and the genes that are in each type of cancer. Those are really important markers for how easy or difficult it will be to treat the patient's cancer, and in Teo's case, it guided us toward this study protocol."

Teo also was fortunate he was referred to a pediatric hospital for his care versus an adult hospital. "Not only do we have access to these COG protocols, but research has shown that adolescents have better outcomes when treated in a pediatric hospital, and benefit from all the resources and services we have to offer, like child life, pediatric subspecialists, pharmacists, nutritionists and social work support," Dr. Guest said.

A unique study for a unique cancer

Though chemotherapy is the traditional treatment for APML, this study took a different approach. "Teo did have a small amount of chemotherapy initially," Dr. Guest explained. "But the primary drug used in this trial was arsenic, plus all-trans retinoic acid (ATRA)." Arsenic is a poison, but it also can be an effective treatment for cancer, and it doesn't cause the typical side or late effects associated with traditional chemotherapy. The arsenic was delivered via IV, and ATRA via an oral pill. "It kind of weirded me out that the arsenic was in my body," Teo said. But he responded quickly to the therapy and went into remission.

While in the hospital, Teo passed the time gaming online with his brother, and visiting with friends who delivered lots of fast food to him. "It's important to still continue with your life as normal as you can, even when the crazy stuff is happening," he said. Teo marked his 17th birthday at Children's Mercy, and even got to meet several of the celebrities who were in town for the Big Slick fundraising event in 2018. "I talked with Charlie Day from "It's Always Sunny in Philadelphia," Paul Rudd from "Antman," and Angela Kinsey from "The Office," he said. "It was great to talk with Angela because my friends and I are into "The Office."

Home at last!

After spending 28 days on the Children's Mercy Oncology Unit, Teo was released to go home. He continued treatment in the outpatient Oncology Clinic, having three-hour infusions Monday through Friday for a month, then taking a month-long break, followed by another month on treatment and another month-long break. That cycle repeated until the full COG protocol was finished in January 2019.

"Teo responded great to the trial," Dr. Guest said. "His biggest challenge was actually a fear of needles, which are a necessary part of treatment." The Children's Mercy child life specialists helped him deal with that fear, and successfully complete treatment. "The day my treatments ended was a very emotional moment for me," Teo said. "I did it! It was like a weight had been lifted off my chest. I don't have to worry about the cancer anymore."

"Everyone at Children's Mercy was wonderful," Teo's mom said. "The nurses, social workers and doctors were very good to us. Teo is really needle-phobic so it took a lot to get him infused and used to the needles, but his psychologist and child life helped with that." Today, Teo is doing great. He visits Drs. Olaiya and Guest every three months to monitor his blood for the gene rearrangement. So far there are no signs of relapse.

Throughout his therapy and followup, data about Teo's response to treatment has been submitted to the COG study investigators as part of the protocol. "The investigators are looking for a treatment that may be better than the standard treatment," Dr. Olaiya said. "We were excited about the clinical trial and how Teo responded. These aren't new drugs, but they hadn't necessarily been used in this combination and without further traditional chemotherapy to treat this type of cancer before. Our hope is that this research will help change the standard of care for other children diagnosed with APML."

Looking to the future

As he completes his senior year of high school, Teo readily admits this experience has changed his life. "I don't take anything for granted," he said. "I really appreciate waking up to a beautiful Kansas sunrise and admiring the beauty of the earth." He looks forward to tomorrow, and has been accepted at Kansas State University where he plans to major in anthropology. "I have been given a second chance at life," Teo added. "I want to be able to do something that I love, that can make other people appreciate the world and the people in it, and that can create a more sustainable future."
Stories
Acute lymphoblastic leukemia: Munira's story
Munira Nuru began her cancer journey just days before her 17th birthday. With the Children's Mercy Cancer Center team on her side and a determined spirit, her cancer is now in remission and her future is bright.
Meet Munira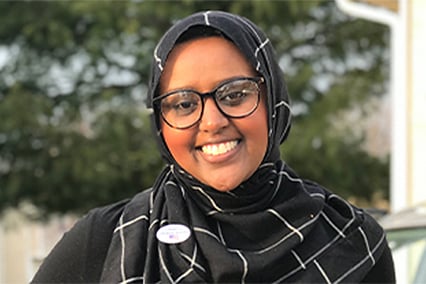 Pediatric Hematology/Oncology, Telemedicine
Director, Cancer Genomics Program; Director, Cancer Center Biorepository; Associate Program Director, Pediatric Hematology/Oncology Fellowship; Professor of Pediatrics, University of Missouri-Kansas City School of Medicine; Research Assistant Professor of Pediatrics, University of Kansas School of Medicine